The manufacturing industry is going through more changes today than perhaps any time in its storied past. Issues surrounding the economy, government regulations, technological innovation and sustainability have set the industry on a new course and triggered a transformation that is occurring right in front of our eyes.
As we are about to launch the new LNS Research website, we are very excited about the prospect of our company participating in this industry transformation. In preparation for the coming website launch, we want to take this opportunity to provide some insight into what we are trying to accomplish with LNS Research, the types of research that we will be conducting and how it can provide value to executives in manufacturing organizations.
The LNS Research Model
The idea behind LNS Research is to provide manufacturing organizations with open access to benchmark data to improve operational and business performance. There is no shortage of research or analysis available to technology decision-makers today—unfortunately, this research is almost always filtered through some lens of bias or connected to a marketing program. We believe a research approach that puts transparency front and center is better positioned to help manufacturing continually improve.
Whether we like it or not, data is always open to interpretation, which is why LNS Research is providing clients with direct access to benchmark data through market leading data visualization and statistical tools. To lend structure to this process, LNS Research has built a simple model: Share, Learn, and Improve.
Share: To gain access to the Research Library, manufacturing executives will be required to create an account and complete a profile that includes sharing information about their demographic, business processes, business performance and use of technology. This data will then be blinded, aggregated, and analyzed—always being kept 100% private. In this way, each new participant is ensured their privacy, contributes to the overall learning of the community and gains access to unbiased research and data that would otherwise not be available. Additionally, all responses will be further verified by LNS Research analysts through a telephone interview to ensure overall data integrity. None of the information shared with LNS Research will be shared to any third party or marketing organizations.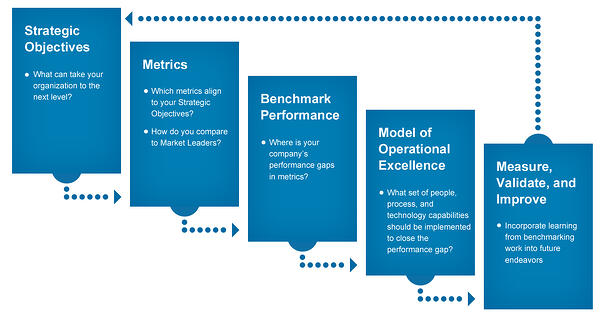 Learn: Once executives have created an account and shared their information, they will be provided annual access to the Research Library that is of relevance to them. For example, if an executive who is responsible for quality management creates a profile and answers the quality management questions, he or she will get access to all the quality management sections of the Research Library for an entire year.
With the Research Library, executives will gain access to documents published on topics that are germane to their operations. Executives will be able to find documents on industry trends, best practices, vendor landscapes, market sizing and thought leadership. Of course, members don't have to stop with just one area of research. If that same person then decides they want access to the Sustainability Research Library, they will have to answer the Sustainability questions to gain access. The more members share, the more access to research they are offered.
Improve: The final step is where manufacturing executives can become full-fledged advisory clients of LNS Research and apply, to their own operations, what they have learned from reading the research. Large manufacturers can have hundreds or thousands of opportunities for improvement globally, but often these manufacturers do not have an accurate understanding of how they compare to peers and what performance gaps they have.
By upgrading their account status to gain access to both the LNS Research Benchmark Data Portal and the LNS Research analyst team, advisory clients are able to use our data visualization and statistical tools to conduct their own benchmark analysis on aggregated data of relevant companies. LNS Research analysts will also work hand-in-hand with clients to help them better analyze the data and assist with making sense of what it means and how it applies to a company's specific operations.
Access to our data and toolset helps clients understand how they compare to peers in their industry. Data will be provided on Key Performance Indicators, Technology Adoption and the use of Best Practices. Clients can also visualize the data and filter it in numerous ways to understand which strategy, business capability or technology has the most impact on performance improvement. This helps to establish statistically valid correlations between performance and adoption of specific business capabilities or technologies relevant to your business.
LNS Research can work in a consultative one-to-one manner with clients, as our analysts are available to assist with navigating the system and interpreting the data.
Taking the Plunge
We hope this post has caught your attention and gives you some idea of how manufacturing organizations can benefit from working with LNS Research. We will be launching our new website in the next few weeks and we look forward to having you as a part of our community. Until then, if you are interested in seeing research from us on any specific themes/topics, please include your comments below.
If you would like to view our research, please click the button below to become a part of our community and gain access to our Research Library.
Categories: Sustainability, Operational Excellence, Benchmarking, About LNS Research