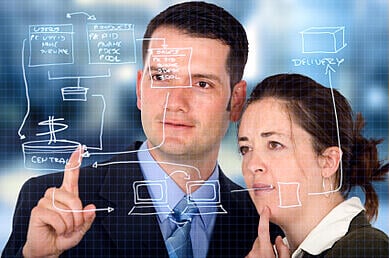 Manufacturing may be known as the place "where the rubber meets the road," but that doesn't necessarily mean that organizations are getting the most out of their production operations. In fact, as I discussed two weeks ago, a considerable number of operations have difficulty with realizing the full potential that manufacturing can generate. While this can happen for a multitude of reasons, in my experience a main culprit can be a misalignment of detailed goals between manufacturing and a company's broader business objectives.
As a result of this misalignment, the challenge that some companies face can reside with manufacturing operations having to work within a predetermined boundary of controls and adjustments that aren't always flexible enough and optimal for supporting improvements to the bottom line. In some cases, they do just the opposite. In others, manufacturing may not even be considered a company's core competency - and merely considered a necessity for a larger business strategy. These disconnects are not always obvious and they can either slip through the cracks or be overlooked by executive leadership.
In addition to realigning goals – a process which I'll briefly touch on again for the sake of quick reference – it's important to understand the role that Manufacturing Operations Management (MOM) software and Enterprise applications play in optimizing the business results that can be generated from the shop floor. In this post, I aim to continue our previous conversation by discussing the relationship to the application of these technologies.
A Quick Review: Aligning Manufacturing Goals with the Organization
In my last post I drilled down into seven key steps that companies can take to properly and optimally align these two sets of goals. Although I won't go in depth into each, they're important to note before discussing the supporting technologies.
-Understand and Articulate Strategy: have a clear and universally understood manufacturing strategy that is in support of the corporate business strategy
-Translate Strategy into Specific Goals: turn that strategy into specific goals for business groups and associated supply chains, as well as plants, units, and production lines
-Map Goals and Specific Measures for Success: use a cross-functional team to map each detailed translation across the enterprise
-Determine Key Performance Indicators: develop a set of manufacturing KPIs to measure progress toward your goals
-Establish Communication Procedures for KPIs: make sure the right information is getting to the right people in a timely manner
-Set Processes for How to Act on KPI Information: determine best practices for individuals from the shop to top floor to interact with KPI data
-Match Performance Incentives to Aligned Goals: reinforce the effectiveness of measuring KPIs by incentivizing progress
Realizing Goals with Manufacturing Operations Software and Other Enterprise Applications
An important thing to remember when aligning goals is that you're not building out these processes and capabilities from scratch. In most cases and in many large organizations, the manufacturing software and IT resources are capable, but just not being properly business directed to use technology to support this alignment. The following is a list of common MOM and Enterprise IT applications that companies can use to support monitoring, analysis of, enforcement, and visibility of progress toward these goals.
1. Enterprise Resource Planning (ERP): software that captures cost performance, order and materials performance information.
2. Supply Chain Management (SCM) and Supplier Relationship Management (SRM): software that captures supplier performance information.
3. Enterprise Quality Management Systems (EQMS): that can correlate quality and cost of quality performance information.
4. Asset Management / CMMS software: to provide asset and maintenance performance information.
5. Collaboration website and Mobile software: to organize and distribute appropriate performance information across a manufacturing organization.
6. Advanced Process Control & Optimization software: to model and predict complex manufacturing interactions and suggest optimum manufacturing set points within safe and profitable limits.
7. Historians, Batch Management and Manufacturing Execution Software: that captures the real-time manufacturing activity and performance from manual and automation / machine generated information sources.
8. Enterprise Manufacturing Information / Operations Intelligence software: that can correlate information from all of the above sources and present summary reports and live dashboards to guide manufacturing workers.
9. Human Machine Interface (HMI) software: that can display real-time graphical representations and trends of performance information from MOM software and automation / machine generated information sources.
Goals, Manufacturing IT, and the Pursuit of Operational Excellence
Following the LNS Research Model of Operational Excellence, in any initiative executives should be focusing on aligning and then optimizing people, processes, and technology. This series of posts highlights how the three key resources can work in conjunction with one another to not only support improvements in business performance on the shop floor, but also in the context of the broader enterprise.
***If you have any experiences with leveraging technology to support manufacturing and business goals, please share them in the comments section below. As we ramp up our MOM Research practice, we are very interested in hearing the perspectives from business leaders around the globe.
You might also be interested in:
Top 6 Challenges in Electronics Manufacturing
Manufacturing Metrics: First Pass Yield Benchmark Data