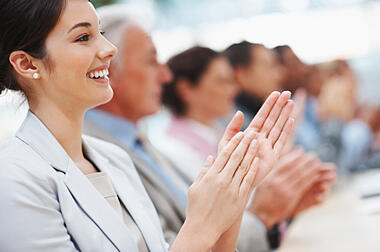 Two weeks ago, I had the opportunity to both attend and participate in the MESA North America & Industry Week Best Plants Conferences in Greenville, SC. With well over 500 attendees and a larger portion of manufacturers than vendors, the conference had a strong variety of perspectives and thought leaders. Participants were focused on one central theme: beating competition in the global market place through continuous improvements in manufacturing operations.
The event kicked off with the MESA N.A. conference on Monday, with a MESA member business meeting as well an afternoon of 'un-conference' sessions. Tuesday and Wednesday included keynote sessions from leading manufacturing executives, representing businesses such as BMW and Michelin, award presentations for IW's 2013 Best Plant winners, and a number of breakout sessions with specific educational and case studies focused on the topic of operational excellence.
Interestingly, the breakout sessions were split into six tracks, many which we place considerable focus on at LNS Research. These tracks included Continuous Improvement Fundamentals, Advanced Continuous Improvement, Manufacturing Workforce Development, Supply Chain Strategies, Leadership & Innovation, and Manufacturing Technology Strategies. This post aims to highlight some of my key takeaways as well as my analysis of the conference content.
Manufacturing Operations Regaining Momentum in the U.S.
There was most definitely a renewed buzz around manufacturing improvements in the Americas and the US. We heard numerous stories regarding manufacturing reshoring initiatives, many of which were attributed to the changing economics of global manufacturing. In fact, right there in the Greenville, SC, area, manufacturing is thriving again. BMW reported producing all of its X3 and X5 SUVs for the entire world there (approximately 80% exported) and Michelin tire said it was exporting nearly 70% of its production value - attributed mostly to its large industrial and earthmoving tire production.
From ours and other industry research, as well as discussions with industry leading executives, there appears to be several leading drivers behind the changing global economics and reshoring. These include:
U.S. manufacturing has used automation and technology to reduce labor costs, allowing many organizations to compete with nations with lower labor costs
Manufacturing labor costs in developing countries like China are rising and expected to start catching up to U.S. rates as early as 2015
The complexity of offshore supply chains has led to expensive lapses in supply and quality, making production in the U.S. more appealing
Stronger continuous improvement cultures are being built into U.S. manufacturing and it's starting to payoff
The observations above are acting as the kindle for many organizations' strategic production and investment decisions, leading to more confidence in future cost improvement initiatives, simpler supply chains, and ultimately, strategies to produce closer to where domestic demand is.
MESA 'Un-Conference' Sessions that LNS Research Cohosted

During the MESA portion of the event, there were several 'un-conference' sessions that were geared toward more of a discussion-style forum for attendees to ask questions and share experiences on a variety of manufacturing and business technology issues. These sessions were moderated by MESA members, which include software vendors, industry analysts, MESA trainers, consultants, and more.
My colleagues Mehul Shah, a Senior Associate at LNS, Julie Fraser, Outreach Director at MESA, Steve Kaplan, Manufacturing Program Manager of Murata Power, and myself all cohosted a session together on the topic of "Improving Manufacturing Performance so Executives Notice." The session had nearly 50 attendees and housed a lively discussion around the challenges of translating manufacturing metrics such as First Pass Yield, Cost of Quality, and Overall Equipment Effectiveness into KPIs and ROIs that executives could relate to.
The consensus of the room was that cloud-based, mobile solutions are starting and will continue to make a big impact on the ability to deliver the right financial and operational metrics to the right individuals across the manufacturing enterprise in real-time. These solutions are helping many companies bridge traditional information gaps. After discussing in last week's blog post the importance of manufacturing technology and enterprise IT in manufacturing strategy, it was great to hear about the goal and metric alignment activities as well as the supporting solutions that leading companies are using to support manufacturing operations.
The Upcoming LNS-MESA Metrics that Matter Research Project
Our discussions with executives shed light onto the importance of technologies for setting and measuring key manufacturing metrics, but they also highlighted the need for a strong dataset for benchmarking against industry averages and leaders. As we see manufacturers continue to drive for and invest in their global competitiveness, it will be critical to pair in-house performance against leading competitors across the globe.
LNS Research is excited to help executives realize their goals. This year, we've partnered with MESA to conduct the 2013-2014 'Metrics that Matter' research project. In the past, this research project has tracked the most important manufacturing metrics and correlated improvements in these metrics with improvements in business performance and with software solutions that were implemented to help achieve those improvements.
This next round for 2013-2014 will expand on previous research to not only look at continuing trends, but will also drill into role-based metrics. It will work to identify which are the best metrics to display in real-time for different roles across the manufacturing enterprise as well as looking at the impact of new technologies on metrics programs, including Cloud, Mobile, and Big Data Analytics.
There are opportunities for both executives and vendors to participate in the Metrics that Matter Research Project. To find out more, please click on the button below.
You might also be interested in:
MESA-WBF Merger: Promoting IT-Shop Floor Unity
Insights into the MESA Food Safety Guidebook
Improving Food Safety: Insights from Mars' and Dole's Product Recall
---
All entries in this Industrial Transformation blog represent the opinions of the authors based on their industry experience and their view of the information collected using the methods described in our Research Integrity. All product and company names are trademarks™ or registered® trademarks of their respective holders. Use of them does not imply any affiliation with or endorsement by them.