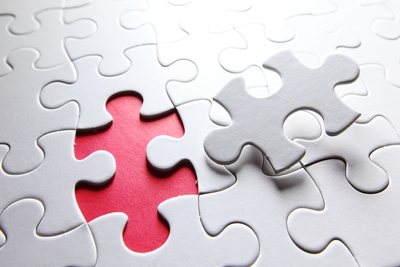 With today's global economy only becoming more competitive, it's no surprise that everybody in the manufacturing environment is talking about continuous improvement. Proven leaders understand that if you're not moving forward, making year-over-year gains in key performance indicators (KPIs) and metrics, then you're destined to face some serious challenges down the road.
Follow @LNSResearch
Most executives know the basic principles of continuous improvement: set goals, align resources to achieve those goals, measure progress, and then refine and repeat. But our experiences have shown there's one key aspect of continuous improvement that's often overlooked: benchmarking.
Benchmarking not only enables you to compare your performance internally or with competitors, it also validates that you're setting the right goals and taking the right approaches to achieve those goals. In this article, we'll discuss the value of benchmarking, look at data on the disconnect between benchmarking and continuous improvement, and then look at what you can do to get on the right path toward excellence.
Why would you want to Benchmark Your Performance?
Before getting into the data we've collected on benchmarking and continuous improvement, it would be good to take a step back and talk about why you'd want to benchmark in the first place. This article was really prompted by a previous article I wrote around 7 key benefits of benchmarking, and I'll share those below for reference:
Understand performance relative to close competitors
Compare performance between product lines/business units
Hold people more responsible for performance
Drill down into performance gaps to identify areas for improvement
Develop a standardized set of processes and performance metrics
Enable a mindset and culture of continuous improvement
Better understand what makes a company successful
The whole article can be found here, but the basic principle is that benchmarking enables you to take a comparative approach to performance management. It's an exercise which can be used to anchor and adjust your goals, confirming that you're being realistic with your expectations and your employees are being held to the right standard. Whether you're benchmarking performance internally or externally, it's generally a very eye-opening experience.
Looking at the Numbers: Benchmarking versus Continuous Improvement Programs
To provide perspective on attitudes toward benchmarking and continuous improvement, let's take a look at data from the 2013-2014 Metrics that Matter survey, which was part of a research study conducted by LNS Research and MESA International. In this survey, more than 200 manufacturing professionals were asked a number of questions, but for our purposes here, we'll focus on two of them:
Which types of continuous improvement initiatives is your company involved in?
Has your company participated in a benchmarking project?
Continuous Improvement Programs
As shown below, 85% of professionals reported currently having some type of continuous improvement initiative. This question compiles the results of survey takers that marked having one or more of the following continuous improvement initiatives: Operational Excellence, Lean Manufacturing, Six Sigma, TQM, and more.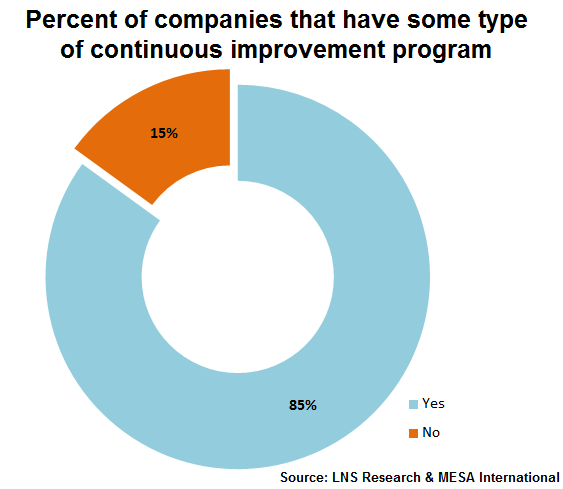 Although 85% is a high number, I would like to point out that because of the nature of the Metrics that Matter research study it makes sense that many of the professionals who chose to take this survey were well on their way with continuous improvement initiatives. In fact, we asked this same question in our broader Manufacturing Operations Management survey, which has been taken by over 400 executives, and only 73% of companies surveyed reported having some type of continuous improvement initiative.
Benchmark Projects
When professionals who took the Metrics that Matter survey were asked about their participation in benchmarking projects, there were some differences in the results. As depicted below, just 34% of respondents said they had participated in a benchmarking project, while 66% had not.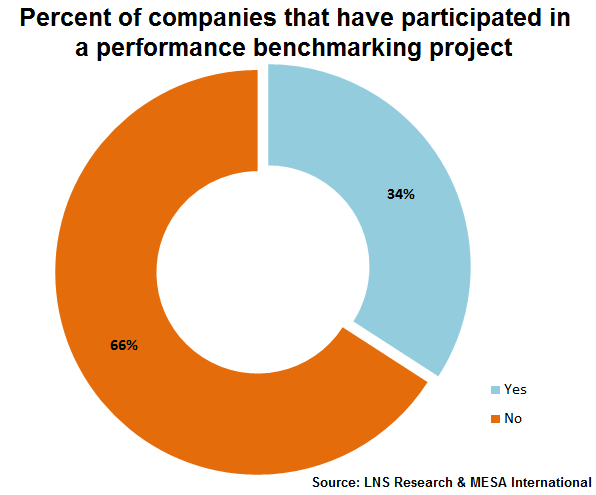 Analyzing the Data
Based on the data above, with 85% of companies having a continuous improvement initiative but only 36% having participated in a benchmarking project, it's clear that many are overlooking this powerful tool.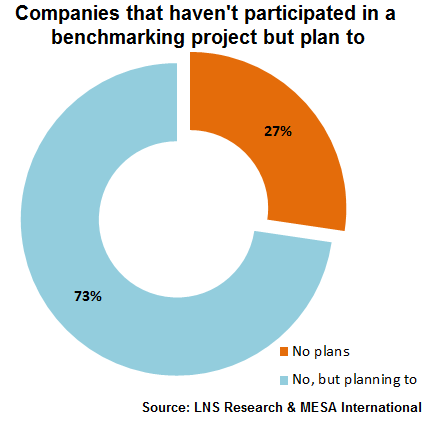 Nearly every executive we speak with is interested in learning about how they can benchmark their organization's performance, but for some, that conversation is about as close as they come to actually doing so. Unfortunately, with many investments that require change, capital, and time, executives often adopt the mindset that it's easier to do nothing than to take action.
Of those survey respondents who reported not having participated in a benchmarking project, 30% said they have plans to in the near future. This is hopeful, and indicative of the fact that more companies are seeing the value of benchmarking, but it still leaves a considerable portion with no chance of gaining that valuable perspective needed for sustaining a long-term competitive advantage.
Accelerating Your Path to Excellence
If you're interested in benchmarking your manufacturing performance, there are a number of options ranging from internal programs to more formal programs (like the cost of quality benchmarking project we're launching in June, details here), or you can start doing your own research and reading industry benchmark reports.
For those interested in more details about metrics programs, our Principal Analyst Mark Davidson will be presenting the results from the 2013-2014 Metrics that Matter survey on April 16 in a free webcast. Anyone can sign up, and for coming you also get a complementary benchmark research paper that summarizes the study's findings. More information can be found below:
Categories: Operational Excellence, Metrics, Benchmarking