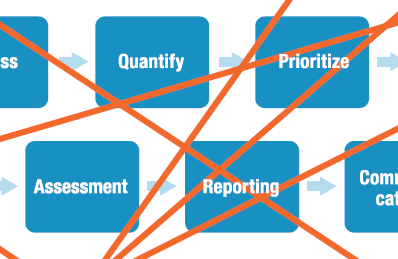 You know that old saying "if it's not broke, don't fix it?" Unfortunately, that's the thought process many executives adopt around quality management. It's not necessarily that their quality management system is broken, per se, but the challenge of having disconnected quality systems and data sources has grown to become so normal that it's just something they "deal with" or "make work." In a perfect world, though, these resources should be enablers of ever-improving quality.
There's a gap in many organizations' ability to effectively deliver quality products and processes, and our research over the past several years has revealed that enterprise quality management software (EQMS) is the bridge. EQMS transforms many of the traditionally siloed quality efforts that are causing roadblocks to improvement today. However, because it's a relatively new and emerging software space, some have found difficulty in figuring out how to approach such an investment.
Over the past few weeks, we started this series on building a business case for EQMS. The first part was on taking an inventory of your current quality capabilities, and the second on developing your ideal set of quality capabilities. This third installment's going to cover how to bring those two parts together to identify gaps in your current quality resources. If you're interested in getting budget for an EQMS investment, this post should give you a rundown on how to make a convincing argument.
Filling in the Gaps with EQMS
1. People and Leadership
You may be wondering why an assessment of people-oriented resources is needed in a gap analysis meant to highlight how EQMS can improve business performance. Quality is largely dependent on culture and leadership, and modern technology like EQMS is instrumental to delivering the communicative and collaborative capacities needed to get the most out of those resources. In your gap analysis, look at current versus ideal resources and think of how EQMS will facilitate a stronger quality culture and empower both site and corporate leaders to make better decisions. In many cases, the enterprise transparency provided by EQMS can drive a stronger culture.
2. Business Processes
In the first two posts, we touched on the importance of standardizing business processes that would deliver synergies to the enterprise as a whole. A major driver we're seeing with companies adopting EQMS surrounds the inefficiencies of disparate processes such as corrective and preventive actions (CAPA) and a lack of consistency in the documentation for communicating and analyzing open issues. As shown below, these two functionalities were the most widely adopted in 2012.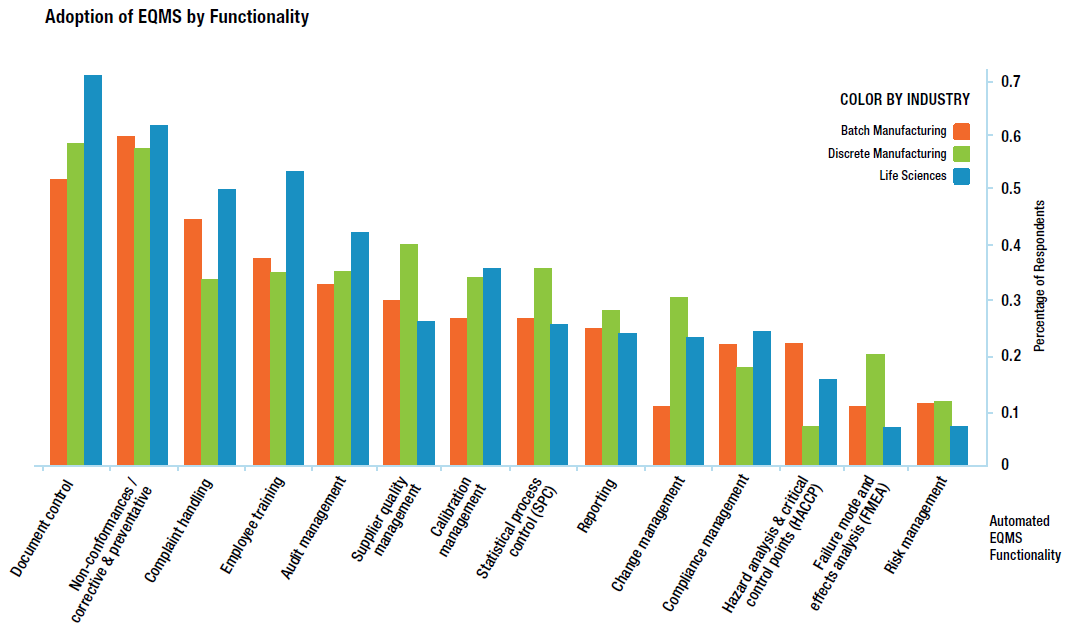 With a gap analysis, it's often helpful to develop a flow chart to map your current process capabilities from beginning to end. You can then apply your desired quality management capabilities. When mapping, for instance, quality risk management, you may find that any open issues or those flagged with higher risk never get escalated to a higher level. In reality, though, you may want this process to extend out to corporate if it's left open for a certain time or it reaches a particular level of criticality.
In many cases, EQMS can compound this jump, helping to extend the capability uniformly across the enterprise. Extending a standardized quality risk management process or system can have dramatic impacts on your enterprise risk portfolio and quality metrics.
3. Technology
EQMS can play a central part in standardizing and building out end-to-end business processes, and connecting those processes on a common platform. In what seemed only conceptual not long ago, many companies are actually closing the loop on quality issues originating across the value chain with EQMS. The image below is a high-level map of how quality processes can be interconnected with one another.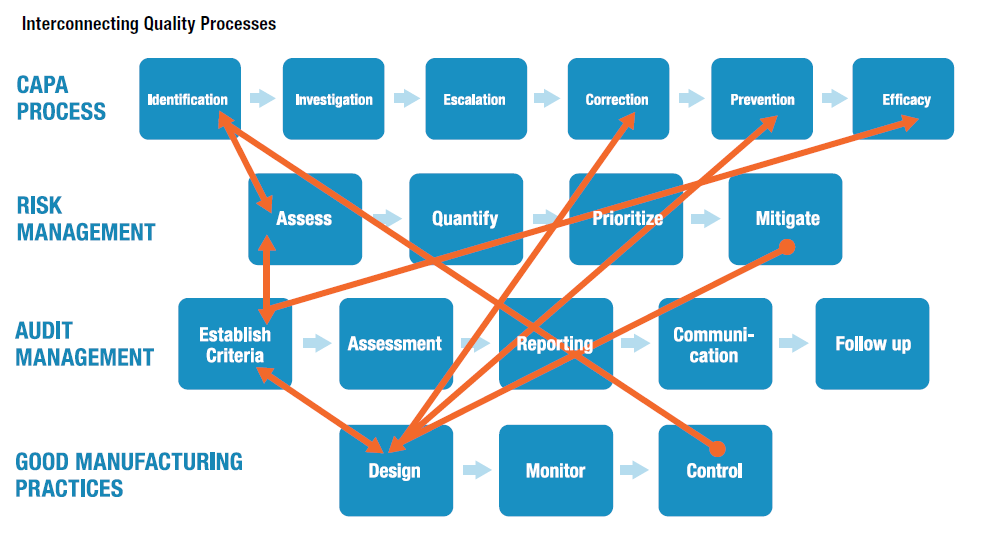 When conducting your gap analysis, review current IT architecture and identify which process and quality data source gaps can be filled with EQMS. If your current capabilities have a number of instances of the processes listed in the figure above, it may be time to consider standardizing one or more with EQMS.
EQMS is good at standardizing and consolidating quality processes, but it can also be a key point of integration with other enteprise systems. In some cases, this means integration with or extending capabilities found within ERP, manufacturing operations management (MOM), product lifecycle management (PLM), customer relationship management (CRM), and supply chain management (SCM).
By centralizing process data on a common platform, information can be automatically routed from one data source to another, providing an opporunity for cross-functional communication that's critical to achieving operational excellence. Closed-loop quality is often a major gap that today's complex companies identify and leverage EQMS to fill.
4. Key Performance Indicators
In a recent LNS study, we found that nearly half of all companies surveyed experienced difficulty effectively measuring quality key performance indicators. It's likely that the other top challenges, too many disparate systems and data sources as well as the organizational view of quality, are major contributors to this challenge. An effective metrics program requires buy-in from leadership and other personnel, but it also requires a strong IT architecture that captures and provides visiblity into performance data.
In reviewing your current metrics capabilities, it can be helpful to map out how information will flow within and between data sources like we did with the business process flow chart above. By visualizing the needed points of integration with systems and business processes, it sheds light onto the benefits of automation, centralization, and standardization that EQMS capabilities can offer. Achieving close to your desired state of quality in the first three steps above should make your metrics program dramatically stronger.
Building a Business Case for Enterprise Quality Management Software
With the gap analysis complete, our next post will discuss building a business case for EQMS. We'll go into five important steps, including:
Estimating the contribution to performance benefits that will be gained by changing quality organization, quality processes, and software architecture
Establishing a change management plan for changes to quality organization, processes, and software
Estimating the time and costs of successful change management in quality organization, processes, and software
Determining where the ROI makes sense to move forward
Establishing a project plan with short-, medium-, and long-run goals
Those are our thoughts on conducting a quality gap analysis. Please share your own in the comments section below, and don't forget to read the Global State of EQMS eBook by clicking he button below.
Categories: Enterprise Quality Management System (EQMS)