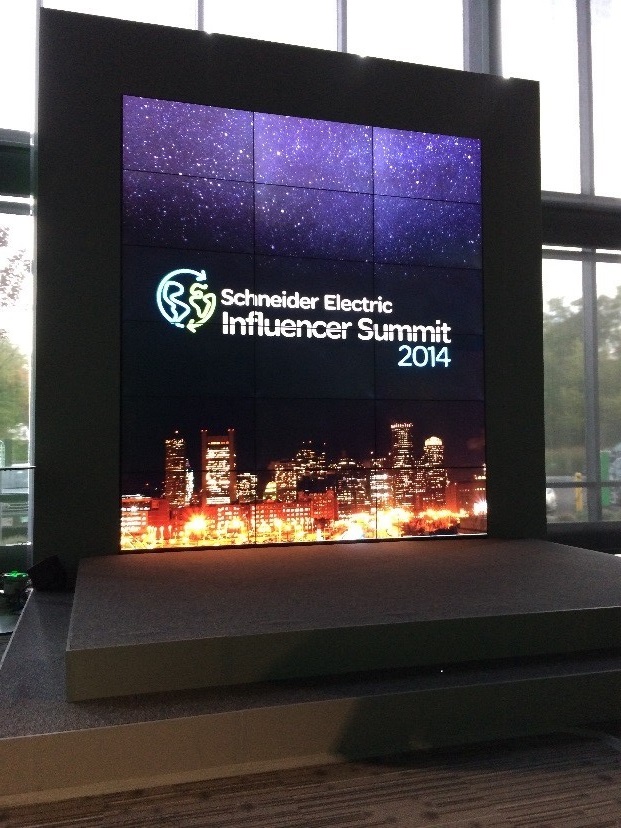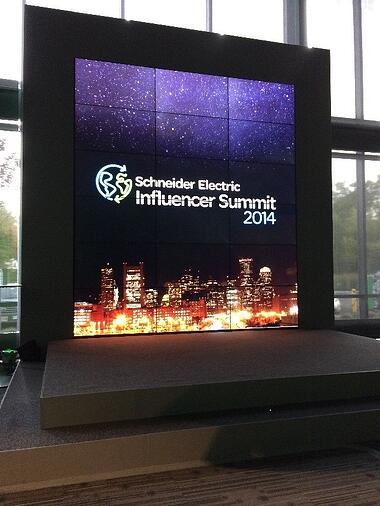 Schneider Electric recently hosted industry analysts, media, social influencers, academia, and others for a packed agenda and lively exchange on the market and technology forces that are driving "The Next Age of Change" for the manufacturing and utilities industries, and smart cities. The intention of this event was to share high-level strategic directions, as opposed to detailing all of the company's plans.
The event was held at their newly opened, 247,000 square foot, Boston One R&D and North American headquarter campus in Andover, MA. The facility was an impressive example of an efficient/smart building that utilizes Schneider Electric technology to monitor, manage, and adapt to changing conditions in habitation/use, weather, and utilities--already being touted as one of the most energy efficient buildings in the world with LEED Silver certification. This facility is one of five global R&D hubs where core technologies are being developed for use across the group's offerings, with this facility focused on technologies for building automation systems, industrial networks, and IT critical power and cooling, as well as two of the company's "StruxureLabs" focused on the global segments of healthcare and data centers.
Growth & Marketplace Driven
Chris Hummel, Chief Marketing Officer set the tone for the day with a discussion on macro social and economic trends--including topics such as urbanization, industrialization, and digitization. Predictions included 70% of world population living in cities and energy consumptions increasing by as much as 50% by the year 2050. It was no surprise to hear that Schneider Electric also sees that connected systems will make a key difference for impacting efficiency, speed and sustainability of factories, buildings and cities today, and into the future. Their focus is on creating useful operational technology solutions that leverage information technologies, such as software and the IoT (Internet of Things). The company believes that they have built up their capabilities through acquisitions and organic developments to the point where their product and services portfolio will enable them to take advantage of growth opportunities in the marketplace.
Schneider Electric global executive business group leaders across segments were all present to give their perspectives and engage in panel sessions covering markets and strategies, along with guest industry and customer speakers. Laurent Vernerey, CEO of North America emphasized the importance of tapping into the think-tanks in the U.S. as well as the business growth potential that exists within the open-minded and innovative U.S. marketplace. The company invests 4-5% of sales in R&D, has 1,200 software engineers located in the U.S., and is keenly addressing the cyber-security challenges associated with connected systems. Laurent also described investments in future growth of services to increase their services/product mix. Schneider Electric has an impressive 12,000 service delivery professionals across 250 service centers globally. Partners and channels are also an important part of their growth strategy.
One of the company's challenges that Laurent was quite candid about is their lack of market visibility. They are a $35B global company that is best known for its individual product brands such as Square D and APC, and now with the Invensys acquisition, brands like Wonderware, Foxboro and Triconex. LNS Research agrees with this assessment, and hopes to see Schneider Electric invest in more industry reachouts and market awareness activities that will get their bigger company story out into the marketplace.
Industry Business Strategy: Integrating Invensys Acquisition Strengths
Clemens Blum, Executive Vice President for the Industry Business segment gave an update on the integration of Invensys, along with a strong message on the importance of assisting customers with their operational integrity. Eliminating or minimizing equipment failures, security breaches, and ensuring safety are the number one priorities. He reflected on how the use of commercial IT technologies inside of industrial solutions presents a double edged sword--whereby these have increased the performance and connectivity of automation systems, but has negatively impacted system security at the same time.
In the Schneider Electric industry strategy, IoT and big data analytics capabilities will be used in a selective and intelligent fashion, rather than gathering and analyzing more data simply because it is technically feasible. Analytics and IoT will become an intelligent part of future solutions designs that provide additional customer business value, however, it will be done in a focused manner whereby users are not overwhelmed with data and information, as well as ensuring highly secure connections. It is paramount that the integrity of industrial operations are maintained. We think that Schneider Electric and all other automation providers will see future market pressure to integrate lower cost IoT sensors directly into secure automation systems, especially as more experience is gained and IoT sensor offerings mature. Related to this, a secure IoT system on a chip at a price point of $2.50 has already been developed by Schneider Electric and was brought up in the day's discussions.
With Invensys now in the fold, the vertical industry solutions areas for Schneider Electric have been tuned to include: Data Centers, Healthcare, Food & Beverage, Mining/Minerals/Metals, OEM (Machine Builders), Oil & Gas, Smart Cities/Homes, Utilities and Water/Wastewater. We see upside potential for combining the traditional discrete automation and energy management strengths of Schneider Electric with the process and hybrid automation strengths coming from Invensys. In our follow up discussions on industry strategy, it is still early days for the creation of more comprehensive cross-portfolio solutions, however, this is clearly part of the efforts that are underway.
A Challenging Technology Platform Strategy
Pascal Brosset, Chief Technology Officer engaged us in a conversation around software platforms for operations management and how the IoT is part evolution and part revolution. He supported Clemens' story on how new technologies could be layered onto infrastructure applications such as water and power grids without impacting critical control architectures. He also gave a vision on the evolution of their StruxureWare and EcoStruxure software platforms which includes distributed intelligence and public or private cloud delivery of common communications, data management, business integration and systems management services that can be the foundation for industry applications and value-added services.
He also described the shortcomings of existing data historians not providing sufficient contextualization of information needed to create effective operations and business solutions. Therefore, the future platforms will include improved operational intelligence capability that combines process status and events, big data context, business context and constraints in the operations management middle-layer.
What was missing for us in this middle platform layer, was any explanation of manufactured product traceability/transactions or business/operations process workflow. Even though there are MES and process workflow capabilities coming from Wonderware, most of the day's discussions on productivity and optimization enablers were very data/analytics-centric, and didn't have much connection to strategic business/manufacturing process decisions. The other missing element was a lack of clarity on how this related to the roadmap of existing software product platforms, however, we are confident that we will be able to describe these details in the near future, based on our follow-on interactions.
Schneider Electric is a member of the Industrial Internet Consortium, which is working to accelerate IoT adoption by working on new and enhanced industry standards. We applaud these efforts as LNS Research sees the importance of ensuring that the information profiles and data models of IoT are effectively addressed, along with clear interrelationships with existing industry standards, in order to facilitate multi-vendor product integration and fewer fractured efforts (refer to this LNS blog article on the lack of interoperability standards).
LNS Research's Final Take on the Event
LNS saw lots of smart strategies, energy, enthusiasm, and investments being put into achieving the "Next Age of Change" vision of Schneider Electric. We see them as a company that is effectively tuning into marketplace trends and growth opportunities. Unlike some of their large competitors, we didn't hear about any focus on digital manufacturing from a design to build perspective (e.g. PLM/PDM integration).
We see Schneider Electric as perhaps being a bit overly ambitious in their ability to be a leader (#1 or #2) in all of the initiatives they are simultaneously undertaking. Especially when you consider the breadth of their strategy and these simultaneous activities: leveraging the Invensys acquisition to expand industry automation capabilities and accelerate software platform technologies and solutions, building new digital services capabilities, taking existing partners and channels along for the journey while building up new analytics and services partnerships, building out end-to-end industry solutions that leverage their portfolio across nine industrial and commercial industry verticals--all while continuing to sell high volumes of products.
We witnessed a great display of their aspirations and ambition, and as Schneider Electric ramps up its progress and marketing activities, we expect to see more focus on precisely which sub-segments they intend to lead in and "play to win". In the near future, we will be covering more details of their strategies and progress on industrial software, using insights gained from this week's 2014 Schneider Electric Software Global Customer Conference.
This article was written with contributions from LNS Research's President & Principal Analyst, Matthew Littlefield, and Senior Associate, Mehul Shah.