Last week, LNS attended the Schneider Electric Innovation Summit in Paris. It is one of the two flagship summits from 16 overall events Schneider Electric will hold this year to showcase their vision and technology. The event, first since Schneider Electric Software and AVEVA merger, was held in Paris from April 4-6 and had nearly 5000 attendees including customers, partners, prospects, employees, press, and analysts. The host city was painted green to match Schneider Electric brand color.
Schneider Electric: Vision and Focus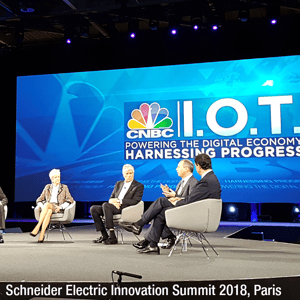 CEO Jean-Pascal Tricoire kicked off the event with a keynote on "Powering the Digital Economy." Jean Pascal made it clear that Schneider Electric is a technology company focused on convergence of digital and power. Schneider Electric's focus is on:
Building products
Home
Data center
Industry
Infrastructure
Jean Pascal used data centers as an example to support his point on green power. Schneider Electric is the most prominent supplier of power to data centers, and this will increase as artificial intelligence (AI), blockchain, and other power-intensive computing grows. He pointed out that digital is today's technology, but the real future is green power. Schneider Electric is committed to being carbon neutral by 2030 and, claims the Paris Marathon, sponsored by Schneider Electric is carbon neutral for the first time – quite an achievement!
What's New from Last year
As one of the leaders in the energy management industry, over the last few years, Schneider Electric has invested considerably in developing a rich portfolio of digital tools with the company's EcoStruxure architecture and platform. During the 2016 Innovation Summit, EcoStruxure was highlighted everywhere, but there was no clear understanding of how customers will leverage the EcoStruxure architecture and platform. During this year's event, the EcoStruxure framework was integrated into solutions across their entire portfolio with a focus on connected products, Edge, and finally analytics, application, and services.
There was also a significant focus on three other areas - openness of Schneider Electric's platform, end-to-end cybersecurity, and the availability of all these solutions on cloud and on-premise. EVP Cyril Perducat, one of the key executives responsible for EcoStruxure architecture and platform announced their focus on building communities with a focused effort on creating a value proposition for different personas such as data scientist, ISV, developers, system integrators, etc.
Schneider Electric Exchange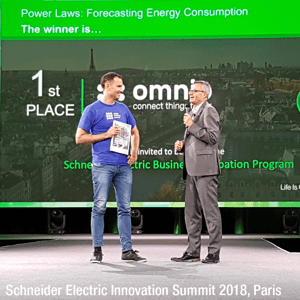 One of the critical strategies for involving a broader community is the Schneider Electric Exchange, aimed at specific businesses. At first glance, this seems like many vendors' attempts to get people to develop AI-based solutions for their platforms, but this one looks quite real. Over the last few months, the Schneider Electric Exchange for Industry (and Power) held a competition for startups to develop apps for EcoStruxure. Out of 115 entries, ten finalists presented at the summit. While many were typical intelligent quality or predictive maintenance applications, the winner was something else. Omnio.net has developed a way to build device drivers from manuals found on the internet – sounds simple, but we believe the reality is fascinating for the future of Edge devices in an IIoT world. Schneider Electric has already used the technology in real projects. If Schneider Electric can continue to attract original startups along with more mature operational technology providers, the Exchange could deliver real value to customers.
AVEVA and Schneider Electric Software
Although mentioned in Jean Pascal's keynote and other sessions, the industry division and AVEVA had limited presence at the summit most likely because the newness of the arrangement, Schneider Electric and AVEVA's big presence at Hanover Messe, and most importantly, the software of AVEVA is integrated into many of Schneider's solutions, including those on display at the summit. With the combined entity, AVEVA is one of the few companies in the world that can provide solutions across the design, build, operate, and maintain a portfolio for asset and operations lifecycle.
The industry offerings were exhibited as fully integrated solutions. We got a chance to review Schneider Electric's consumer products (CPG) and oil and gas offerings across the three categories of the EcoStruxure architecture and platform - connected products, Edge and apps, analytics and services. CPG use case highlighted the farm-to-fork capabilities in the food industry, where the offerings combined Schneider Electric products and services with AVEVA's software capabilities to provide customers with a one-stop shop for solutions across their value chain. Being a 60% owner of AVEVA, Schneider Electric' sales team will have the ability to provide an integrated solution to their customers without the customers worrying about dealing with multiple companies.
Schneider Electric at the Edge
In many ways, Schneider Electric is an Edge company. From programmable logic controller (PLC) to power meters and controllers, to distributed control system (DCS) systems, it has a large catalog of potential Edge devices. At the plenary, they launched fully Edge capable components for the buildings power control market. Unlike the process industries, the buildings and infrastructure markets have many new builds with digital solutions throughout. Schneider Electric is in a strong position to benefit and bring clients' energy use down. Internet of Things (IoT) based solutions based on Edge devices will fit well in the buildings, data center, and home markets.
LNS Research Take
We saw considerable progress from Schneider Electric since the last Innovation Summit. The maturity of ExoStruxure framework and the way it is now integrated across their entire portfolio should undoubtedly help their customers and prospects simplify and efficiently leverage their offerings.
Clients of the joint AVEVA and former Schneider Electric Software should be aware that the integration will take time. Those who have worked with Schneider Electric's partner network should ensure that their relationships with both companies cover their needs in hardware and software products and solutions.The joint AVEVA and Schneider Electric Software company will enhance the breadth of solutions they can deliver, especially in oil & gas and petroleum. Other clients should benefit from the fact that the new AVEVA is a pure software company and will focus on industry-specific solutions.
---
All entries in this Industrial Transformation blog represent the opinions of the authors based on their industry experience and their view of the information collected using the methods described in our Research Integrity. All product and company names are trademarks™ or registered® trademarks of their respective holders. Use of them does not imply any affiliation with or endorsement by them.