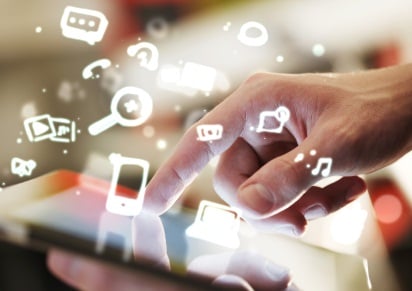 It's become a common—somewhat ironic—argument that mobility has only made us more disconnected (see: passengers staring at their phones on any subway car). Sociological implications aside, there's no denying that mobile connectivity has forever transformed the way we interact with each other as well as the way businesses interact with and collect information from their people and processes.
The manufacturing environment is no stranger to this transformation. In fact, all facets from the top floor down to the shop floor have only become increasingly connected in recent years—at a rate which is accelerating rapidly. As a result, today's professionals seem to always have more knowledge and power today than they did yesterday. Our research shows that, thanks to technology, 65% of operations managers have performance information within a day or sooner. And this is really only the beginning.
In this post, we'll briefly look into the types of mobile devices today's manufacturing professionals are using, and then dive into nine ways mobility is enabling professionals to be more effective.
Mobile Devices Used by Today's Manufacturing Professionals
Because of the consumerization of IT, the array of devices over which today's manufacturing professionals communicate and collaborate with other people, processes, and technology has mirrored the growth of mobile technology available in the consumer market. The capabilities and applications of these devices have also been driven by this market, as well as evolving business demands.
Today, many manufacturers are leveraging similar types of smartphone, tablet, smartwatch, health monitoring, and optical head-mount display technology that can be purchased by the everyday person. What's different are the specific applications and use cases of these technologies. In fact, there are many interesting uses of mobile devices today in manufacturing environments that are listed below:
1. Dashboards
As we've discussed in the past, advanced analytics are key to next-generation performance improvements in manufacturing. Solutions providers have been offering performance dashboarding apps for a few years now, and many are taking it a step further by delivering role-based information that has been analyzed and contextualized for the specific personnel based on their information needs (for example, a plant manager versus an operator or quality manager).
2. Quality Auditing
In the past, quality auditing in remote locations typically involved some form of paper. This was not only inefficient, it was prone to human error. Today, on-site and off-site auditing is typically done within a smartphone or tablet application. This approach has many benefits—namely, better integrity of information and the fact that audits can be standardized across multiple locations, with the information and processes being centralized across the enterprise.
3. Corrective Actions
Corrective actions—particularly in remote locations—traditionally required paper-based documentation. But today, most solutions providers offer some form of mobile app to support interactions with the corrective action process. These apps typically leverage the native capabilities of mobile phones and tablets, such as GPS/location services, voice/visual recording, and more.
4. Real-time Alerts
With nearly any type of mobile device, real-time alerts can be set up to streamline notifications based on some type of predetermined parameter. For instance, a Statistical Process Control (SPC) app could push a notification to an operator in the case of performance variability starting to stray outside of a threshold. Data from our recent Manufacturing Operations Management (MOM) survey puts this type of mobility use into perspective.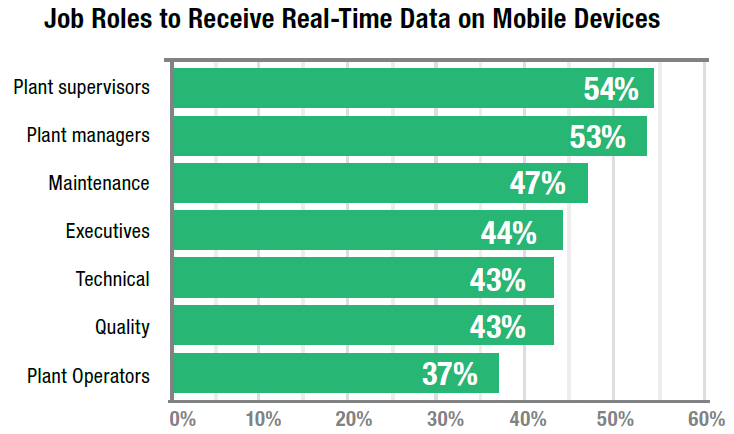 Interestingly, plant supervisors and plant managers are the greatest consumers of real-time data on mobile devices. This makes sense, though, because senior and executive leadership tends to deal more with lagging indicators based on historical information than leading indicators based on real-time information.
5. Electronic Work Instructions (EWI)
Work instructions in general have greatly benefited from the digitization of manufacturing records. And today, it's common for shop floor workers to reference EWIs on a tablet or smartphone as they follow a particular process or assemble something. Some innovative solutions providers have taken this a step further, developing EWI apps for optical head-mount displays like Google Glass, eliminating the need for looking away from what they're working on. And these mobile work instruction displays are offering much more than just simple text lists. Interactive 3D visualizations and video instructions are helping to ensure that manufacturing, assembly, test, and maintenance procedures are ever more clear and robust.
6. Training Management
Major quality, efficiency, health, and safety implications arise simply from a lack of training. There are companies today using mobile apps that require someone like an operator to login before using a particular machine. Once logged in, the system can validate if that operator has completed a required training, read an update to a quality specification, and so. If that person has not done so, the system will not let him or her proceed.
7. Checklists
Checklists are widely used in the manufacturing environment, from incoming materials inspection, through production, and delivery. For quality, efficiency, health, and safety purposes, it's imperative that checklists are followed. Solutions providers have digitized these checklists and they've been widely available on apps for years. The benefits of centralization and standardization—similar to audit management—are significant. Also, this digital approach keeps a record of everything checked off, as well as anything that has to be overridden on the checklist for a process to move forward (for auditing purposes).
8. Personnel Monitoring
The consumer market is full of health monitoring applications that use wearable technology to keep track of things like locations of personnel, their heart rate, and body temperature. This technology is making its way into the manufacturing environment. Consider a plastics manufacturing operation where air conditioning cannot be used—this type of monitoring could ensure better health and safety of employees.
9. Equipment Monitoring
Maintenance personnel have many duties, main ones being to monitor the health of machines and to be prepared to rapidly address needs (or potential needs) of the most critical assets to minimize unplanned downtime. Last year we spoke to an interesting solutions provider that was working on a Google Glass app that displayed machine health data to the user just by looking at it. The technology is still maturing, but it's not far off.
Keeping an Eye on the Future of Mobility
The first electronic telegraph was sent in 1844, and it took 129 years before the first mobile call was made in 1973. Since that call, the rate of mobile technology advancement has jumped dramatically. Not only is mobile the prevalent means for communication today—even in many third-world countries—scientists are now talking about making telepathy a reality by embedding mobile technology into the brain.
Ultimate mobile connectivity is definitely something interesting to consider, but it certainly surfaces some questions into why more manufacturers aren't using even the most rudimentary forms of mobile technology. Some of the use cases for mobility listed above would require little investment but deliver major benefits. If you're not on the path to using mobile apps to better manage your production operations, you're seriously at risk of being stuck in the past.
---
All entries in this Industrial Transformation blog represent the opinions of the authors based on their industry experience and their view of the information collected using the methods described in our Research Integrity. All product and company names are trademarks™ or registered® trademarks of their respective holders. Use of them does not imply any affiliation with or endorsement by them.