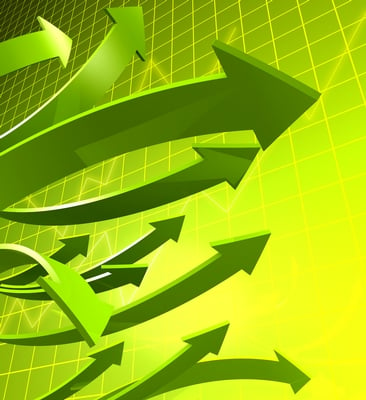 The term 'sustainability reporting' can either excite business leaders or incite them to roll their eyes. Some view it as an opportunity to benchmark and improve sustainability performance, while others see it as a waste of time, effort, money, and resources, with no positive bottom-line impacts.
Some organizations (say they) use the results of their own reports to actually improve sustainability performance from year to year, but to date there hasn't been a lot of credible data to show us this actually happens. In many cases, skepticism of the actual value of sustainability reporting persists. And sometimes organizations participate in the exercise because they feel 'everyone else is doing it, so why aren't we?'
So, with a dearth of credible data supporting returns on reporting, why does the popularity of reporting continue to rise? What is motivating organizations to continue to report? What are the challenges they face in reporting? And how are they actually going about reporting?
These are some of the questions that LNS Research asked in its recent survey of environment, health, and safety (EHS) professionals. While EHS and sustainability are by no means synonymous, environmental performance and health and safety stewardship constitute a large piece of the sustainability pie.
In this article, we'll look at some of the objectives associated with reporting. In future posts we'll examine the challenges behind reporting, how companies choose to report, and more.
Sustainability Reporting on the Rise
In our EHS survey, we polled over 300 EHS professionals on an array of questions, ranging from topics such as ongoing challenges in EHS management, to trends in mobility, to sustainability reporting.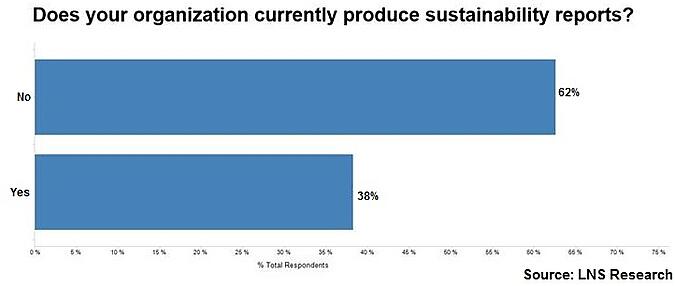 Of those surveyed, a full 38% indicated that they currently produced sustainability reports. While at first blush this may not seem like an overwhelming figure, consider that manufacturers surveyed run the gamut of company sizes. It is sometimes assumed that only the biggest, global organizations commit to reporting, but our survey—which polled large (21%), medium (43.4%) and small (35.6%) companies—revealed that over a third engaged in reporting, not an insubstantial amount.
Why Bother Reporting?
Whatever the company size, a persistent question associated with reporting is why? With the lack of categorical evidence showing the value of sustainability reporting, coupled with the intensive commitment behind the activity, it's worth asking why organizations report in the first place.
And indeed, that's what we asked survey participants, inviting them to tell us their key objectives in producing sustainability reports.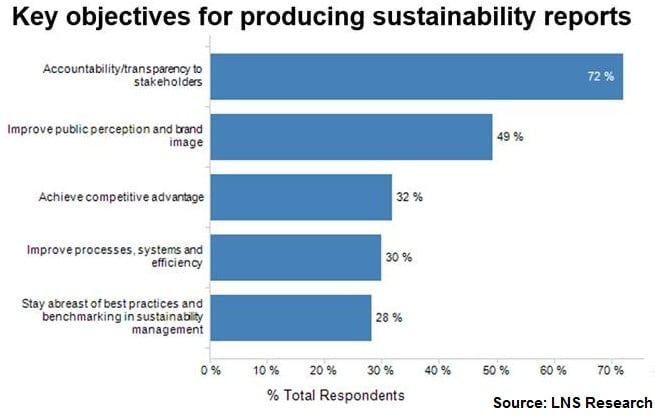 While there were an array of different responses cited, one key objective was ahead of the pack. At 72%, most respondents indicated that accountability/transparency to stakeholders was a top objective in producing sustainability reports.
This tells us a number of possible things.
First, manufacturers seek to either meet or exceed sustainability-driven mandates adopted by their customers. One example of this phenomenon might be a company like Wal-Mart which, in its quest to achieve better environmental performance internally and across its supply chain, has demanded suppliers meet specific 'green' requirements, and account for this accordingly. In some cases, suppliers might go above and beyond simple accounting and actually produce complete sustainability reports in order to explicitly document their commitment to sustainability.
And second, other stakeholders, such as consumers—whose demand for more sustainable products and services has been on the rise in the last 25 years—are also likely driving manufacturers to be more accountable and more transparent with their sustainability performance. When companies experience major negative events associated with environmental and safety performance, for example, people take notice. As proactive or reactive measures, businesses often feel compelled to produce reports to illustrate their performance and progress on the sustainability front.
Sustainability Reporting for Self-Improvement?
After providing accountability/transparency to stakeholders, "improving public perception and brand image" ranked as the second most cited objective for producing sustainability reports. This is interesting, for it runs counter to the oft-mentioned notion that companies produce sustainability reports 'for the sake of reporting.'
I've mentioned in previous posts that, in producing sustainability reports, the onus falls on the reporting company to benchmark themselves against their historic performance, as well as that of their competitors who also publicly report, to continuously improve sustainability performance. There is no built-in mechanism in sustainability reporting frameworks such as the Global Reporting Initiative (GRI), Carbon Disclosure Project (CDP) or others that ensures reporting companies actually improve performance year over year. Instead, it falls on the organization to leverage the reports to get better over time.
Achieving competitive advantage came in as the third-most-cited response (32%), and to some extent this supports the accountability/transparency factor mentioned in the number one objective. Companies are increasingly aware they have to maintain a positive brand image among the buying public in order to maintain and indeed improve bottom-line performance.
In the future we will continue beyond why organizations produce reports, and hone into the challenges associated with reporting as well as how organizations are actually reporting. What are your thoughts? Does your organization produce sustainability reports? And why do you do it in the first place?
Categories: Sustainability, Environment, Health and Safety (EHS)