Industrial Transformation (IX) continues to animate manufacturers worldwide. Our 2020 global survey shows that more than three-quarters of companies are executing, piloting, or planning on executing an Industrial Transformation (IX) program in the next 12 months despite a global pandemic. Industrial Transformation Platforms (IX Platforms) are a core component to the majority of IX Leaders who are three times more likely to be implementing an IX Platform as compared to Followers.

LNS Research has therefore created an IX Platform Solution Selection Matrix to assist manufacturers in the discrete/batch and the process/infrastructure industries.
LNS Research's definition of IX Platforms incorporates five key technical inclusion criteria for the SSM report:
Suppliers must have a significant presence in industrial applications. Platform suppliers exclusively targeting applications in the consumer space are not considered.

Vendors must offer a development platform as a product, and preferably a no-code/low-code environment, for applications, analytics, and/or digital twins.

The development environment must be commercially available (licensable), and for use by third parties and end-users.

IX Platforms must leverage digital technologies (such as AI/ML, IIoT, and AR/VR), run on private or public cloud instances, and support hybrid/edge cloud architectures.

IX Platforms support a broad range of industrial transformation use cases, including but not limited to: operations, assets, products, supply chain, customer experience, and Connected Frontline Worker.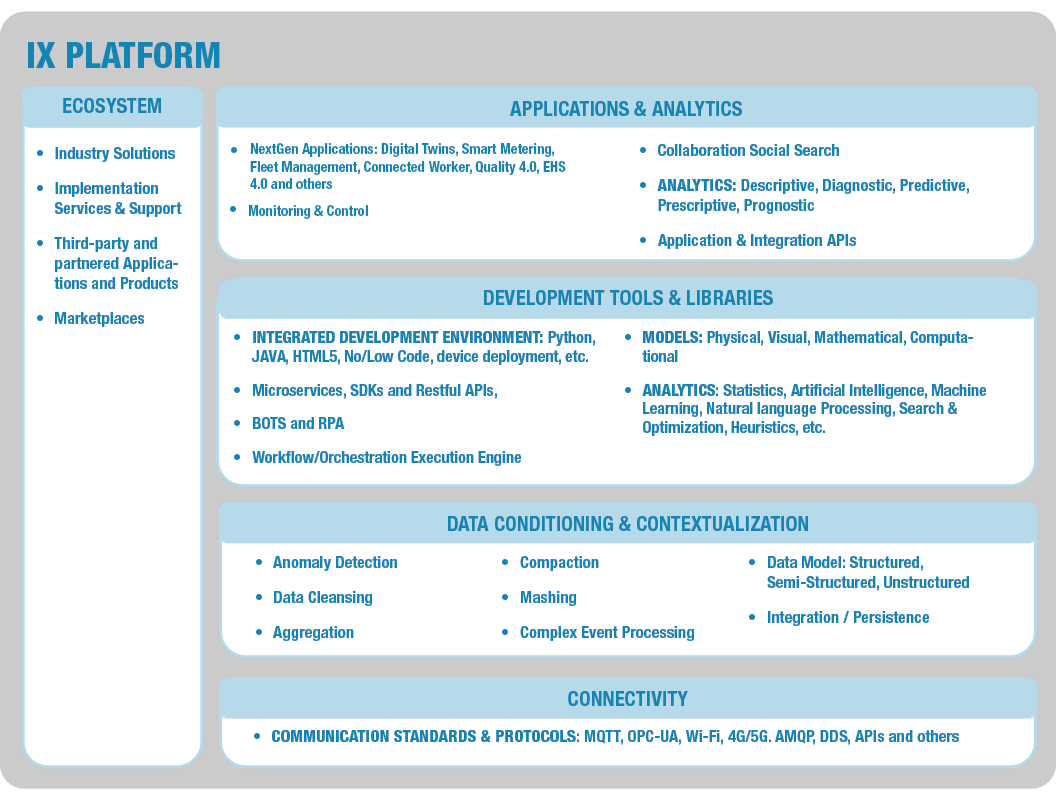 LNS Research found 15 companies with significant market presence to review in detail against our specific definition:

LNS Research has created a companion "Solution Selection Matrix Vendor Compendium" for our members that provides an even more in-depth analysis of each of these vendors, assessing their capabilities in developing, marketing, and servicing an IX Platform as defined by LNS. We use the "LNS Research 3P Evaluation Model" to describe vendors' potential, product, and presence to evaluate their ability to serve the IX Platform market (the report also classifies a wide range of vendors as "Honorable Mentions," as alternatives/substitutes to IX Platforms).
Manufacturers looking to deploy an Industrial Internet of Things (IIoT) or an IX Platform would be well served by reviewing the IX Platform SSM Report as it:
Compares across vendors' potential, process, and product capabilities. Especially important is the review of vendors across the six product capabilities core to an IX Platform.

Positions vendors across the six categories of Use Cases that LNS Research has identified in IX (Connected Operation, Assets, Frontline Workers, Supply Chains, Products, and Customer Experience).

Differentiates the unique capabilities of each vendor, if any.

Provides overall scores for capabilities in the Discrete/Batch and Process/Infrastructure industries, as vendors' positioning varies across them.
The IX Platform SSM Report ends with critical advice for manufacturers.
We encourage you to download the new Solution Selection Matrix and the companion Vendor Compendium as you create your shortlist of IX Platform providers to enhance and accelerate your Industrial Transformation.

Categories: Industrial Transformation / Digital Transformation, IX Platform, Solution Selection Matrix