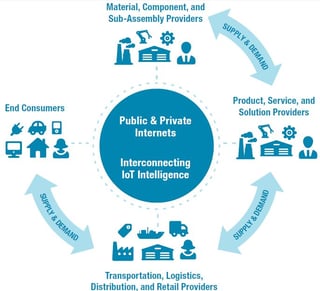 Digital Transformation is not just impacting the users of technology, but the supplier community as well—and not just by opening doors for new Big Data or Industrial Internet of Things (IIoT) startups.
Today, existing providers are evolving their product sets to remain competitive in the face of competition in Mobility, Cloud, IIoT and Big Data & Analytics. Large or small, vendors that do not incorporate these new technologies into their product lines will fail just as end users that fail to adopt them will as well. In the enterprise applications space one of the largest of these companies is SAP.
SAP Industries Analyst Base Camp
Annually, SAP holds its Industries Analyst Base Camp, bringing together analysts that cover industries to present its strategy for the near future and how it sees itself addressing the needs of companies in the multitude of industries it serves.
This year's event was the week before the Democratic National Convention in SAP's North American HQ in suburban Philadelphia giving me, Pete Bussey, and Matt Littlefield a dive into its manufacturing sector plans in multiple industries. After a general opening session where SAP tackled some of the cross industry topics such as how it is addressing the big four technology trends in general, it presented a case study on its relationship with Apple in which mobility will be pushed out immediately to iPads and iPhones. Afterwards, we were sent off to our break-out sessions, covered below.
Discrete Manufacturing
The discrete sessions covered four separate industries: High Tech, Automotive, Industrial Machinery and Components (IM&C), and Aerospace and Defense (A&D). Although SAP leadership, in the main session, put manufacturing in the middle of the road in terms of velocity of Digital Transformation when compared to other industries like Financial Services or Media, all four of these industries are clearly in the throes of that transformation. SAP executives did a good job of talking both about the commonalities between industries, like the impact of cloud, Big Data Analytics, and the extended supply chain, but the individual manifestations within industries as well. Key trends by industry include:
Connected Vehicle for Automotive
Business model transformation and asset as a service for IM&C
Supply chain transformation, product complexity, flexibility, and time to ramp for A&D
Hardware commoditization and mechatronics for High-Tech
Chemicals and Oil and Gas
The combined Oil and Gas and Utilities industry session highlighted the move to cloud applications within the context of Digital Transformation with SAP S/4HANA. Customers are demanding cloud-based solutions by subscription, including public cloud. The dramatic shift in the landscape was illustrated by the SAP comment that two years ago, Utilities industry customers were not interested in cloud solutions—today they are demanding them. A key product focus area for SAP in Utilities is leveraging a strong position in Enterprise Asset Management (EAM) with the roll-out of additional predictive analytics solutions in Q4 of this year.
Likewise, in Oil and Gas, whereas previously demand for cloud applications was coming mainly from the mid-market, now cloud is being embraced by the large enterprise segment as well. Areas of strategic investment are based on the theme of connectedness enabled by IoT technologies and networks. These include Connected Workforce for the integrated and safe management of employees and contractors, connected hydrocarbon logistics, oilfields, projects, and assets.
The Chemicals industry session highlighted that M&A activity is at an all-time high, including the trend of mega-mergers such as Dow-DuPont, and the resulting need to quickly integrate businesses. SAP is also acting on an industry shift from an extreme focus on cost-cutting and efficiency to a focus on how to compete better, including through solutions to improve innovation, customer service, and the ability to enter new markets. From a solutions standpoint, there is also a major emphasis on using IoT sensors, devices, and networks to help operations be more preventive and predictive (e.g. when it comes to maintenance and asset management). SAP is undertaking the major task of working with its installed base to determine how to selectively transition scenarios from its successful SAP Best Practices for Chemicals templated solution to the SAP S/4HANA platform.
Mining and Mill Products
SAP's Stefan Weisenberger, Director, Mill Products Solutions at SAP SE, provided an update SAP's industry strategy for the Mining and Mill Products sector. SAP includes a number of sub segments within the overall category, including Forest Products, Pulp and Paper, Packaging, Cement and Stone, Mining, multiple Metal segments, including Fabrication and Building Products, which contains fixture providers such as Moen or Kohler.
This diversity of industries has provided challenges to SAP since the manufacturing processes vary from heavy continuous to Bill of Materials (BOM) based discrete manufacturing with every variation and combination in between. This has greatly complicated the product strategy due to the diverse requirements of such a broad group. However, it has also served to allow SAP to support the sector through all of the economic gyrations of the last eight years. SAP has invested more in product functionality to support the sector than virtually every other provider regardless of whether it's automation, geo-technical software, or EAM/APM. While a few other vendors have supported their economically challenged customers in the Mining and Paper sectors SAP has made substantial investments. Of course, the ability to spread many of the functional enhancement across the other segments in the IBU, and even the entire industry, has helped.
Mining and Mill products customers are seeing improved supply chain performance, particularly in transportation management, as well as substantial functional enhancements in APM. SAP's continued investment in predictive maintenance capabilities and movement of much of the functionality to SAP S/4HANA Cloud (although still available in S/4HANA on-premise as well) is something Mining and Paper companies should see as a positive step. There is more opportunity for HANA Analytics that SAP needs to explore, such as MRO Inventory optimization, but SAP has shown willingness to listen to its key customers in this segment through its executive councils. SAP Fiori has made S/4HANA more usable by shop floor operators and many past criticisms of SAP's usability by companies in this segment are no longer valid. The future work with Apple that SAP announced at the event will also make SAP much easier to deploy in the mobile intensive environment in mining. Overall, the LNS assessment of SAP in this sector is positive but there is still opportunity to improve.
Adoption of S/4HANA and the IoT
In the Industries session, SAP laid out its progress in migrating customers from R/3 to S/4HANA and how it will update S/4HANA going forward. Currently SAP plans on annual updates for industry solutions delivered on S/4HANA on premise and quarterly updates for the S/4HANA Cloud versions of industry solutions. It is fairly clear that SAP is moving much of the peripheral functionality, such as EHS, to what it refers to as the Digital Core in S/4HANA over time. For clients wanting access to the most current features moving to S/4HANA will be the fastest path.
When discussing IoT SAP provided many of the usual use cases such as predictive maintenance and consumer engagement through smart devices. SAP made it clear that in the industrial sectors OSIsoft remains a key partner in its IoT strategy. When challenged as to why it expected an uptake in IoT deployment given that many of the industrial predictive maintenance use cases it described were doable 30 years ago, SAP cited cost and ubiquity coupled with analytics against the broader historical data that OSIsoft provides.
LNS sees this as less of a driving factor than the Big Data Analytics operating against unstructured data like visual images and vibration spectral data. It is the combination of traditional historian data with these newer data types that will enable analytics engines to apply machine learning and provide insight not previously available. We think SAP has the capability to deliver but is not adequately articulating the and evangelizing this approach well enough. It may be difficult to turn a super tanker and it may take some time, but clearly SAP recognizes the need to adapt and is making the necessary changes. For some customers it may not be fast enough but for many the pace will undoubtedly be plenty speedy.

Tags: Industrial Internet of Things (IIoT), Cloud, Manufacturing Operations Management (MOM)