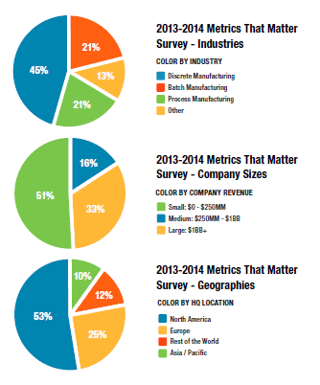 As we move into 2016 with high hopes for manufacturing in general and the industrial software industry in particular, we are delighted to announce the fourth installment of the Metrics That Matter (MTM) survey jointly presented by MESA International and LNS Research.
Click here to speak with Andrew
Every two years MESA and LNS Research get together to take a new look at what manufacturers are measuring to help improve their manufacturing processes and businesses, and what is new in Manufacturing Operations Management (MOM) and related technologies.
The 2016 survey, launched at the start of the year, first asks the usual questions about the types of metrics being used. This includes metrics focussed on financial, customer, quality, and compliance factors among many others. This year we have tried to gather data that reflect starting position and improvement, rather than just the improvement related questions we have asked before. We hope this will lead to more valuable insights into what measures most affect manufacturing and business performance. An area where we have also increased the questions is in the use of standards. On considering whether to remove them or not, we studied some of the responses from the 2014 survey on the use of standards in manufacturing operations. We expected to find little uptake, particularly of the more esoteric standards, but the responses showed exactly the opposite. We do hope this year to shed some more light on these interesting results from the past.
We also investigate other timely areas of interest such as Software as a Service vs. on premise deployment, cloud solutions, and metrics visibility. LNS Research publishes many surveys covering everything from Asset Performance Management (APM), through quality, to Environment, Health & Safety (EHS). Recently we published our first Industrial Internet of Things (IIoT) survey and have tried to allow minimal overlap between that and this new MTM survey, so we do not waste your time! We have therefore kept the general IIoT questions to a minimum, but have added a bit more detail on two subjects that were barely covered in previous surveys: Cloud deployment and Analytics.
For many manufacturing companies one of the very first steps to be taken on an IoT journey will be the choice and deployment of a cloud platform that will, in turn, support a corporate IIoT platform. The journey from a disconnected, manually operated plant to a corporate and global integrated IoT solution is a long and complex one. We hope to understand from the survey how people are doing in these crucial early days – getting on the cloud and then using the data to drive analytics that will benefit the company.
Manufacturers from Around the World, We Need You
LNS Research works solely in manufacturing industries. We rely on manufacturing companies to take our surveys, so that we have up-to-date and pertinent data on which to base our entire research agenda. That agenda delivers many eBooks and Research Spotlight reports that are of great use to you, our manufacturing clients, and potential clients. We will, of course, publish detailed results from the Metrics that Matter survey, and for all manufacturers who take the survey we will be delighted to send you a free copy of the report, once published
Could we ask you one last little favor? Right at the end of the survey there is a question that asks if you would be willing for us to call you regarding the service for a short interview. We do love it when people say yes because we can get exciting new insight from you. Please do consider saying yes. Thank you.
We Do Not Do This Alone
LNS Research's publishing partner for the MTM survey is MESA -- Manufacturing Enterprise Solutions Association International is a worldwide not-for-profit community of manufacturing companies, information technology hardware and software suppliers, system integrators, consulting service providers, analysts, editors, academics, and students. The combined purpose is to improve business results and production operations through optimized application and implementation of information technology and best management practices.
Click below to access the survey and be apart of our research!
Categories: Metrics