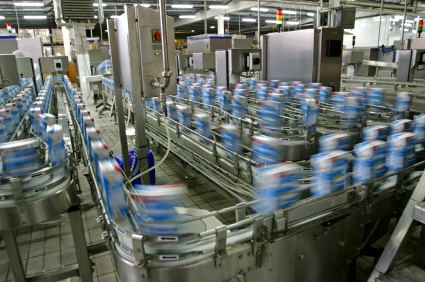 Whether imposed by customer requirements or by industry mandate or regulation one thing is clear: today quality has become a critical factor in differentiation.
In the consumer sector quality can be the critical difference between growing or declining market shares, so it's no wonder why so many manufacturing companies are focusing on it today. Many have put in place comprehensive systems to ensure both incoming raw material quality as well as outgoing finished goods quality. The point of these systems is to minimize or eliminate quality problems. However, quality problems have two faces in manufacturing: Process and Product.
Process Quality Is the Focus for Most Manufacturers
The focus of many quality programs is to ensure proper processes are utilized in making a specific product. Quality systems are designed to ensure incoming materials meet specifications. This is so they can ensure:
Proper procedures are followed in the manufacturing process

Equipment is operating properly so as to eliminate variability

Proper handling to avoid damage throughout the process and while in various stages of inventory

Unacceptable variability is not introduced into the manufacturing process
This focus on process quality has yielded tremendous results, with manufacturing defects becoming increasingly rare. Much of the investment in automation and robotics has been to not only improve productivity, but quality as well. Furthermore, this lowers cost-per-unit, as improved and automated inspection systems catch many problems on the first failed unit. All of this attention on process quality has really paid off, and today manufacturing in most locations has quality as a given.
Product Quality Is a Trickier Proposition
Many Enterprise Quality Management Systems (EQMS) do not provide proactive or prescriptive capabilities when it comes to product quality issues. LNS Research makes the distinction that while ultimately quality affects a product -- hence all quality issues are product quality issues -- for the purposes of this post we are talking about product quality as it relates to product design issues. Product quality in this context means that the product has a design flaw, which leads to its ultimate failure or excessively rapid deterioration. This means ultimately that it's not suitable for the purpose for which it was acquired.
These product design quality issues can be broken into two sub-classes: Those that are actual product design flaws. In a situation where a product cannot accomplish its desired objective reliably or where design defects related to manufacturing make proper assembly or construction either difficult or, in some cases, impossible, it can lead to outright or early failures. Traditionally, this aspect of quality has been addressed within the Product Lifecycle Management (PLM) application portfolio. This usually occurs through engineering analysis or simulation, since it has been outside the scope of EQMS applications.
The Cost of Product Design Quality Issues Is Greater Than Process Quality Issues
As noted above, many process quality issues can be detected almost immediately via automated inspection systems. This means that minimal bad units are produced. Although in some industries like food and beverage or pharmaceuticals, we see evidence that poor quality practices and systems can lead to massive product recalls. Some recalls are so large they have resulted in the ultimate failure of the offending company, but these, while making headlines, are the exception. With the volume of goods produced every day, even in the consumer products industries, the overall percentage of quality failures is minimal.
Product (design) quality failures rarely are detected so quickly. In many cases, this is because products are designed to have long service lives of years or even decades. Failures can occur well into the life of the product, as is the case with the Takata airbag inflators. Since these design defects surface after thousands or even millions of units are produced, the cost or poor quality can be enormous. In fact, once fabrication begins the cost of a design change is 10 times greater if it can be made in the production prototyping phase. So, correcting a design problem long after the product has been released to the field can be hundreds or thousands times greater than getting it right in the first place.
Tying EQMS and PLM Together to Create Initial Product Quality
The answer is to ensure that your EQMS and PLM systems cooperate, so that throughout the design process you are applying quality principles. If there are product failures that occur as a result of design issues post product release, they can be identified as quickly as possible and corrective action taken. Making sure your PLM processes take into account quality issues, and your EQMS solution can help you quickly differentiate between process and product failures, will ultimately lower your cost of quality.
Gain a year of free access to new research in our IoT Research Library by completing a survey.