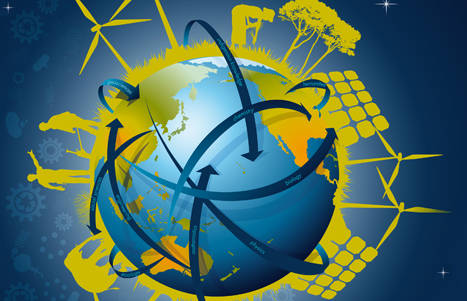 Did you know that the global report card displays a 'D' when it comes to our effort of combating global warming? That manufacturing accounts for 16% of Gross Domestic Product (GDP) and 14% of worldwide employment? Or that GE has lowered its sticker price by 20% due to homeshoring? Me neither, and percisely my reasoning for incorporating the below articles into this week's round up. Enjoy.
Follow @NTarutis
This Renewing America article sparked interest due to the range of people who can relate to the information and find interest in reading through the various entries. The Council of Foreign Relations published its first Global Governance Report Card which aims to push societal debates forward toward tackling the world's most pressing issues: global warming, nuclear proliferation, violent conflict, global health, transnational terrorism, and financial instability. Evaluation is based on an international level encompassing our efforts to mend and respond to such issues. How are we performing?
Tweet this post | Share on LinkedIn
ThomasNet discusses the topic of bringing manufacturing practices back within country lines from a different perspective: foreign organizations. Economic changes have been making homeshoring more attractive for domestic companies; such as GE, who has not only succeeded in a 20% lower sticker price by moving production from China to Kentucky, but also seen an increase in product quality and reduced lead times. While evaluating the "total cost of ownership", the shale gas production boom has grasped the attention of many European companies due to the decrease in energy costs. What does this mean for us? Read more.
Tweet this post | Share on LinkedIn
For years, companies have been focusing on improving operations through sustainable means and thus reducing costs in the process. Advancements in automation and industrial energy management (IEM) technologies are enabling manufacturers to closely track the flow of energy from its source through consumption. In this blog post, Mike Roberts discusses the need for real-time energy consumption data, the union of industrial automation and IEM software, and energy as a direct cost. The organizational impact of energy monitoring.
Tweet this post | Share on LinkedIn
Despite all other recessional impacts, manufacturing continues to grow worldwide accounting for 16% of GDP and 14% of employment. Manufacturing & Logistics IT recently interviewed Matt Parker of Zebra Technologies Europe on how the current technologies available provide a vital opportunity for the Western population. To gain competitiveness on the global stage, Parker believes that Western manufacturers should be "facilitating production closer to home, ensuring greater visibility and traceability throughout the supply chain, and also ensuring a closer, more mutually beneficial relationship with suppliers and consumers". Winning the West.
Tweet this post | Share on LinkedIn
Manual Pumarada of Plex Systems published this article in response to hearing many misconceptions of cloud-based systems. After stumbling upon a study that suggested "less than 50% of users expressed any interest in SaaS ERP", Pumarada crafted a series of questions that all executives should be asking themselves when thinking of future adoption. Explore these questions as a starting point, as they may shed some light on why the SaaS ERP market is projected to grow 19% annually until 2016. Concerned about moving from on-premise to the cloud?
Tweet this post | Share on LinkedIn
You Might Also Be Interested In:
Cloud ERP: Measurable Improvements in Electronics Manufacturing
Industrial Energy Management Software: What is Right for You?
Tags: Weekly Roundup, Manufacturing Software, Manufacturing, ERP, Energy Management, SaaS