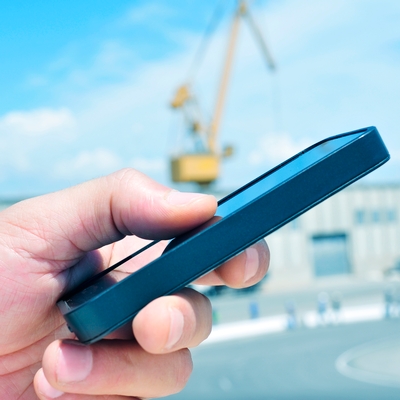 From toddlers to octogenarians, it seems just about everyone can navigate the UI of a smartphone or tablet. Don't think so? Just look around any place where people are trying to kill some time (waiting rooms, airports, etc.). As the degree of power and knowledge at our fingertips continues to reach new limits and further pervade daily life, there seems to be many manufacturing professionals out there wondering what the holdup is on the shop floor, in the office, and in the field.
"There's an app for that" isn't exactly the slogan in the manufacturing environment, but that's changing pretty quickly. Solutions providers understand that professionals require the same information available on a PC in the palm of their hand, and many are already delivering that capability while others are accelerating and increasing investment in it. All in all, 2015 should be an exciting year for mobility in manufacturing.
Our projection is that mobile solutions are not only poised to become significantly more available in the near future, but their utility should ramp up analogously. With that said, if it's not your radar to equip your staff with emerging mobile technology so they can do their job more effectively and collaboratively than ever before, it's time to get moving. As you start evaluating solutions, keep in mind the seven tips we've put together below:
1. Evaluate readily available solutions first
Inquire about and inspect the mobile offerings from manufacturing operations management, quality management, maintenance management, environment, health, and safety, and other solutions providers with hosted or on-premise solutions already deployed in your manufacturing environment.
This is the logical first place to look, since a deployment is already in place and relationship is presumably underway with the solutions provider. Taking this route should speed up the deployment rate as well as improve your time to value. But, of course, not every provider will be able to fulfill your needs.
2. Avoid solutions that require additional hardware investments where possible
For the sake of delivering a reasonable ROI, it's important to prioritize solutions that do not require specialized hardware investments beyond the mobile device investment where possible. This means utilizing BYOD or work-issued devices. However, be prepared for potential cybersecurity and data management implications related to BYOD. Many organizations already issue mobile phones or tablets, and for those that do not, moving to a mobile solution may be the opportunity to do so.
3. Simplicity of UI is imperative
Buy-in for an investment means nothing without buy-in from professionals who will actually use the solution. During the selection process, focus on strength of the user interface, user experience, and general intuitiveness of the solution. Today, people in general demand usability of products like the iPhone, where they can start making use of it with little time or direction. The same user requirements exist in the manufacturing environment.
4. Objective evidence of success is critical in the solution selection process
Mobile solutions for all aspects of manufacturing are emerging fairly quickly—some of which are far better than others—which adds pressure to choosing the right solution. Actual case studies and, where possible, ROI analyses, should be required during the solution selection process.
With information available on the internet, at research firms, and from peers, there's no need to go through the process without getting some validation and reassurance on your decisions beforehand.
5. Utilize solutions that take advantage of devices' native functionality
With advancements to smartphone functionality happening every year, solutions should be evaluated with the understanding of what the host device is capable of doing. Know that if a corrective action app cannot incorporate pictures as attachments to support root cause analyses, there is probably another solution similarly priced that can.
6. Prioritize solutions that offer offline capabilities
There are times when users of mobile devices are not able to connect to a network or are connected to a network but lose the connection, which makes offline capabilities important. During the solution selection process, evaluate solutions that do not require network connectivity to work. The solution should also have syncing capabilities, so information is not lost once connectivity is reestablished.
7. Scope your applications with full mobility but allow for alternate data view and entry approaches
It's not uncommon for large companies to have a global manufacturing footprint of multiple distributed plants or a supplier footprint that expands across both mature and developing countries. In some cases, the organization may require an enterprise-wide application solution, but the developing countries do not have the infrastructure to support mobile access.
When these scenarios occur, it's helpful to evaluate application solutions providers that offer a combination of hard copies of things like audits, checklists, or corrective actions (for some facilities) while also offering mobile device support for other enabled facilities. This way, hard copies can be scanned in from some facilities and all of the required application data ultimately resides in one central location for purposes of centralized recordkeeping and reporting.
Those are our thoughts on taking your manufacturing operation mobile. Tell us what you think. If you're considering a mobile solution or have already deployed one, share your thoughts or experiences in the comments section below.
Tags: Manufacturing Operations Management (MOM), Mobile / Mobility