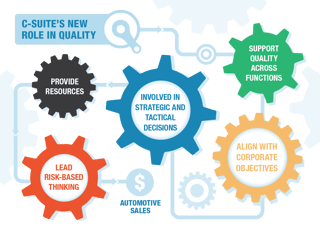 On Thursday, March 23, LNS Research hosted the webcast, "Automotive Quality Leaders: What's Missing from Your IATF 16949:2016 Playbook?" The presentation explained why IATF 16949:2016 is an opportunity to transform quality into a source of Operational Excellence, and get the company's most senior leadership focused on quality management and performance.
Click here to view in full-size
Q1: How can we drive the top-management towards the involvement described by IATF and ISO? I think this would be a major challenge.
A1: Executive sponsorship can take many forms. What we're really looking for here is priority – to provide quality with sufficient resources that it can improve in maturity, not tread water. It is difficult for executives to weigh out all of the requests coming from different departments – R&D, manufacturing, finance, etc. – and quality needs to provide the rationale to provide sustained resources. A one-shot investment will not result in the needed gain in maturity in most cases.
There are a number of specific actions that can be taken to improve priority, but the best broadly applicable/non-company specific advice are those we outlined in the webcast and research documentation. We can say with certainty that they do indeed work –some of our council members were able to use these strategies to gain them top management priority within a few months, and many have used this data for strategy development.
With that said, we agree that top management's initial approach to the new specs is "business as usual". Unfortunately, it takes some effort, strategy, data and sales skills to reposition quality in manufacturers that haven't historically seen the strategic value.
Q2. Can you elaborate on risk analysis as in IATF-16949 6.1.2.1, Specifically scrap captured how in each corrective action or PFMEA or just plain scrap reporting in Management Review?
A2. This is a good question and helps illustrate a conformance vs. performance perspective, as there are quite a few ways to be compliant with this clause. The clause speaks to the need of incorporating lessons learned in risk analysis. It does not require a risk management framework, nor an integrated view of risk across the lifecycle, nor an effective or value-added approach.
A highly manual and disconnected process with a mountain of in-actionable data is just as compliant as an approach with an integrated risk management data model, Predictive Analytics connected to enterprise-wide data feeds, and real-time alerts. It's clear that a compliant approach isn't the same as a market-leading approach. As such, we'd encourage you to think from a perspective of how to efficiently drive maximum value aligned with strategic objectives, rather than compliance.
Here are some thoughts to apply this to risk:
What are your top goals in New Product Development; Release to Manufacturing, Manufacturing, and Service? Some examples during the webcast connected to increased customer satisfaction, improved time to market, and improved initial product quality.

What are the challenges to meeting these goals as it relates to risk and lessons learned? For one, R&D often builds in the risk, and the rest of the organization lives with the risk. This isn't throwing stones – there is often a divide between strategy and operations. However, with the increased adoption of systems engineering has come to an increased acceptance of a lifecycle view of risk.

How can a lessons-learned process connected with risk analysis deliver against these goals, and overcome challenges? If this is important, and risk management in general should be, explain the value well enough to get a cross-functional team together so that the new process results in a cultural shift.

Then identify where you are and where you want to go. It's a journey.

Q3: Are the required best practices directly from the standard or is determined by LNS?
A3: These are determined by LNS. In this case, they were aligned to IATF 16949:2016.
Q4: Our company has different technologies and processes by business unit. I like the maturity model, but how does it help in a situation like ours?
A4: We work with a number of organizations such as yours – this is quite common. Applying the maturity model by site/business unit/region provides clarity on where your organization stands globally, which actions to take to gain parity, and is a plan of action to improve to differentiate the organization.