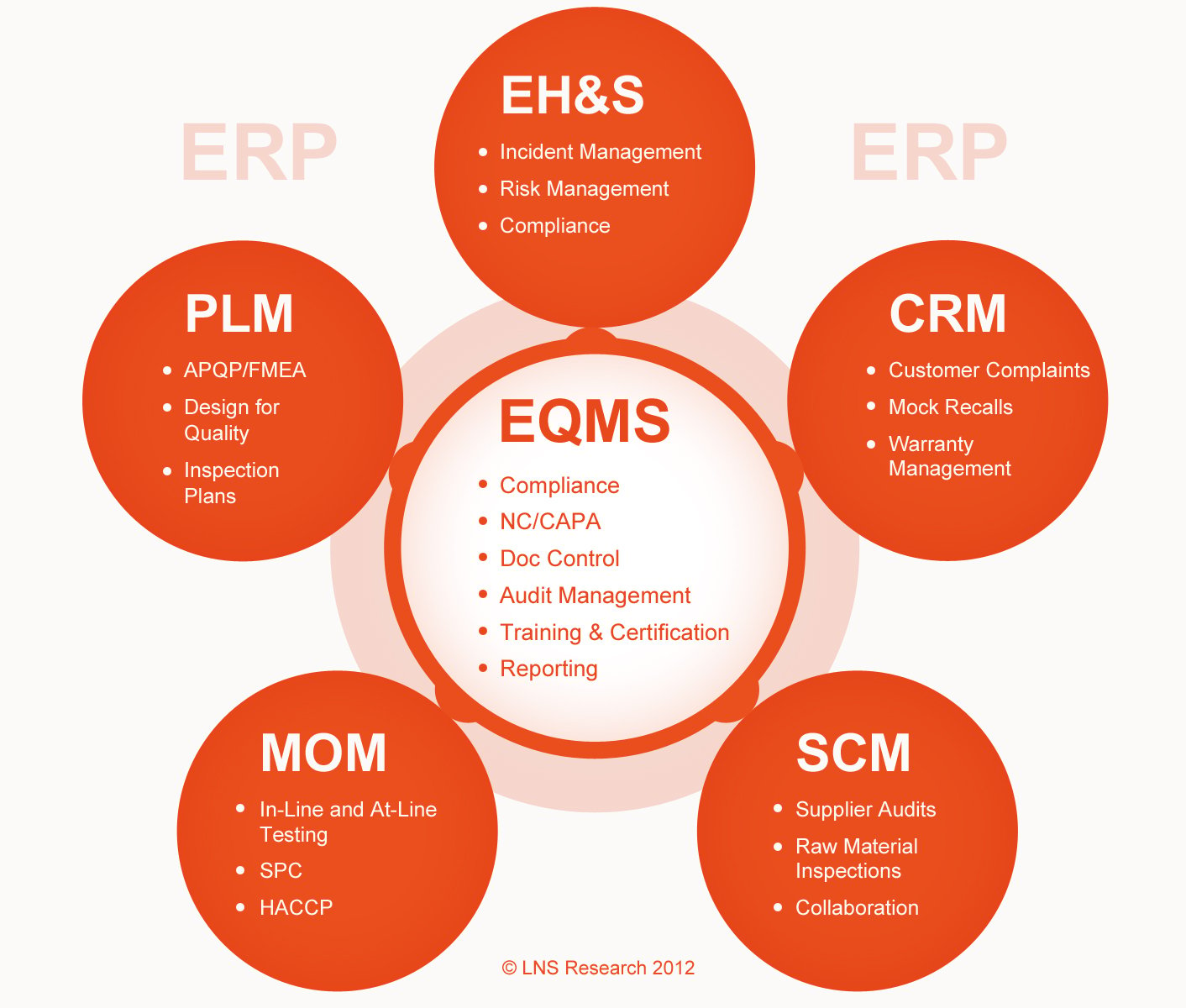 Over the past few months, you may have noticed that LNS Research has been covering the topic of quality management. And if you've been paying particularly close attention, you know that we've been hammering away on the importance of Enterprise Quality Management Software (EQMS). There's good reason for this. It's because EQMS is making a significant impact on leading manufacturers' operations today. In fact, the benefits have been so prominent that we've made Quality Management Systems our first area of focus for research and benchmarking analysis.
With the release of our EQMS Best Practices Guide last week, we want to offer our community an overview of what can be found in the report and how its content can be leveraged within organizations.
Operational Excellence Definition
Because every manufacturer is trying to achieve operational excellence, and we believe that quality plays such a large part in reaching this goal, we begin our guide by discussing LNS Research's model of operational excellence.
First, a company must identify and align the strategic objective in both finance and operations. Next, a set of metrics should be identified to evaluate the progress of reaching these objectives. And lastly, with metrics in place and data being collected, it is important to benchmark performance relative to market leading companies.
With metrics and benchmarking data in hand, a company can build a model of operational excellence to improve on each gap that surfaces. This can be done by intersecting the right set of business capabilities—or people, processes, and technologies—and, most importantly, creating an environment for continuous improvement for future initiatives.
What is EQMS and Why is it Important?
It's no surprise that executives want to promote quality across the value chain, but an appropriate arena for collaboration and communication is often missing. For effective quality management, data from different departments and processes needs to be visible throughout the organization. EQMS is proving to be the most effective method for this. It's a pervasive solution that facilitates quality in touching every part of the value chain from PLM to EH&S, CRM, MOM, and SCM (see figure).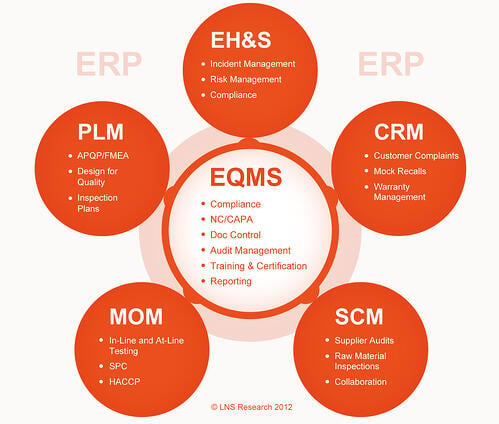 The use of EQMS allows executives to easily integrate quality into cross-functional processes. For instance, a quality-based approach of tying CRM and PLM to one another can directly benefit FMEA in engineering, as well as help to reduce the warranty reserve down the road. Similarly, considering enterprise quality capabilities in MOM and SCM decisions can aid in the reduction of supplier defect rates and, consequently, your own scrap rate.
Building EQMS into Operational Excellence
A main focus of companies today is on reducing overall operating costs while reducing the cost of quality and improving the total quality of products. Since cost touches so many functional teams, it is imperative for large manufacturers to monitor and interrelate various parts of the value chain. By both implementing an EQMS and building it into the operational excellence framework, we believe that executives can properly evaluate and improve their operations.
Cost is just one example, but by aligning both financial and strategic objectives with this model, companies can create a continuous improvement environment across the enterprise. Our EQMS Best Practices Guide touches on this more in-depth, and we hope you take a moment, if you haven't already, to read through it.