In previous blog posts and research reports, we've analyzed and written about the emergence of Enterprise Sustainability Management (ESM) for industrial companies and the trend toward managing sustainability holistically across an organization. To improve business performance, top executives are leveraging a common set of leadership, processes, and technology capabilities.
Over the coming months, we'll be diving deep into the most critical areas of ESM, which include Environment, Health and Safety (EH&S), Industrial Energy Management (IEM), Operational Risk Management, Product Stewardship, and Sustainability Reporting (infographic below). Each has its own unique set of challenges as well as management strategies.
Enterprise Sustainability Management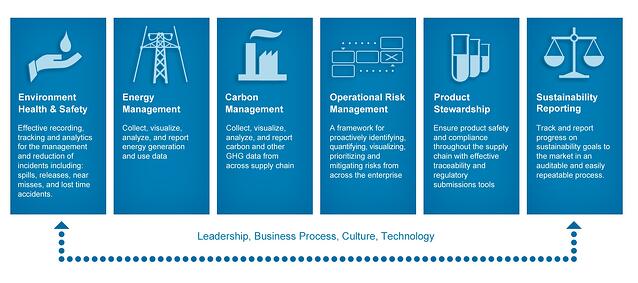 In this post, we will start by examining the Framework for industrial Energy Management, highlighting how industrial companies can improve energy efficiency, reduce costs, and perform better by aligning people, processes, and technology with operational excellence.
Positioning Resources for Success in Energy Management
As LNS recommended for ESM in general, industrial companies find the most success with new initiatives by building on past successes in operational excellence. The case is no different for Industrial Energy Management and it takes a well thought out plan to properly align people, processes, and technology capabilities. Below, we'll take a look at each of these areas.
People and Leadership
Generally, people and leadership are some of the most important components of operational excellence and Industrial Energy Management. Without the proper buy-in, communication, collaboration, and expertise, initiatives often fall short.
IEM requires strong leadership and a motivated culture, which can be supported by the following:
Development of Chief Sustainability Officer (CSO) role
Coordination of activities between the CSO, Energy Director, and plant level energy czars
Recognition for successes in energy management
Culture that fosters and supports collaboration
Use of third parties for subject matter expertise and audit capabilities
In a recent discussion with the Corporate Social Responsibility Manager for a large OTC pharmaceutical manufacturer, LNS Research experienced a good example of how leading companies are addressing leadership issues. For this organization, energy was not traditionally a significant cost of doing business, but it's becoming a major issue because of supplier demands for sustainability, energy, and carbon data.
Over time, the company's made industrial energy management a core component of corporate sustainability, but it began by gaining executive buy-in across IT, Plant Engineering, and other areas. Its main focus was on leadership, and then on the continuous improvement efforts and management systems needed to foster cultural change and sustain results.
Orchestrating Enterprise Business Processes
One of the keys to success around business processes is standardizing them across the enterprise. This means centrally managing end-to-end business processes for continuous improvement, reporting, energy procurement, energy use, and the approval of energy efficiency projects. Leading companies are standardizing these processes across geographies, product lines, and plants.
Main focus areas include:
Continuous Improvement: ISO 50001, SEP, Energy Star
Industrial Partner Programs: Guides for Best Practices
Corporate Social Responsibility, CSR Reports, and Carbon Reporting
Evaluating Energy Efficiency Projects
Measuring Energy Intensity and Energy on the Bill of Materials
Energy Optimization across Procurement and Use
Industrial Energy Management Software
There's a major gap in the body of IEM research when it comes to the role of software. Most of the focus has been on process and leadership best practices or on energy efficiency technology. The right software should support a company's leadership and process initiatives as described above.
As we launch our research into IEM, we'll be placing most of our focus on IEM software and its relation to the broader operational excellence framework. Depicted in the infographic below, we define three distinct areas of IEM software: Procurement, usage, and reporting.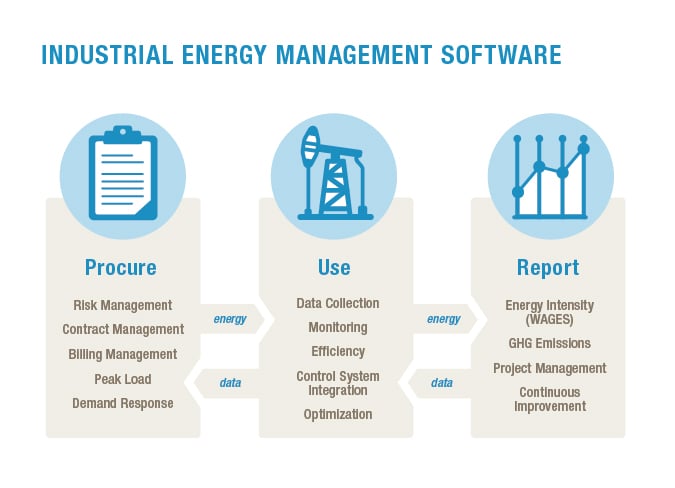 The LNS Model for Industrial Energy Management Software focuses on the demand side of the industrial energy use equation. It provides a model for understanding how energy flows through the organization as well as how data must flow back through and inform decisions. Our proceeding blog posts will provide a more technical discussion of software and its role in IEM. Also, in a similar fashion to our work in quality management, we'll be publishing a solution selection guide with analyses of the market's top vendors.
Tying IEM and the Operational Excellence Model
Executives that focus on building the IEM framework of people, processes, and technology into operational excellence models will position their organizations for success. For instance, at a high level, by establishing a CSO, following ISO 50001, and implementing an IEM solution, companies can take a tiered and tactical approach to meeting operational and financial objectives identified the operational excellence model.
It certainly won't happen overnight, but making a number of short gains over a long period of time will result in significant jumps in energy performance and movement toward operational excellence.
You might also be interested in:
Sustainability Definition | More than CSR
Slides: Sustainable Manufacturing: Strategies for Energy
Categories: Sustainability, Industrial Energy Management (IEM)