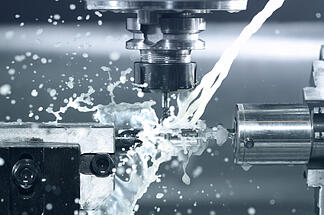 The industrial space is a dynamic one. 2012 brought memorable improvements and innovations to strategies, technologies, management systems, and so on. However, as the holiday season winds down and the calendar flips to a new year, it's not only time to reflect on this past year, it's also time to analyze trends and make some predictions for the direction of the space in 2013.
At LNS Research, we've been fortunate to speak to many thought leaders in charge of quality, manufacturing, IT, sustainability, and other areas of industrial organizations. From our end-user conversations coupled with briefings from top industry vendors, we see 5 major trends to look out for in 2013. We wouldn't be surprised to see significant focus in these areas.
1. Industrial Energy Management (IEM)
By leveraging Industrial Energy Management Software, energy management systems (ISO 50001, SEP, ENERGY STAR, etc.), and building a culture that believes in and supports energy management, industrial organizations are experiencing significant benefits. Specifically, executives are getting behind investments in IEM for its positive impact on financial, operational, and environmental performance.
Because energy makes up such a large part of an operation, there is a considerable opportunity for capturing data and effectively using it to realize gains in energy efficiency, reductions in energy costs, and other areas. We see companies continuing down this path, and as a result, energy procurement, use, and reporting data is playing a larger role industrial strategy.
Look for IEM to connect with the shop floor and the rest of the enterprise for a more unified information management system around energy.
2. Manufacturing Returning to the U.S.
For a number of reasons—cost, quality, supply-chain responsiveness, etc.—many Chinese manufacturers and other global U.S.-based manufacturers are moving operations back to the U.S.. The costs of labor and energy, in addition to future trends around additive manufacturing are all making manufacturing in the U.S. look more attractive.
Our discussions with industrial thought leaders have led us to believe that this trend will continue and even pick up speed in 2013. We feel that software as well as hardware companies will start to make significant investments in how local manufacturing can impact the value chain. Expect to see investments in a number of areas, including product development as well as engineering and supply chain distribution.
3. Closing the Loop on Quality Management
If you've been reading our blog, you know that industrial organizations have been placing an increased focus on closed-loop quality management. Properly managing the complexities of high quality processes and products is just one of a number of major challenges that every industrial organization faces. Compared to 20 or even ten years ago, the degree of complexity has increased significantly and so have the solutions for managing it.
Tools such as the emerging software category Enterprise Quality Management Software are helping companies to closed loop quality management for end-to-end performance improvements. Facilitating the management and communication of quality across the entire value chain are data models and software interoperability capabilities that leverage the integration of business processes and IT architecture.
As organizations are looking to close the loop from product ideation through service, EQMS functionalities will have a larger presence in PLM, MES, and SCM solutions.
4. More Focus on Manufacturing Execution Systems
MES Software has been in use for long time, however, its adoption has been slow when compared to other software categories. Although it's not yet on every shop floor, it has shown strong ROIs, and as a consequence, many leading manufacturers have begun allocating resources to this area. Our discussions with thought leaders from leading manufacturing organizations can attest to this.
MES's ability to streamline shop floor data is providing organizations with the real-time intelligence needed to impact business performance. New technologies and implementation strategies around Cloud-based Manufacturing Operations Management Solutions, BPM, and data models will begin to accelerate deployment times, increase adoption, and transform the definition of MES.
5. Enterprise Sustainability Management
Over the years, sustainability has become a driver of decisions for many industrial organizations. Similar to other software categories, a holistic information management strategy is converging on the sustainability space. The management of risk, compliance, energy, and other areas need their own enterprise platform and application set.
Enterprise Sustainability Management will emerge as a new software category, touching on five key areas: industrial energy management, product stewardship, operational risk management, sustainability reporting, and environment, health, and safety. ESM will act as a platform for global communication, replacing manual and siloed information systems.
What other predictions do you have for the industrial space in 2013? Do you see any trends in the industry that will play a central role? Please leave your predictions and trends in the comments section b below.
You might also be interested in:
Top 5 Must Have Quality Management Metrics
Top 5 Quality Metrics for the Plant Manager's Dashboard
---
All entries in this Industrial Transformation blog represent the opinions of the authors based on their industry experience and their view of the information collected using the methods described in our Research Integrity. All product and company names are trademarks™ or registered® trademarks of their respective holders. Use of them does not imply any affiliation with or endorsement by them.