The quality software space has gone through considerable change in a very short period of time. The transition from paper and manual processes to point solutions was revolutionary in and of itself. Automating processes that were once done by hand has increased efficiency, reduced operational risk, and improved the quality of products and processes.
More recently, though, there has been a shift toward the holistic management of quality under one unified information management system. The emerging software category, Enterprise Quality Management Software (EQMS), facilitates cross-functional communication and collaboration across the value chain by centralizing, streamlining, and standardizing quality data from traditionally disconnected business processes.
Advancements in this space have been rapid and vendors from beyond just quality have invested in quality management functionalities. As a consequence, there are many options for companies interested in an implementation, from tangential solutions with EQMS functionalities to pure-play EQMS.
Below, I'll discuss the different types of implementations available to users today, providing some insight on each as well as potential vendors to look into.
Enterprise Quality Management Software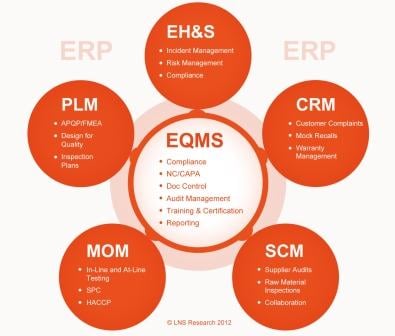 Quality management software has been taken to new heights with the EQMS software category. EQMS delivers the capability to manage the quality of products and processes across the value chain from a single location. By integrating EQMS functionalities such as CAPA management, risk management, audit management, and supplier quality management with SCM, CRM, ERP, PLM, and more, executives can have an unparalleled viewpoint of global quality.
With the maturity of the pure-play market and vendor experience with enterprise-wide rollouts, there are several strong options to consider when selecting an EQMS. Some of these include Sparta Systems, EtQ, IQS, and IBS just to name a few. There are also vendors in this category that have developed software on Microsoft SharePoint, including QUMAS and NextDocs. While these vendors started with smaller, site-wide implementations, this space has gone through maturity as well and now offers enterprise-wide solutions with robust compliance and document management capabilities.
Product Lifecycle Management-based Quality Management Software
PLM-based quality software has helped many engineering-intensive organizations improve the quality of products and processes. While these solutions alone are not as robust as those offered in the pure-play EQMS market, companies see value in having a single solution to manage engineering and quality processes. It is also typical for PLM solutions to be costly, which tends to take away from the quality management software budget. However, more vendors in this space are now investing in quality specific functionalities such as CAPA and we expect these solutions to get more robust in the future.
Because a full EQMS implementation may be infeasible for engineering-intensive companies, many PLM vendors have developed EQMS functionalities. There are big brand names in this category. Companies such as Siemens, PTC Oracle, Omnify, Dassault, and more have a solid presence in the PLM space and have also developed quality management solutions that extend from engineering to quality functions.
Enterprise Resource Planning-based Quality Management Software
Companies have spent more money and resources in implementing ERP solutions than any other solution available in the market. ERP is generally the IT backbone of organizations, carrying out many functions under a single system. With that said, it has only been a natural progression for ERP vendors to develop and invest in quality management functionalities. A recent example of this is QAD's acquisition of CEBOS.
The most significant advantage of leveraging quality management functionalities in ERP is in having a single enterprise solution for managing cross-functional processes. Similar to the PLM space, though, pricing can be an issues and ERP quality management solutions are not necessarily as robust as the portfolio of functionalities offered by a pure-play EQMS vendor. However, advancements are definitely being made. The benefit of investing in ERP based quality solutions is not having to manage multiple point solutions to manage different processes across the organization. Vendors to look into include Plex Systems, Oracle, QAD, and SAP.
Manufacturing Execution System-based Quality Management Software
MES software is common on the shop floor of many manufacturing-intensive organizations. It helps to manage the day-to-day operations and also provides a layer of intelligence for analyzing performance. Increasingly today, MES vendors are building quality management capabilities into solutions. These may include Statistical Process Control, traceability into supplier quality, and other areas.
In recent years, through acquisition and organic development, the level of quality management functionality that's seen in MES software has improved. Vendors in this space to consider are Apriso, Rockwell Automation, Siemens, Invensys, and Camstar, among many more. Finally there are the vendors that specifically focus on SPC and can compliment investments in other enterprise applications. Some of these leading vendors including DataNet Quality Systems (WinSPC), Zontec, Hertzler Systems, and InfinityQS among a slew of other competitors.
Above all, Educate Yourself
As noted above, for companies with a wide range of quality management needs, there are many options available. It's often a balance between current capabilities and budget that plays the largest role in determining which quality management software implementation route to follow.
The decision often ends with the consensus of a cross-functional team, however, it typically begins with some personal research. The LNS Research EQMS Solution selection guide has now helped hundreds of executives with their EQMS journey. Make it the first stop on yours by following the link below.
You might also be interested in:
Quality Management Strategy: 5 Must Have Features for EQMS
Enterprise Quality Management Software Best
---
All entries in this Industrial Transformation blog represent the opinions of the authors based on their industry experience and their view of the information collected using the methods described in our Research Integrity. All product and company names are trademarks™ or registered® trademarks of their respective holders. Use of them does not imply any affiliation with or endorsement by them.