In the past months, our team has often been prompted with the question; "What do you, and/or executives you have spoken with, see as the top industrial business development trends?" This week's round up may serve as an adequate response to such a query. Lean business operations, sustainable processes, implementing effective global collaboration programs, and educating the next generation on such topics.
Shopfloor publishes this update summarizing country performance within the global manufacturing sector. This week's analysis states that the U.S. is growing modestly due to an increase in consumer spending, however there are still worries stemming from the current fiscal situation. On the other hand, the majority of the European manufacturing market is continuing to feel the negative impact due economic distresses. Read more on China, Germany, and the U.K.
Tweet this article | Share on LinkedIn
We are living in what has been labeled "The Age of the Consumer", and inevitably every product that we purchase has some effect on the environment. Businesses are now brainstorming and implementing ways to push toward sustainable processes. Renewable Choice provides three methods for supply chain leaders to integrate technological advancements that result in not only improved business performance, but also move toward an environmentally-friendly tomorrow. Paperless, Collaboration, Consolidation.
Tweet this article | Share on LinkedIn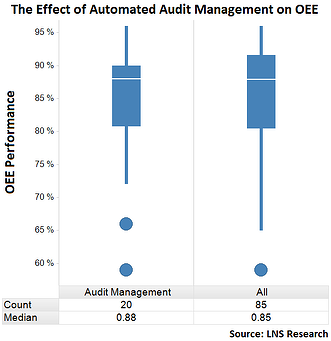 To moderate risk and ensure proper quality standards of products and processes, a strong set of audit management capabilities is needed. Such strategies have evolved to encompass the collaboration between people, processes, and technology with the adoption of automated audit management solutions. This article discusses the traditional approach and provides recent benchmark data to provide the benefits of automation. 33% have adopted automated audit management capabilities.
Tweet this article | Share on LinkedIn
The Manufacturer provides a synopsis from two interviews conducted by Lean Manufacturing Journal regarding the movement toward lean business processes and the evolvement of this philosophy. Professor Daniel T. Jones and Mauro Pino, head of Chrylser manufacturing operations, provide insights into topics such as international approaches to lean, vertical silos and horizontal business flow, lean IT solutions, and if Toyota's recall discredit lean as a methodology. Read the interviews.
Tweet this article | Share on LinkedIn
Holmes Energy created a new partnership program that efficiently makes use of the company's 33+ years of energy monitoring experience. A team consisting of at least one registered engineer or energy manager and a partner who is a young, highly motived engineer at the beginning on his/her career. This approach results in mentoring and continuous energy education for both the clients and in-house professionals. As with the article that I included in last week's round up, instructing and enlightening our youth on such issues is a top priority for many. Bill Holmes stated, "It is clear to us that technology is only a tool; people are the key to success".
Tweet this article | Share on LinkedIn
You Might Also Be Interested In:
The LNS Weekly Industrial Round Up 3/2/2013
CAPA Drives Dramatic Improvement in Prodcut Compliance [Data]
What the Experts Say About Quality Management Metrics [Infographic]
Categories: Sustainability, #Roundup, Benchmarking, Lean Manufacturing