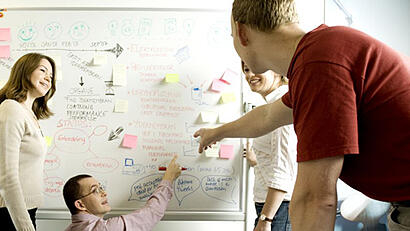 The following articles provide advice for many aspects of an organizational structure. Both top executives and plant managers can find insight to assist them in their current initiatives. These discussions include guidelines to developing a business case for departmental integration, how embracing kaizen can improve employee engagement, knowledgable investments in energy management, and considerations for quality management software selection.
GE Intelligent Platforms published a paper highlighting the benefits, both financial and operational, from manufacturing and supply chain integration. GE uses the consumer packaged goods (CPG) industry as their prime example for this discussion. Though the metrics measured may differ slightly by industry, the general knowledge remains beneficial and can be aligned to individual initiatives. Guidance is provided on how to build a successful business case in order to justify taking this approach in an organization. Marrying manufacturing and supply chain.
Tweet this post | Share on LinkedIn
Mark Graban discusses the findings from recent national employee engagements surveys are how improved results can be attributed to lean improvements. The survey results indicate that 70% of respondents are simply "going through the motions" at the workplace. As executives may seek insight into how to boost morale, embracing the kaizen style for continuous improvement or adopting a truly lean culture may be a great starting point. Graban provides evidence that the implementation of Toyota's kaizen program has improved employee satisfaction and overall engagement. Lean & Kaizen can help.
Tweet this post | Share on LinkedIn
Energy Manager Today published an analysis by Verdantix concluding that expenditure in the U.S. market for companies with over $1 billion in revenue on six energy management initiatives will increase from $13.1 billion (2012) to $16.5 billion (2017). The six energy management initiatives are: office energy management, IT/telecoms energy management, retail/chain energy management, industrial energy management, on-site renewable energy, and energy management systems. The highest ranking expenditure? Industrial energy management. Read more.
Tweet this post | Share on LinkedIn
Mike Roberts, Research Associate, provides insight into the complicated and daunting task of selecting the quality management software vendor that is most suitable for your operational needs. Many individuals believe that the first step in this challenging process is submitting a request for proposal (RFP), however successful implementation takes more than completing a checklist. It requires considerable research and analysis in order to match your exact needs to the offerings in today's marketplace. Roberts provides 10 tips that should be considered before issuing an RFP. Top 10 List.
Tweet this post | Share on LinkedIn

You Might Also Be Interested In:
Defining the Industrial Energy Management Framework
The Do's and Don'ts of Changing a Quality Culture [Executive Q&A]
Categories: Enterprise Quality Management System (EQMS), #Roundup, Industrial Energy Management (IEM), Continuous Improvement, Culture