The manufacturing operations management (MOM) space has evolved considerably over time, now encompassing a broad collection of what were once individually targeted applications to solve very specific manufacturing problems. Today, the trend is towards larger integrated suites of application functionality.
These suites come in the form of extensions to ERP platforms, as well as part of comprehensive MOM software and manufacturing execution system (MES) platforms. Even with this evolution, the names and acronyms describing each application still exist, which can make staring at a page of today's MOM applications feel a little like getting lost in a bowl of alphabet soup!
Below, I'll share some of the most widely used acronyms. In the comments section, please feel free to share some of your own favorites!
Making Sense of the MOM Application Landscape
For those that are new to the MOM space, this broad range of acronyms can be daunting. To help with this, LNS has created a list of definitions you're likely to come across in your exploration and education journey. The following acronyms are grouped with the associated processes in Level 3 of the infographic below.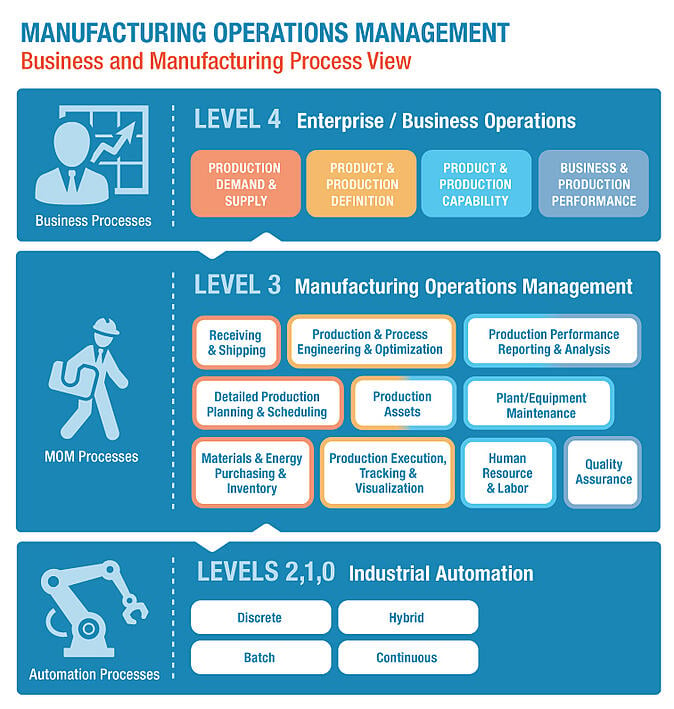 APC – Advanced Process Control provides closed-loop control in process industries to optimize for multiple variables like, energy, material cost, and pricing
BoM – Bill of Materials coordinates the components needed to manufacture a finished good
EMI – Enterprise Manufacturing Intelligence enables the aggregation, analysis, and delivery of real-time actionable intelligence for production performance
EWI – Electronic Work Instructions deliver product, quality, and engineering specifications to manufacturing
HACCP – Hazard Analysis and Critical Control Points create an action plan for ensuring products are always in compliance without having to conduct 100% finished product testing
IEM – Industrial Energy Management connects the procurement, use, and analysis of energy with production performance
LIMS – Laboratory Information Management System coordinates the activities of laboratory personnel and connects testing and sampling data with finished product data
MES – Manufacturing Execution Systems deliver critical shop floor scheduling and shop floor traceability capabilities
MRP – Manufacturing Resource Planning coordinates the needed asset, inventory, and human capital required to fulfill production forecasts
OEE – Overall Equipment Effectiveness is a composite metric measuring the availability, efficiency, and quality of production assets
OI – Operations Intelligence is similar to EMI but can be extended to include other real-time areas of the value chain such as supply chain or service
OTS – Operator Training Simulators prepare control room professionals to quickly and effectively deal with dangerous situations in controlled environments
RCM – Reliability Centered Maintenance moves an organiztion to become more predictive and collaborative rather than reactive and break-fix
RFID – Radio Frequency Identification allows for traceability at the finished product level
SPC – Statistical Process Control monitors and analyzes real-time variations in production
SQC – Statistical Quality Control is a specific use case of SPC for quality performance
TIS – Tank Inventory Systems monitors the amount of ingredients in silos and other vessels and manages the flow from one batch process to the next
WMS – Warehouse Management System controls the receipt, location, and flow of materials in and out of inventory
Though this isn't an exhaustive list, it covers the majority of popular MOM applications that are currently available and in use today.
A Detailed Guide to Leveraging MOM Applications
In the LNS Research Manufacturing Operations Management Best Practices Guide, LNS provides additional step-by-step details on how MOM, when combined with properly aligned business and manufacturing processes, can help your company improve its manufacturing operations and better meet overall business goals. Follow the link below to read the guide.
Categories: Manufacturing Operations Management (MOM)