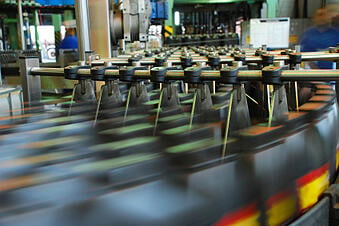 What if you told your kids there was a place where they could hold ideas in the palms of their hands? A place where shiny materials delivered by trucks, rails, planes, and boats from around the globe are transformed into fun and exciting toys. Where humans and machines are on the same team and teach one another new things every day. They might not believe it when you tell them that place is a manufacturing facility, but National Manufacturing Day, Friday, October 4, aims to help change that.
Despite manufacturing's foundational role in the U.S. economy, it's safe to say that most of today's youth know little about it beyond Industrial Revolution coverage in Social Studies class. And by the time they enter the workforce – if they haven't done so already – that disconnect is so great that manufacturing as a career is becoming further and further from a consideration. There seems to be this misperception that most U.S. manufacturing jobs have been outsourced and those that remain are low-skilled, low-paying ones that nobody wants.
As manufacturing demographics increasingly fall on the side of older workers, the second annual National Manufacturing Day is coming at a pivotal time. A 2011 Skills Gap Report from the National Association of Manufacturers reported that 67% of companies had a moderate-to-severe shortage of available, qualified workers, and 56% anticipated the shortage to grow worse in the next 3 to 5 years. Not long after this research surfaced, U.S. Bureau of Labor Statistics data highlighted that in 2012 the average manufacturing workers' age was roughly 50 years old and half of that workforce was 10 to 15 years away from retirement.
Accounting for the aging workforce issue, in ThomasNet's 2013 Industry Market Barometer report, it was concluded that 75% of manufacturing workers will need to come from Generation-Y by 2025 for it to continue growing at its current rate. That leaves little time to renovate the outdated perception and lack of information Millennials have about manufacturing, making events such as National Manufacturing Day all the more crucial.
As put by Jay Timmons, National Association of Manufacturers' President and CEO, "Manufacturing Day is a great opportunity to shift Americans' perception that it is not our grandfather's manufacturing anymore."
In fact, today's manufacturing careers are far from those followed by most people's grandfathers. There are opportunities across a broad range of high-tech areas, from electronics and mechanical engineering to software, IT and networking as well as industrial engineering, process engineering and project management. These cutting-edge skills are in demand, right here in the U.S. And as manufacturing technology continues to pervade deeper into plants and global supply chains, the number of opportunities is poised to grow.
This Friday, manufacturers, universities, associations, and other community and national organizations are making a concerted effort to not just educate the public on manufacturing's role in America, but also to help them realize how it's evolved into an innovative and highly skilled working environment. Offering factory tours, career workshops, and open houses, students as well as those already in the workforce will get a behind-the-scenes peek into why modern manufacturing is a viable career option.
According to Timmons, the celebration is geared toward raising awareness, and he's calling for supporters around the country to do their part. He said, "[Manufacturing] day is an engaging way to attract young people and get them excited about pursuing a career in a technology-driven, innovative environment that will also provide a good-paying job. We encourage all manufacturers and manufacturing associations to get involved and share what we already know—manufacturing makes us strong."
Last year's celebration drew more than 7,000 people to 240 events across 37 states, and this year's slated to be much larger. Manufacturing Day's website shows more than 800 events already scheduled. As shown in the map below, with a little research you should be able to find one near you.
Ed Youdell, President and CEO of the Fabricators & Manufacturers Association, explained, "Manufacturing Day is a great opportunity to celebrate work and innovation of the 12 million men and women who make the United States the world's largest manufacturing economy." That's nearly 1 in 30 Americans working in manufacturing. It's likely that National Manufacturing Day will resonate with some degree of importance to you, a family member, or those in your community. Make sure to do your part and spread the word.
Why do you think National Manufacturing Day's important? Let us know in the comments section below or tweet to us at @LNSResearch. If you're interested in attending an event, visit www.mfgday.com for more information.
---
All entries in this Industrial Transformation blog represent the opinions of the authors based on their industry experience and their view of the information collected using the methods described in our Research Integrity. All product and company names are trademarks™ or registered® trademarks of their respective holders. Use of them does not imply any affiliation with or endorsement by them.