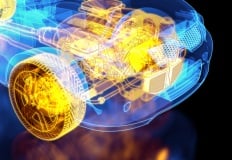 Manufacturing strategies need to be adapted and tuned based on several factors. What do your customers care most about? How large is your company's operation? How many different plants and systems do you have? How large and diverse is your product line? In which industries do you operate? The answers to these and other questions will likely uncover your optimal software strategy for managing manufacturing operations.
If, for example, you already have a robust ERP system in place that integrates customer and product master data well with a desired offering of Manufacturing Operations Management (MOM) applications, it may be beneficial to consider that particular MOM suite. And if yours is an engineering-intensive industry like high-tech electronics, automotive or aerospace & defense, it may make perfect sense for you to consider a software strategy that tightly integrates the product design and revision aspects of production using Product Lifecycle Management (PLM) software that links to MOM execution applications.
There are many different approaches that can be taken, and it's important to have a solid understanding of the full range of currently available options as well what is emerging in the marketplace.
To add education and clarity to the MOM software space, LNS Research has published its Manufacturing Operations Management Solution Selection Guide. The guide includes a detailed write-up of 20 of the top vendors in the MOM space by key strengths and attributes, and is a critical resource for manufacturing executives considering an implementation.
Over the past several months we've been highlighting a different solution provider from the guide. This week we conclude our featured write-ups from the guide with global industry giant Siemens, a German-based electronics and electrical engineering company that has a history of over 165 years.
A Closed-Loop Approach to the Production Lifecycle
As one of the largest vendors in the industrial/manufacturing market space, Siemens is well known for its strengths in Industrial Automation, with capable offerings also in the PLM and Enterprise Manufacturing Intelligence (EMI) solution offerings, among others. The company's recent acquisition and development activities indicate that it is extending its solutions into Enterprise Quality Management Software (EQMS) as well.
The company's status as both a global supplier, as well as a diversified, volume manufacturer itself, has helped its understanding of the needs of engineering, manufacturing, and IT executives, allowing it to offer a broad set of functionalities to many industries. Its MOM strengths lie in part with the integration to its PLM solution, fitting well with large discrete manufacturers, particularly in automotive, aerospace & defense, and industrial equipment industries. Siemens takes a closed-loop approach to the complete product and production cycle, and has been leading the industry with its digital manufacturing concepts via its PLM and Manufacturing Execution System (MES) integration.
In the PLM arena, the Siemens Tecnomatix offering includes plant design and optimization software for discrete industries, and the Teamcenter and NX offerings manage design and manufacturing information. SIMATIC IT MES provides a pre-configured industry library approach to implementation and expansion in process and hybrid—and increasingly, discrete manufacturing. SIMATIC IT delivers solutions across manufacturing R&D and production, and is equipped with built-in EMI functionality and strong manufacturing operations workflow. The company continues to invest in expanding their solution coverage into pharmaceuticals, in improving user interfaces, and increasing connectivity to other applications, the last of which LNS Research sees as critical in speeding solution time-to-value and limiting necessary customization on the part of customers.
The company has built an impressive set of solution partners covering the gamut of different geographies and industries, which is supported by a common value framework and set of customer specifications to help ensure success.
Siemens' MOM Software Strategy and Offerings: A Deeper Dive
For more information on Siemens, its strategy, solution strengths, and other attributes, be sure to access our MOM Solution Selection Guide (below). The guide provides an overview of Siemens and other vendors in the MOM landscape based on criteria such as specific functionalities, company sizes served, industry strengths, geographic footprint, time to solution value, and others. The Guide also breaks down Siemens' core attributes by current and emerging strengths and full coverage areas.
---
All entries in this Industrial Transformation blog represent the opinions of the authors based on their industry experience and their view of the information collected using the methods described in our Research Integrity. All product and company names are trademarks™ or registered® trademarks of their respective holders. Use of them does not imply any affiliation with or endorsement by them.