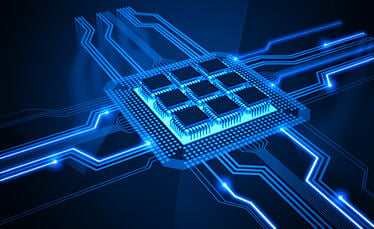 It's hard to deny the existing and future potential of creative new applications and the associated benefits that will likely arise from the Internet of Things (IoT) in the industrial sector. However, accelerated adoption is not without its challenges or hurdles that need to be overcome. LNS Research's goal is to see that all of these challenges are addressed as quickly and as practically possible so the manufacturing industries can continue to accelerate their business success by leveraging these exciting new technologies.
In the first LNS Research blog article on this topic, we discussed the huge potential for billions of interconnected devices, along with summarizing some of the recent activities that are occurring surrounding the IoT for the manufacturing industries. We also explored the first of three big hurdles that we see as slowing down adoption--the need for more interoperability standards between IoT and existing manufacturing and IT industry standards.
In the second blog article of this series, we explored the new security challenges that come along with the IoT, as well as some of the available resources and ways that companies are effectively addressing them.
In this post, we'll tackle the third big hurdle that we see slowing manufacturing IoT adoption and success--the increased costs to add intelligent devices/equipment and the ROI of manufacturing IoT applications.
With Today's Technology, There Are Always Multiple Ways to Create a Solution
Intelligent sensors and devices aren't new. In fact, millions have been deployed over the last decade or so in plants and facilities around the globe. Granted, most of these installed sensors and devices are not communicating via Internet protocols or directly over Ethernet networks, but they work reliably and they communicate with higher-level controllers and computing devices that DO communicate using Internet technologies into the rest of the enterprise architectures and applications.
So here's the rub--if the new generation of IoT sensors and devices cost more to purchase than existing sensors and devices, then much closer consideration will need be made in regards to the "cost versus value'" of the additional information that is provided by IoT.
We see a mix in the marketplace today--a combination of new, simpler, and even lower-cost IoT industrial devices, as well as IoT industrial devices that are more expensive than their predecessors that use other proven protocols like As-i, BACNet, CIP, DeviceNet, FOUNDATION Fieldbus, HART, Modbus, Profibus, PROFINET, SERCOS, etc. As long as this situation exists, then the added value of simpler connectivity and richer information will be debated for the sensor and device level. If a "like for like" IoT sensor or device is priced the same or less, and with the added IoT benefits, then the decision becomes much more of a "no brainer."
The same basic premise holds true for manufacturing software applications. Collecting, analyzing, and disseminating information and managing/enforcing procedures and workflows is commonplace for existing manufacturing software applications. The difference for "IoT-enabled" manufacturing software applications is how the IoT sensors and devices communicate and interact with the software and the users of the software. The IoT will also create a faster velocity and volume of data that needs to be effectively managed and analyzed. However, the costs associated with purchasing, deploying, and maintaining IoT applications can't be more expensive than traditional approaches, or we will be having the same "cost versus value" debate instead of moving forward.
Where Are All the IoT 'Killer Apps'?
We've been following a number of the industrial IoT application frameworks/platforms that have been commercialized and are now being utilized by early adopters. Axeda (which is in the process of being acquired by PTC), Carriots, Oracle IoT Platform, and PTC's ThingWorx are all good examples of these. However, a framework/platform is just that--a toolkit with a set of application services for creating functional applications. When we search for pre-made, manufacturing IoT applications that are proven to deliver ROI, they just don't seem to exist yet. The IoT market has a ways to go in this regard.
That said, some early adopters are in fact reaping good ROI on some initial applications that were created either in-house, or with the help of systems integrators using these stated IoT application frameworks/platforms.
Many of the early ROI successes that we are seeing are in the area of Asset Performance Management (APM), whereby industrial assets are being monitored remotely and large amounts of Big Data are being analyzed to predict impending asset maintenance requirements prior to failure. Making sense of large streams of data can be complex and requires very specialized data science skills, so we are a long way away from having out-of-the-box apps for manufacturing IoT solutions.
The marketplace is anticipating that Big Data generated by IoT will positively impact manufacturing performance in a number of ways. Below is a chart with related data from a recent Metrics That Matter research project that was jointly performed by LNS Research and MESA International.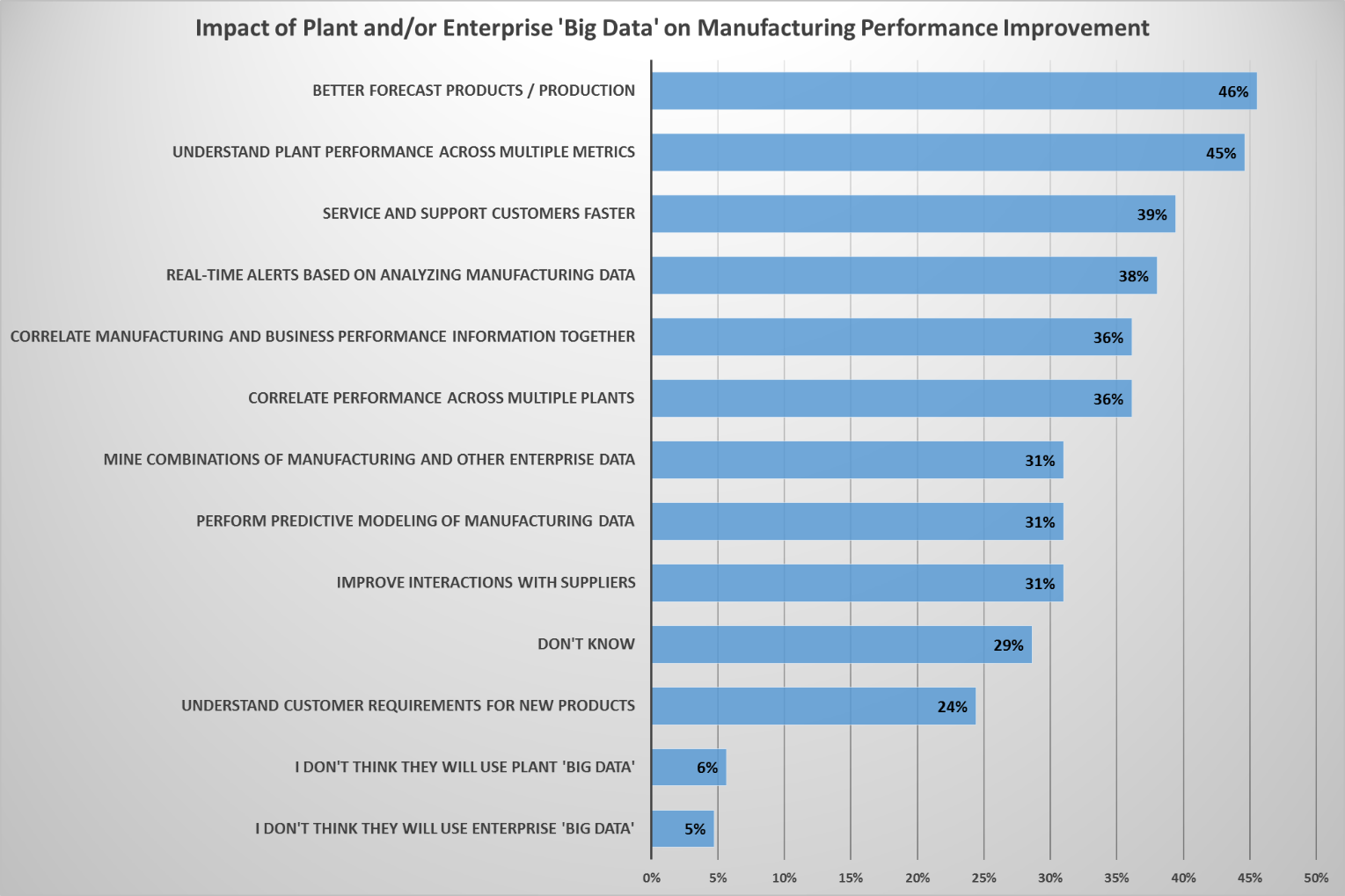 What ROI Success Stories Can You Share for Manufacturing IoT Applications?
Given we are in the early days of IoT apps that are routinely delivering good ROI, we'd like to hear from you. Let us know about any repeatable manufacturing applications involving IoT that are rendering a positive ROI. How were they created and who provided the technologies behind them? We'd love to highlight these successes so others can learn and accelerate their ROI.