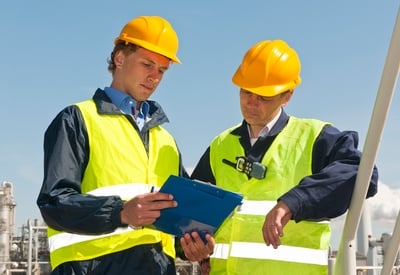 Whether it's management systems, file systems for CDs, or even guidance on how to brew a cup of tea, there's an International Organization for Standardization (ISO) standard for just about everything. Many of us are very familiar with two of the biggest ISO standards: ISO 9001 for quality management and ISO 14001 for environmental management.
But in spite of ISO's ubiquity and seeming comprehensiveness, there's one glaring hole in its catalogue of standards. Indeed, this go-to organization for any standard framework you could possibly imagine does not have a standard for health and safety management. It's a significant omission; however, this is about to change as ISO gears up for the release of its very first such standard.
Why Has it Taken so Long?
Perhaps as a result of this void in ISO's catalogue of standards, manufacturers around the world, familiar with ISO 9001 and 14001, have adopted OHSAS 18001, a go-to standard for health and safety management. Over the years, many have erroneously interpreted the standard as an official ISO standard, and while it is almost as pervasive as many common ISO standards, it was actually developed by the Occupational Health and Safety Advisory Services (OHSAS) Project Group. Though the standard and others—namely ANZI Z10 in the U.S. and AS/NZS 4801 in Australia and New Zealand—have filled the gulf in ISO's repertoire, the lack of an official health and safety standard from ISO's corner is notable.
Since ISO has widely adopted and comprehensive standards for quality management, environmental management, risk management, energy management, and other essential areas, it's alarming that there's no formal standard for an essential aspect of performance. But this is about to change. Though the process has been glacial, ISO is poised to finally release an official management standard for health and safety. The good news is that the project has been underway for a while and is in its final stages. The bad news is we're still looking at a fall 2016 publication date at the earliest.
So why has it taken so long? OHSAS 18001 has filled the gulf for some time, and while it has become better aligned with the format of existing ISO management system frameworks since 2007, it still misses out on some key areas of coverage ISO 45001 (so we have been led to believe from its draft standard documents) will cover when it is released.
Will it Mean Anything?
But what does this all actually mean for manufacturers today? If they have adopted OHSAS as their health and safety management standard, is that enough? Why upgrade to ISO 45001 when it is released? Will conformance effect any meaningful change in EHS management among business?
We have early drafts of ISO 45001, and while these drafts provide us some insight into how the standard will manifest, it is still hard to say how to answer the above questions. But with that, here are some things to know about ISO 45001:
There's Universality: As with many other ISO frameworks, ISO 45001 will be high on form, low on content. This is how ISO has long operated, and in many cases it has helped organizations achieve process efficiencies and operational excellence. With ISO 45001, the approach to health and safety management should apply as appropriately to aerospace and defense as it would to financial services. OHSAS didn't have this degree of universality embedded into its framework.

However, for global companies that are compliant with OSHAS 18001 or ANZI Z10 in the US, the release of this standard presents a bit of a quandary, particularly with respect to providing different health and safety standards to employees working in global regions with more lax regulations. Global conformance to this ISO standard could help, but will it be worth the cost? That's a question that will require some deep analysis on a case-by-case basis.


Customers Could (Soon) Demand It: We're used to ISO 9001 and 14001 certification being demanded among customers, just as we often demand it of our suppliers. Well, expect little difference with ISO 45001. While we have OHSAS 18001 on the market currently, it will probably not carry the weight of a standard that boasts the ISO trademark, hence customers will tend to veer towards an ISO-based health and safety standard in terms of what it demands of its suppliers.


Better Alignment with Existing ISO Standards: OHSAS 18001 is a good health and safety management framework, and while it follows some ISO-based conventions, it does not comprehensively align with existing ISO (namely 9001 and 14001) management system standards. ISO 45001 will. And as organizations continue to align quality, risk, health and safety, energy, and sustainability management system requirements into one integrated management system that communicates with existing or planned Enterprise Resource Management (ERP) systems, it will only make sense to align quality, environment, and health and safety systems as closely as possible.

It is also worth noting that both ISO 14001 and OHSAS 18001 have long been very risk-centric and ISO 9001 is also being taken in that direction. With its focus on risk (e.g. hazards, aspects), ISO 45001 also converges towards this unified theme among the standards.
How will 45001 Differ from Existing Standards?
One other point to touch on at this juncture (and we will dive into ISO 45001 far more in future posts) is some of the key differences the standard will have with OHSAS 18001, which many experts think will slowly be phased out as ISO 45001 gains traction.
The Structure has Been Changed: Effectually, this probably wouldn't make much of a difference, but remember that any successful standardized management system implementation would be certified as being in conformance by a third-party accreditor (self-declaration is always an option, too). If you currently have OHSAS 18001 implemented, you might have to revise manuals, protocols, and programs accordingly.


Emphasis on Executive Role: As we have discussed often on the LNS Research blog, any new companywide program needs executive leadership. It's no different with ISO 45001. Whereas OHSAS 18001 didn't categorically define much in terms of the role of leadership, ISO 45001 will clearly state what leadership responsibilities are from a health and safety perspective. So whether or not you have OHSAS 18001 implemented, if you are planning to achieve ISO 45001 certification when it is released, you'll want management deeply involved in the process.


More Comprehensive: While OHSAS 18001 was and is strong, it doesn't quite live up to the ISO level of comprehensiveness, and probably never will. In short, if you're even draft-compliant with ISO 45001, you would probably pass any known ISO 18001 audit.
So why go beyond compliance and try to achieve ISO 45001 certification when it is released, especially when conformance is not mandated by customers? That's a long-standing question that has been asked of all the ISO standards and is still a source of debate. Also, critics of existing standards like ISO 14001 have quipped that a conformant organization can pollute to the ends of the Earth as long as they document how they've polluted. That is, there's few specific improvement targets embedded into the standards, particularly environment, which differ industry to industry, though ISO 50001 is making some movement in this regard by providing a framework for actual business improvement.
There's no simple answer, but if an organization effectively implements achieves the risk management and continuous improvement capabilities set out in these standards, the benefits in terms of efficiency, process improvement, and cost savings can be substantial.
There's much to be said of this new standard, and in some ways it is exciting that ISO is on the verge of finally releasing what was an odd omission in their library. We'll discuss more in the coming months what this means for the field of health and safety management, but in the meantime, one thing that is worth considering is where your organization is in terms of its maturity in aligning with an established health and safety management system framework.
---
All entries in this Industrial Transformation blog represent the opinions of the authors based on their industry experience and their view of the information collected using the methods described in our Research Integrity. All product and company names are trademarks™ or registered® trademarks of their respective holders. Use of them does not imply any affiliation with or endorsement by them.