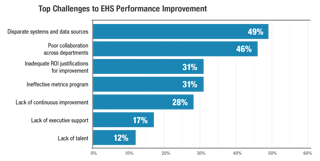 It never seems to get any easier, does it? Environment, Health and Safety (EHS) and Operations business leaders confront big challenges in managing performance in the face of increasingly complex requirements and risks. Fragmented systems and siloed organizational structures are foremost among them. Although modern information technology is available to help overcome these obstacles, adoption remains relatively low throughout industry.
Click here to see image in full-size
Click here to speak with Peter Bussey
LNS Research survey data show that lack of sufficient business case justification is one of the top three barriers to EHS performance improvement initiatives (cited by 31% of respondents). EHS leaders need a compelling business case for approval and funding of any technology-enabled improvement initiative. We observe that running cost-benefit calculations and filling out a business case template are not enough. Rather, a strategic approach is needed to align the EHS initiative with organizational objectives and meet decision-makers' expectations.
Framing the Business Case for Success
Here are three strategies you can use to frame your EHS business case for success.
1. Shift the Focus to Business Transformation
On the surface, it might seem that the business case should focus on the implementation of EHS software, and why it's a good investment. But positioning it as an information technology project is only part of the story, and misses the larger opportunity.
Companies have shifted from incremental process improvement in departmental silos through IT projects, to Digital Transformation initiatives that optimize processes across the enterprise and extended value chain. Business cases based on a strategic approach, such as the LNS Research Digital Transformation Framework, are more likely to gain executive sponsorship and be approved and funded.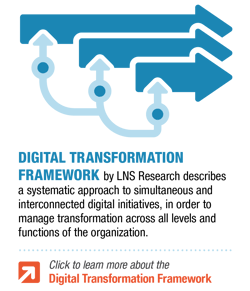 2. Base the Scope and Objectives on Assessment of Capability Maturity
A clear definition of the problem to be solved is critical in framing the business case for success; to link expected benefits to corporate goals and initiatives. A formal gap analysis methodology such as the LNS Research EHS Excellence Maturity Model helps compare the organization's current state with industry best practices to enable systematic problem definition.
This maturity model describes the stages organizations typically go through in their evolution towards being Innovation Leaders that influence the market by driving standards and expectations. Less mature organizations lack standardized processes, are reactive, and lack continuous improvement. More mature organizations have well-defined management systems in place, and use them to meet compliance obligations and manage operational risk. At the highest maturity level, the company has fully integrated EHS into the business at all levels. Capability maturity assessment helps an organization identify the right improvement opportunities to focus on to move up the maturity curve.
3. View the Business Case is a Journey, not a One-time Event
Many of the "Big Bang" IT projects of the past failed to deliver the promised value. Today, organizations are more sophisticated and agile in how improvement initiatives are evaluated, approved and funded. A small-scale, highly focused project is more likely to move forward than a "boil the ocean" approach.
It's important to view the business case as a journey rather than an isolated event. The key is to pick an appropriate starting point based on the assessment of current capability maturity. For low to average maturity organizations, the starting point will likely be tactical cost reductions and efficiency improvements at the department or operations level. Once initial success and value is demonstrated, the company can undertake additional initiatives with more ambitious business value objectives at the enterprise level.
The end goal of the journey is to achieve executive sponsorship of a master business case for EHS improvement. At this level, EHS is interwoven into business strategy and delivers significant financial and strategic benefits to the organization. Along the path, the corresponding metrics used to measure results will move from siloed, such as cost of compliance, to operational improvement and financial performance, and ultimately to those demonstrating strategic benefits such as revenue growth and brand value.
Think Big, Start Small
EHS leaders and professionals have an unprecedented opportunity to leverage modern information technology to drive performance improvement and add value to the business. But a key challenge is how to build and communicate a compelling business case to gain approval and funding. Doing so successfully requires much more than accounting for costs and benefits and calculating ROI numbers to plug into a business case template.
To be successful, a business case for technology-enabled EHS performance improvement should be strategically framed for the decision-makers. This means:
• Putting the business case in the context of business transformation rather than IT
• Selecting the right starting point and objectives based on current capability maturity
• Moving incrementally towards executive sponsorship of a master business case
The recipe for success is to get an early win, sustain it, and clearly communicate the results. Then rinse and repeat with additional initiatives that produce even higher value. This journey won't be accomplished overnight, but ultimately it should be well worth the investment of time and resources.
---
All entries in this Industrial Transformation blog represent the opinions of the authors based on their industry experience and their view of the information collected using the methods described in our Research Integrity. All product and company names are trademarks™ or registered® trademarks of their respective holders. Use of them does not imply any affiliation with or endorsement by them.