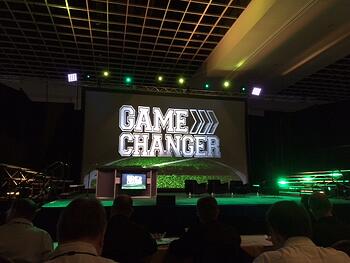 LNS Research had the pleasure of attending the Schneider Electric Software Global Customer Conference in Orlando, FL, earlier this month—where the theme was all about how the game is changing in businesses today and how the company is rising to the new challenges with game-changing solutions.
This was very much a 'coming out' party for the merged industrial software capabilities that were already a part of Schneider Electric, along with the prominent brands coming from the 2014 acquisition of Invensys. The software brands now part of a newly-formed Global Solutions business group for Schneider Electric include: Ampla, Avantis, Citect, OASyS DNA, SimSci, and Wonderware. This portfolio is now among the industry's largest and most comprehensive 'control hardware agnostic' software offering.
But software alone was not the entire story, as the new global solutions business group, which includes software and is headed by Executive Vice President, Daniel Doimo, is all about creating more customer value with expanded and new services, and vertical industry solutions—much of which is tied to the industrial software but not exclusively.
Schneider Electric Global Solutions Division Focus
Daniel emphasized that Schneider Electric is a technology company with 43% growth in emerging economies, and how the Global Solutions division will be focusing on how to best serve companies that are operating and doing business globally. The company is focused on helping to make the most of energy, productivity, and safety, along with smarter cities and transportation and wiser homes. Part of how the division will transform how they provide services to customers is by leveraging a new digital services cloud infrastructure.
The solutions division currently serves the following core industry segments: Food & Beverage, Water & Wastewater, Oil & Gas, Transportation, Mining/Metals/Minerals, and Smart Cities. Daniel also commented on how the group will be bringing things to market faster, while also providing a continuity of people and products the market has relied on for decades. The global HQ for the division is in Lake Forest, CA.
Acceleration of Software Strategy and Delivery
Dr. Ravi Gopinath, who previously ran the Invensys industrial software business, is now leading the Schneider Electric software business section of the Global Solutions Division. Ravi assured the audience that there has not been any disruption in value creation for customers as part of the acquisition of Invensys. He also emphasized the Schneider Electric commitment to invest—currently at 13-14% of sales into R&D, to enhance the portfolio, and to be the leader in software.
The group recognizes that there are rapid changes occurring in business value streams, and that customers are in the process of digitizing and optimizing their business and production processes to enable greater business efficiency and agility using IT. Application areas of focus include: engineering excellence, asset performance, people enablement, operational efficiency, and information management.
From a strategic investment perspective, Dr. Ravi discussed how the software group will continue to build the best software possible, along with continuing with select acquisitions to extend portfolio strength. Strong evidence of this strategy was announced at the event with many new software developments released, along with the intent to acquire InStep Software, LLC.
InStep provides real-time performance management and predictive analytics software solutions that will complement the Schneider Electric portfolio with stronger data management and predictive analytics capabilities for the power and energy management industries, including power transmission and distribution, along with helping to fulfill strategic plans around Big Data and the Internet of Things (IoT).
Dr. Ravi also commented on their common software platform strategy, which includes an underlying interoperability framework, a common user experience framework, upon which their platform products such as Wonderware System Platform are built. Application products are built on top of the platform products, and industry solutions are subsequently created from this set of offerings.
The last critical element of their strategy that was discussed was their people. The combined software group now has 3,000 people focused on industrial software, with 1,000 of them working to deliver customer services, support, and project delivery. The other important dimension of the people dedicated to software solutions are the 3,500 system integration and channel partner companies that represent a unique ecosystem asset for customer success.
Our Take
We were impressed by Schneider Electric's rapid progress in new software developments and cross-portfolio integration that has occurred since the acquisition of Invensys at the beginning of 2014. Both the existing and newer members to the solutions division appeared to be re-energized by the critical mass of talent and software that the group now represents. Systems integration and channel partners also appeared positive about future prospects. We also attended a number of customer-led sessions whereby impressive applications and rapid business results were discussed.
Some of the specific cross-portfolio integrations of note include: use of the Wonderware Historian, cloud-based, Historian On-Line, and mobile historian client tools in conjunction with Citect SCADA offerings, as well as Wonderware Workflow software being used to extend Avantis asset performance management solutions.
One of the areas we wanted to specifically explore was the potential areas of software portfolio overlap. We're pleased to say that these issues were proactively addressed with the revelation of the following: the Ampla MES offering would be focused on the Mining/Metals/Minerals industry, while the Wonderware MES would be directed at other industries such as food & beverage, consumer goods, and general manufacturing. The different SCADA offerings and associated channels will be directed at industries and geographies where they have greatest market strengths. Some of the details of these portfolio decisions are still forthcoming as the company prepares detailed business plans for 2015.
We see the common platform strategy as a differentiating move in relation to other industrial and real-time information software providers, so we look forward to monitoring and reporting on progress in this as well as the industry solutions and services that will be enabled.
Another key differentiator for Schneider Electric that we see in relation to most other major industrial automation solution vendors is in the creation of a separately-focused and dedicated automation hardware neutral software solutions group. We have seen a recent move by Siemens, which also created a dedicated software solutions group—headed by the former PLM team and containing PLM, Quality, MOM/MES and HMI/SCADA software. Other major industrial automation players have software that can work with other's automation solutions, but their business group dynamics are still mostly tied to their own automation hardware solutions. Over time, we think that companies that do not create a focused business group for open, volume software solutions will be at a disadvantage to those companies that are currently organizing and investing in the way Schneider Electric (and Siemens) have.
One opportunity we see for Schneider Electric is in the area of marketing and communications. In order to meet their growth aspirations to be a software and industry solutions leader, we think that they need to significantly raise their marketplace visibility around their capabilities and strategy, as well as to continue to promote their portfolio of strong brands that lend credibility to the strategy.
Categories: Manufacturing Operations Management (MOM), Solution Vendor / Software Vendor