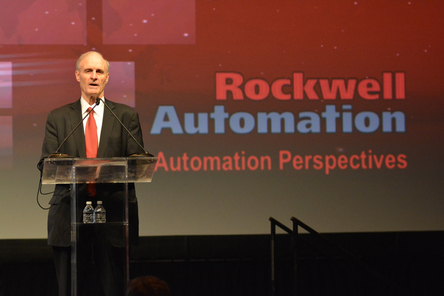 LNS Research was pleased to be in attendance at the 2014 Automation Fair, hosted by Rockwell Automation, in Anaheim, CA on November 17-20. With over 10,000 attendees, nine Industry Forums, 168 Exhibitors, and 152 partners, Automation Fair continues its North American prominence as one of the leading events for industrial automation and information professionals.
Over the four days, LNS Research was able to attend the Process Solutions User Group (PSUG), Automation Perspectives Media and Analyst Event, and Power and Energy Forum, as well as numerous booth tours and executive interviews. Throughout the interactions in these sessions, the main theme of the event was consistently supported--Operationalizing The Connected Enterprise.
The Connected Enterprise theme has been a consistent one from Rockwell Automation and their strategic alliance partners such as Cisco and Microsoft. This conference was focused less on the technology concepts and more on what the impact of connected equipment and systems can mean to a manufacturing operation and business.
Automation Perspectives Keynote
Ninveh Neuman, VP Global Commercial Marketing kicked off the Automation Perspectives session followed by CEO Keith Nosbusch's keynote. Nosbusch continued and extended the concepts from last year with the theme of Operationalizing The Connected Enterprise. Rockwell Automation positioned The Connected Enterprise as being delivered by three key platforms:
Integrated Architecture & Software
Intelligent Motor Control
Solutions & Services
Nosbusch also took the time to emphasize the importance of partners in The Connected Enterprise as well as the main business drivers pushing companies to adopt the paradigm:
Faster Time to Market
Lower TCO
Improved Asset Utilization
Enterprise Risk Management
The keynote ended with a discussion on the trends of increased IT-OT (Information Technology-Operational Technology) convergence, dramatically accelerating adoption of IoT (Internet of Things) technologies, and several customer examples, including: LNG refueling stations and Digital Oilfields.
Important Announcements
Throughout the rest of the event, Rockwell Automation and partners continued to support The Connected Enterprise discussion and made many of new announcements that will be of interest to customers and prospects. In no particular order, these announcements include:
Wireless Reference Architecture/Powered Ethernet Offerings
In the Industrial IP Advantage booth Rockwell Automation and Cisco presented a new design and implementation architecture, along with products that support a single wireless network in plant settings, incorporating multiple SSIDs and virtual LANS to segment IT/video traffic, high-speed control traffic, etc.
With the new technology, the wireless access points also get power over Ethernet cables to minimize additional wiring and power supplies. The full press release with additional documentation can be found here. We see this as a very practical step forward in supporting the growth in wireless plant networking, without any compromises from either the IT or OT perspectives.
Mobility Improvements for FactoryTalk Vantage Point EMI and A New Quality Management Application Built on FactoryTalk ProductionCentre
In the Information Software booth we saw many of the behind-the-scenes capabilities introduced to us at the RSTechED event six months ago move into the actual product. They have adopted a new culture and development process which has certainly energized the team as well as enabled the delivery of faster turnaround and refresh times on development.
A few of the mobility highlights included a strong use of HTML5 across mobile form factors for improved usability, easy-to-design dashboards, favorites pages that transfer across devices, and many out-of-the-box metrics and analytics widgets. The FactoryTalk ProductionCentre team, not to be outdone, showcased the release of quality management capabilities that can now handle in-line/at-line testing as well as manufacturing non-conformances, all of which are important capabilities for a comprehensive MOM suite of functionality.
Over the coming year, LNS Research expects to see increased innovation and delivery from both of these product teams.
Digital Oilfield and Serialization Solutions
In the Solutions and Services booth there were new solutions highlighted of interest, in particular the digital oilfield and serialization. The Digital Oilfield solution builds on the recent vMonitor acquisition and provides an integrated solution for monitoring, control and optimization of the production from off-shore and on-shore well pads. The vMonitor offerings added wireless RTUs (Remote Terminal Units) and advanced, cloud-based monitoring and optimization software that supports a central management center. The solution is designed to support safe and efficient operations of oilfield production, including wellheads, pipelines and tank farms, and complements other Rockwell Automation primary control and safety products.
The Serialization solution is targeted at the life sciences and regulated industries and includes hardware, software and new integration capabilities with labeling and printing equipment, production equipment, MES, and business systems. It also includes new cloud-based forward and backwards traceability solutions that can help companies move from compliance towards more value added scenarios of supply chain optimization and consumer/patient engagement. It is a complex space with many disparate systems and challenges but if the solution proves to be scalable across Rockwell Automation and third-party systems, it has the potential to meet a major market need.

New AT&T Collaboration
Rockwell Automation takes its partner strategy very seriously, just look at the Microsoft, Cisco, Panduit, OSIsoft and Endress+Hauser relationships. From the CEO all the way down through the Global Business Development group, Rockwell Automation knows the importance of focusing on core competencies while still offering a best-of-breed, total solution approach to customers.
The new AT&T partner will allow Rockwell Automation's customers to have cellular/wireless connectivity that is cost-effective, secure, and across the globe in ways that have not been possible in the past. It is still early days, but Rockwell Automation and AT&T have a vision of a day in the not-too-distant future whereby Machine Builders, Asset Owners, and Manufacturers can turn on new equipment anywhere in the world and have it instantly and cellularly connect to the internet where previously simple and practical options did not exist.

Education, Training, and Managed Services
Rockwell Automation takes its role not only as a solution provider but also as an educator and trainer very seriously. There were a number of announcements of new training and certification programs, both around newer areas of IT-OT convergence (with Cisco as a partner) as well as training in traditional areas of maintenance, safety, and automation.
One related new announcement was for e-learning courses that lead to education in Industrial IP networking. The services team in particular also continues to look for new, innovative ways to support customers, especially in areas where customers maybe feeling the pinch of limited internal resources or expertise.
LNS Research Key Takeaways
At this year's Automation Fair, Rockwell Automation continued the momentum it has established over the previous several years with its partner strategy and message surrounding The Connected Enterprise. This work has provided good positioning for helping clients capitalize on the rapid adoption of emerging technologies in the industrial space, including IoT, Cloud, Mobility, and Big Data. It also positions the firm well for addressing the top-of-mind operational issues, including time to market, asset utilization, agility, collaboration, and more.
Over the coming years, it will be important for Rockwell Automation to continue to invest in the innovation needed on the software side of the business to keep pace with both the accelerated growth in other areas of the Rockwell Automation portfolio as well the investments many competitors are currently making in software. Additionally, it will be important for Rockwell Automation to make good on the goal of "Operationalizing The Connected Enterprise." In reality, this means more concrete use cases by industry of the benefits of IoT technologies, increased investments in the best use cases, like remote asset monitoring and reliability, as well as easy-to-follow roadmaps, migration paths and reference architectures for companies to deploy quickly.
---
All entries in this Industrial Transformation blog represent the opinions of the authors based on their industry experience and their view of the information collected using the methods described in our Research Integrity. All product and company names are trademarks™ or registered® trademarks of their respective holders. Use of them does not imply any affiliation with or endorsement by them.