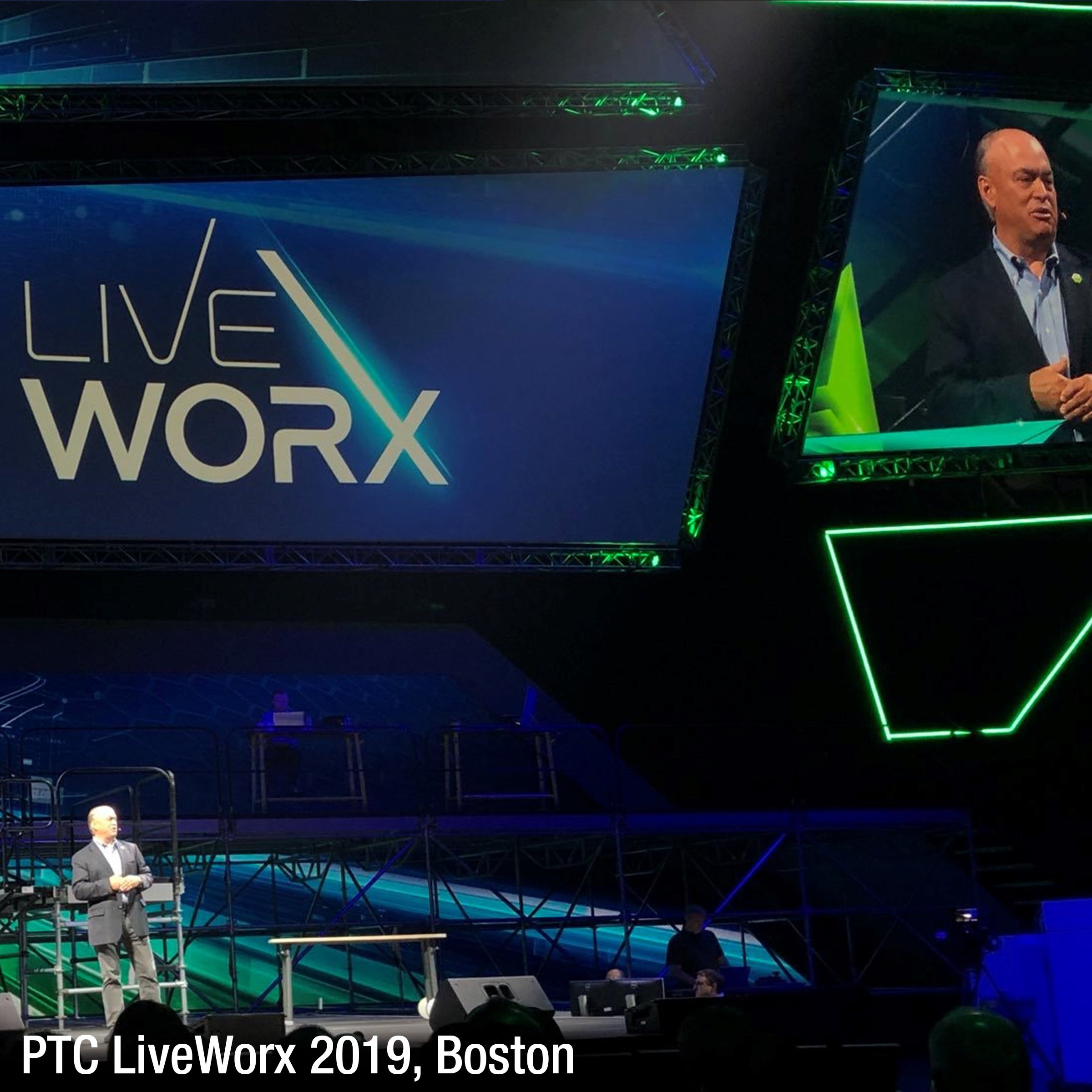 I had the pleasure of attending Rockwell Automation TechEd and PTC LiveWorx in back to back weeks last month. Both events generate a tremendous draw in the industry and set attendance records, however, it may be the last year that happens. There are rumors that 2020 will see a new co-located event; times are a-changing! Although there were differences in the themes, attendees, and presentation style, there was also much in common ― especially about a shared vision of Industrial Transformation and joint customer momentum.
TechEd Highlights
Rockwell Automation's TechEd continues to be one of the most significant events in the industrial automation and software industry, with an impressive lineup of very well attended training sessions and labs.
CEO Blake Moret delivered the keynote presentation along with Frank Kulaszewicz, Senior Vice President, Control Products and Solutions, and Fran Wlodarczyk, Senior Vice President, Architecture and Software. Blake continued his now-frequent theme of expanding human possibility, citing the corporate commitment Stanley Black and Decker has made to Rockwell Automation to support its $200 million business case for smart manufacturing and Industry 4.0. Frank and Fran spent their time highlighting multiple new product introductions across the automation portfolio as well as the FactoryTalk InnovationSuite powered by PTC.
Compared to previous TechEd presentations, there weren't as many new announcements, but the message and vision remain solid and consistent, right along with the continued growth of the PTC relationship. The only additional element LNS would like to see Rockwell Automation's high-level vision is more infusion of the new mission into solutions. We see more opportunity for Rockwell Automation to deliver solutions for connected worker and remote service centers to embed safety and security while aligning operations, assets, and finance.
During the event, LNS also received a private briefing by the Rockwell Automation and PTC integration leaders. The depth of integration continues to impress, with the firms having agreed upon lots of the important issues around solution definition, pricing, and joint go-to-market activities. The solution definition, which also includes Microsoft, includes four offerings:
Digital Workforce Productivity
Intelligent Asset Optimization
Enterprise Operational Intelligence
Scalable Production Management
PTC LiveWorx Highlights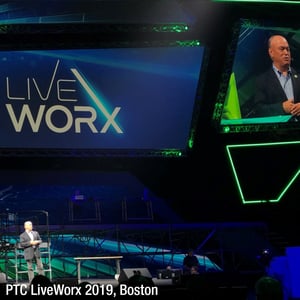 LiveWorx is in a league of its own in the world of industrial software and automation events when it comes to marketing flash and audio-visual sizzle; second place isn't even close. Luckily, CEO Jim Heppelman is a technologist at heart and backed it all up with an impressive keynote lasting an hour and a half, which was essentially one extended live demo that he led.
Although Jim never used the term explicitly, the sum of his demonstrations provided a comprehensive view of the Digital Twin and showed the connection between computer aided design (CAD) → product lifecycle management (PLM) → Industrial Internet of Things (IIoT) → augmented reality/virtual reality (AR/VR) → artificial intelligence (AI). There were also several customer presentations, including Volvo Trucks and Howden Group, highlighting the value of a Digital Twin, its impact on operations and the customer, and how it can improve quality and reduce complexity.
One area where PTC significantly differs from other solution providers in the space, even other IIoT platform vendors that are on the front end of technology innovation, is in AR/VR focus. Other companies have only just started talking about this technology, while PTC has been developing, acquiring, and deploying this technology aggressively for years. Far ahead, it's already starting to employ learnings from early deployments into its value proposition and business case.
AR/VR is no longer merely about delivering 3D visualizations and work instructions to workers in a new way; in fact, that approach yields limited value. Instead it's about changing the way we onboard, train, certify, and provide new learning opportunities for workers. Micro-training is one example of how AR/VR can transform a company's approach to certification. Traditional training is disconnected in that it usually occurs outside the context of operations and delivers little value other than compliance. Instead, micro-training provides workers immediate feedback in the context of ongoing operations, accelerates learning and performance, and offers significant value way beyond simply compliance.
Moving forward, LNS Research would like to see PTC present more concrete examples of AR/VR use cases and solutions and its power to transform the future of work, with less focus on the AR/VR technology itself. All of these should be well-timed to the maturity of the market and technology.
Momentum Generating Results
All this hard work by Rockwell Automation and PTC has led to significant results, with nearly 40 new joint customers over the past six months; this certainly puts them among the top few IIoT providers in the space. Among industrial clients, there is hardly a one pursuing a transformation strategy that isn't considering the solution, especially in the discrete and batch industries. It's quickly becoming the benchmark solution for the industry.
Key Takeaways and Recommendations
Our main takeaway is that market momentum is on the side of PTC and Rockwell Automation. For a solution that wasn't even on the radar five years ago, the companies are quickly becoming the industry benchmark. To secure market leadership over the coming years, there is still much uncertainty, and it will depend on many factors, including:
Can PTC and Rockwell Automation deliver on the value promise to early joint customers, so they scale solutions from one or a few plants to the entire enterprise?


The solution providers have focused the four new joint solutions on the right areas of Industrial Transformation, but they are still lightweight compared to legacy industrial software applications. The depth of functionality across these solutions must continue to grow quickly, especially for industry specialization.


Can the companies successfully support multi-cloud scenarios and, even more importantly, support an Amazon Web Services (AWS) first architecture?
For industrial companies that have recently signed up for or are considering ThingWorx and/or the FactoryTalk InnovationSuite powered by PTC, push on these questions and ensure you get the right answers not just for today, but to align with your vision and roadmap over the coming years.