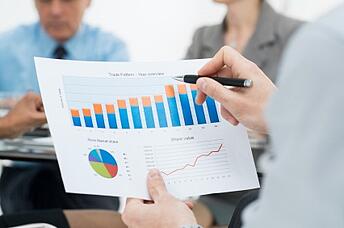 Whatever the specific functionality, some form of enterprise software is probably on every manufacturing/production company's wish list. The potential improvements in analytics, integration, communications, performance measurement, and visibility afforded across the business can greatly streamline decision-making processes, create new insights, and save a huge amount of time and money on a number of business functions.
This is, of course, assuming that everything goes according to plan, including selecting the correct software provider, with the appropriate delivery model, for the right business function, with the most effective integration/rollout plan. The workforce needs to be sold on how it will benefit them and readily adopt its use as well.
A winning combination of the above is easier said than done, of course, and is what keeps budget holders' checkbooks to tend towards closed. In this post, we'll detail four steps to help you build a business case for your enterprise software solution, regardless of the functional area.
First, Document and Communicate What You Already Have
Whatever the particular business area--if it's Manufacturing Operations Management (MOM), Quality Management, Environment, Health & Safety (EHS), Asset Performance Management (APM), or otherwise--make sure you have a high-level understanding of existing IT resources already in place. This information can be used more specifically in the future for process mapping and measuring performance, which is all beneficial in understanding particular processes and resources allocated to each step of that process. Broken out, it should comprise the following steps:
Document an overview of key personal and organizational structure
Assess current processes in place
Record current IT capabilities
Investigate current metrics measured
It's key to gain the insight of the employees that interact directly with the software and play a role in the management area and, depending on the area, this might be spread out across the value chain. This can be enhanced by developing a cross-functional team involving all the key players who would benefit from the desired software implementation, as including their perspectives in the business case will bolster persuasive efforts.
Determine Your Ideal and Then How to Get There

Several areas should be inspected by your cross-functional team in developing a list of ideal capabilities, and these fall fairly neatly into the four buckets of people, processes, technology, and metrics.
1. What degree of leadership and culture will provide the necessary resources to manage the area holistically and effectively across the enterprise?
Here you want to find which resources should be shared across the business vs. those that should be site-specific.
2. Which processes would benefit from global standardization and which should be kept at the local level?
Enterprise software tends to deliver the most benefits when processes are standardized at the global level. For budget and strategy, it's often best to approach this issue by focusing only on the IT functionalities that will provide synergies to the whole organization rather than specific departments.
3. Are the current software systems and data sources across facilities or across the value chain hampering or enabling performance improvements?
In many cases—and particularly as competition increases—homegrown and legacy systems don't perform up to task. Consider the ways the organization might benefit from an IT architecture the supports forward-thinking models like end-to-end or closed-loop processes and document the requirements that would help realize this vision for new levels of efficiency, compliance, and customer satisfaction.
4. Does the current metrics program provide the level of performance visibility needed to make decisions?
Despite the prevalence of metrics available in virtually every area, deriving actionable intelligence can still be difficult. Document which should be used and identify the desired performance in each, taking into account the disparities between the way metrics are measured across regions and sites, and normalize the numbers for this exercise as needed.
These steps should provide a view into current vs. ideal capabilities documented, and clear the way for a gap analysis and determinations of how those gaps can be filled with enterprise software, taking into account the impacts to people, processes, technology, and performance management.
The Justification
After all this leg work, you should now have arrived at a position where you can deliver some compelling concrete figures and arguments for an investment, and should incorporate them into the following:
Project ROI: Estimate the contribution to performance benefits in operational and financial metrics that will be gained by improvements to employee engagement, empowerment, and culture, global and site-level processes, overall software architecture, and performance management/analytical capabilities.
Change Management: Establish a change management plan for changes to the organization, processes, software, and performance management. Training, internal marketing programs, and continued executive support can all influence deployment effectiveness.
Project Plan: Develop a project plan with short-, medium-, and long-run goals. In some instances, enterprise deployments may start in just one facility or a few and then scale across the organization over time as value is proven. Make sure to lay this out in the business case.
Continuous Improvement/Justification: Have a plan in place to continue monitoring the effectiveness of the implementation over time to determine if more or less resources are required to optimize efforts. Used effectively, this can even be a means for justifying further investments in the area over time.
See the Whole Picture
These are important steps to get the necessary backing on your side, but there's also plenty of work to do in selecting the actual software, partners/integrators, scope, and roll-out strategy. For a thorough guide on what key criteria need to be considered to find the solution provider best suited to your company's individual needs, click below to read our report, "Executive Guide to Industrial Enterprise Software Selection and Business Case Development."
Categories: Manufacturing Operations Management (MOM), Information Technology