Industry 4.0, Smart Manufacturing are hot topics for companies gearing-up Industrial Transformation. The goals of these ambitious programs while admirable have a long-term view. Here at LNS as we define our upcoming research agenda and delve into Industrial Transformation, it has become clear that many of our clients are opting for shorter term view than the typical large-scale and expensive Industrial Transformation programs.
The majority of LNS' clients considering Industrial Transformation programs are starting from a position of limited automation and integration; even those that do have manufacturing operations management (MOM) systems and high levels of automation, have little that is actually standardized across plants and divisions. For these manufacturers, the dream of a fully integrated enterprise of the future is a distant vision. They need to consider small steps that will deliver short-term benefits in their factory of the near future.
Choosing the Right Platform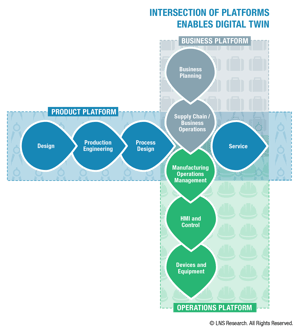 One of the goals for manufacturing companies pursuing Industrial Transformation is to get more value out of manufacturing and process data. Today, many companies collect vast amounts of information for control and quality purposes. Having used them, they are usually archived or just forgotten. By making the data available and by collecting new information from the plant, the value can be released. However, keeping it simple is paramount for early success.
Many discrete manufacturers are leveraging product lifecycle management (PLM), and notably computer aided design (CAD) to manage designs and build details, although some choose to keep master data in the business systems. The management of master data across all the disparate systems in a modern manufacturing enterprise is a large and complex subject. However, considering the different starting points for the first step to Industrial Transformation is useful.
One way of maintaining simplicity is to choose a platform on which initial data gathering, monitoring, analyzing and sharing can be supported. The question is which platform?
The first choice is the PLM platform that supports product development from idea to manufacturing through design, simulation, and manufacturing process design. This is the obvious starting point for those who are focusing on Digital Twins and the digitization of products and processes. Indeed, some vendors support manufacturing operations via their PLM platform, allowing the design to delivery integration. The downside is that the Industrial Internet of Things (IIoT)-level of integration is somewhat separate.
The operations platform is the obvious starting point for those building their Industrial Transformation strategy on MOM and expanding from there to include IIoT devices and IP integration across the enterprise. A MOM platform is a great starting point for data collection and future deployment outside the plant but choosing the right MOM system that will allow a gradual move to a more flexible and broader-based Internet of Things (IoT) platform is crucial. The operations platform approach is not for everyone, but those who currently have limited automated data and execution capabilities in their plants will find it a less threatening starting point than some of the more recent manufacturing architectures.
For many with little automation and considerable investment in business systems, such as ERP, the business platform will be the obvious place to start. Many such platforms are already migrating to entirely Cloud-based solutions and are considering IoT opportunities both within and outside the enterprise. For operations-centric personnel, the business platform is often seen as the information technology (IT) controlled world. A successful move from a purely business platform to a fully integrated IIoT platform that will support enterprise-level Industrial Transformation requires closing the IT to operational technology (OT) gap, both technically and from a people perspective – IT/OT convergence.
Putting it All Together
Industrial Transformation changes business processes, people, and technologies deployed across the enterprise. The Factory of the (longer term) Future will combine information from an unimaginable set of applications and data sources. It will deliver agile, flexible and robust business processes across the enterprise and far beyond. Digital Twins are one of these processes that will help to provide real value.
The ultimate platform will integrate information from our three starting points and provide tools to build functionality through application development and other object and service-oriented tools. Where to start is not as important as having a plan of where you want to go. It is the journey that will deliver the ever-changing benefits of Factory of the Future.
In the coming months, LNS Research will delve deeper into the Factory of the Future to demonstrate how many factories of many futures can help manufacturers profit from Industrial Transformation.
Categories: Manufacturing Operations Management (MOM), Product Lifecycle Management (PLM), Industry 4.0 / Smart Manufacturing, Digital Twin, Factory of the Future