Connected operations, connected assets, and connected products are all recognized as essential aspects of an Industry 4.0 "Factory of the Future" approach. What about the connected worker? Based on our most recent research on Industrial Transformation, Connected Worker strategies and solutions are a vital part of the Digital Transformation of industrial operations.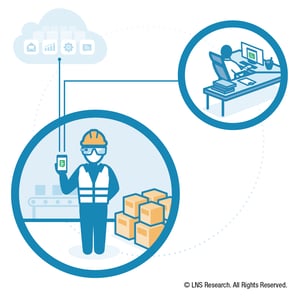 Digital technologies that better connect frontline workers with their work environment for productivity, safety, and quality gains are becoming commonplace. Our research shows that 46% of industrial companies have deployed intelligent wearable technologies such as smart glasses, wristbands, and sensor-equipped personal protective equipment, and another 21% plan to within one year. Likewise, over half of the companies have deployed augmented reality/virtual reality technology in their operations or plan to within a year.
LNS Research published our initial Connected Worker research last year which focused on the potential for smart connected worker technologies to reduce risk and improve safety. Based on seeing a steady increase in Connected Worker inquiries and activity among our industrial advisory clients, LNS has established Connected Worker as a dedicated research coverage area. The scope is operations-wide, spanning manufacturing, maintenance, and service. Major value drivers include productivity, training and competency management, product and service quality, and safety/operational risk reduction.
Over the past couple of months, we've had the opportunity to talk with a wide range of industrial end-users and technology vendors about their Connected Worker challenges, strategies, and solutions. Here are some observations from our recent conversations and briefings:
Industrial Companies are Focusing on Connected Worker Strategies
Much of the early investment in the Digital Transformation of industrial operations focused on smart connected assets and products to improve core operational areas like overall equipment effectiveness (OEE), product quality, and asset reliability. Now use cases are expanding to include a more holistic view of connected operations that digitally connect people into the overall operational system.
For example, a Fortune 500 forest products company we work with established a Connected Worker executive council with the direct involvement of C-level executives. In this case, workplace safety is a significant driver, and the senior safety leader leads the initiative. In the case of a global manufacturing conglomerate, the CEO's office requested the various lines of business to submit examples of how Connected Worker technologies are or could be deployed. The Connected Worker topic is gaining visibility and traction across industry as a strategic initiative. At this stage of the game, most of the action is in information gathering, proofs of concept, and pilots in the range of 5 to 50 employees.
A Fragmented Technology Landscape
As a technology space, Connected Worker is at an early phase of market development and technology adoption. The market is highly fragmented with participants ranging from smart glasses manufacturers to global enterprise technology players delivering integrated Connected Worker solutions (including hardware, software, and services) as part of strategic Factory of the Future initiatives. There's a tremendously wide range of products, services, and solutions positioned in the market under a Connected Worker banner. The vendors range from early stage start-ups to multi-billion-dollar tech giants.
We see the Connected Worker vendor landscape space segmented in several dimensions including use case, industry, and type of product/solution. Some vendors offer point solutions; others provide one-stop shopping by packaging a complete business solution. A common theme we hear in discussions with vendors is that it's still an early stage market. Although many have impressive customer logo slides, the implementations tend to be pilot projects or small scale roll-outs. When it comes to the Connected Worker vendor landscape, we're still in the early innings, although the momentum is building and adoption accelerating. Vendors are seeking their Connected Worker identities and searching for how they will compete and grow.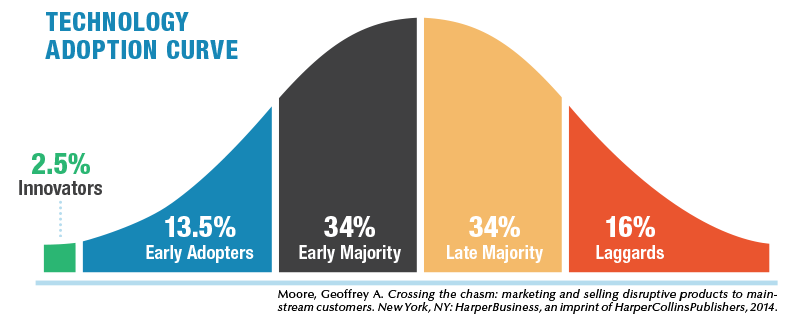 Takeaways
Connected Worker technologies hold much potential in Industrial Transformation, and digitally connecting frontline workers is increasingly viewed as a core aspect of digitalization initiatives. While we encourage exploration, our digital readiness research shows that industrial organizations should be careful to start with a clear focus on process improvement and desired business outcomes, rather than technology evaluation/testing per se. As the market evolves, Connected Worker tech vendors should sharpen their value propositions, product/solution offerings, and messaging for well-defined target markets. To some extent, vendors can stakeout and dominate their category.
When both the above situations come together, the Connected Worker market will be well positioned to enter a mainstream adoption phase in which pragmatists are comfortable with making relatively low-risk investments. Stay tuned for developments as LNS increases its research coverage of the Connected Worker space in the coming months.
Categories: Environment, Health and Safety (EHS), Connected Worker