Forty-five percent of companies globally are executing an Industrial Transformation (IX) program, according to recent LNS Research survey data. Before we can really understand the journey companies undertake, we need to know where they're headed. That requires a solid definition: what is Industrial Transformation, and how should companies execute it? LNS Research defines Industrial Transformation simply as:
A proactive and coordinated approach to leverage digital technologies to create step-change improvement in industrial operations.
Four Characteristics of IX
It goes by a lot of names: Industrie 4.0, Advanced Manufacturing, Smart Manufacturing, and many others. The IX definition has four fundamental characteristics:
IX CHARACTERISTIC #1 | It's a subset of Digital Transformation (DX), and it is most definitely bigger than the Industrial Internet of Things (IIoT).
IX is an important and often the largest subset of a Digital Transformation program that includes initiatives outside the industrial space, such as redefining customer relationships. The focus is on "industrial," spanning discrete, process, and batch manufacturers and infrastructure companies such as utilities, railroads, shipyards, and others. Therefore, the operations in plants, ports, mines, factories, and distribution systems are all within the purview of IX.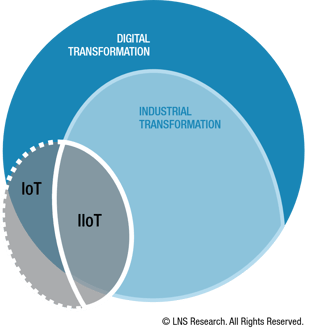 Despite what some software vendors, services companies, and others would like you to believe, IIoT is only a part of most IX initiatives. Sixty-seven percent of companies report that they have implemented or plan to implement an IIoT platform, advanced analytics, and/or technologies as an important initiative within the IX program. However, there is a myriad of other technologies, use cases, and business process improvements that these industrials are also executing as part of the IX program. In fact, the average company is executing ten initiatives, with IIoT being only one, if they are in fact deploying IIoT. Other IX program use cases that are happening all around us include remote operations center, connected worker, connected lab, agile continuous improvement (CI), autonomous automation systems, autonomous management systems, and profit optimization.
IX CHARACTERISTIC #2 | It's about step-change rather than continuous improvement.
Most manufacturers already have, or should have a range of CI teams and programs in place. They include but are not limited to Lean, Total Quality Management (TQM), and Six Sigma. Fundamentally CI is about doing the same thing better.
IX, on the other hand, is about disrupting longstanding best practices, value drivers, and competitive advantages with emerging digital technologies and process change. IX means doing new or different things, not the same thing better. One of the core goals with IX is to redefine processes, work, and technology while finding digital solutions to empower that change.
IX CHARACTERISTIC #3 | The distinct challenge in IX is coordinating, managing, and rolling out to an extended and distributed operations network.
Industrial operations is usually a distributed activity, sometimes with plants located all over the world. Furthermore, for most large companies there is a varied range of activities in these plants. A medium-size manufacturer often has several or many manufacturing models, hundreds of different types of equipment, a variety of suppliers, and vastly different cultures or nationalities throughout the workforce. The lack of homogeneity within and across plants has often caused difficulties in standardization.
IX, therefore, is not just about finding a digital solution for a business problem. It also means rolling a solution out across a complex network and modifying the solution as required to accommodate differences within specific plants.
IX CHARACTERISTIC #4 | IX scope spans assets, operations, and products.
LNS Research has found that three core domains define the highest-level scope for IX:
ASSETS, with initiatives to improve the performance and reliability of manufacturing and other industrial assets;
OPERATIONS-focused initiatives that work within and across plants to better create products and services; and
PRODUCTS-targeted initiatives designed to speed new products and services to market and and to change customers' experiences with and in relation to those products.
LNS Position on Industrial Transformation
The LNS Research mission is to evangelize and drive Industrial Transformation. Our research has confirmed the power and potential of IX. While the numbers are small so far, many industrials are achieving the desired step-change improvements in the form of incremental revenue and cost savings. Eight percent of companies already report that their IX program is "a real success, both in terms of business benefit and speed of the program's impact," and that the program is having a "dramatic impact" on the corporation. Another 20% of companies executing an IX program have "made progress, and the corporation is seeing value." The technologies and market are maturing. Therefore, we now believe that even the most risk-averse companies should be planning for and embarking on their Industrial Transformation journey.
INDUSTRIAL TRANSFORMATION FRAMEWORK
To help companies succeed on the IX journey, we developed the LNS Research Industrial Transformation Framework. What many organizations are missing in their program is a systematic approach to effect change. The LNS Research IX Framework is a pragmatic guide for the industrial organization to unite all the simultaneous and interconnected initiatives across the IX program.
The LNS Research IX Framework is an update to and a derivative of the LNS Digital Transformation Framework first published in 2016. Specifically, we refreshed the framework to address the organizational challenges that are increasingly impacting IX programs today. We found a 100% increase in the identification of organizational issues around IX and IIoT from 2016 to 2018. There also is a marked increase in the number of companies that are reporting "company culture/change management" as a key challenge. Overall, 61% of companies cited organizational hurdles as significant in the IX journey.
Like its 2016 predecessor, today's IX Framework has five swim lanes or steps that cascade and lead the enterprise from highest-level goals and objectives to changes in a specific plant in a particular geography. Ideally, an organization will start at the beginning and progress through the five steps sequentially, but certainly companies should step in wherever it makes the most sense, and backtrack to the extent possible.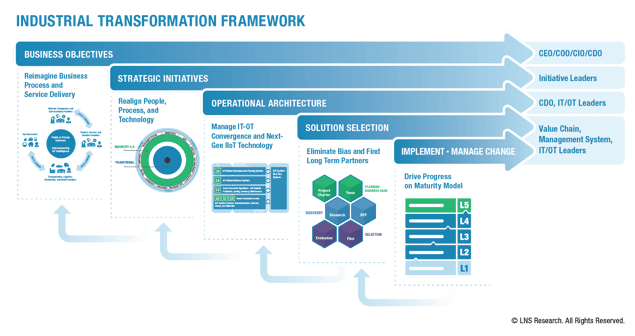 Business Objectives
Functional or departmental teams should never conduct IX in a vacuum. Industrial Transformation should be tightly integrated and aligned with the overall corporate strategy. It requires a long-term horizon — 5 to 20 years. LNS Research has found that a top-down approach is highly correlated to IX program success. The board of directors and/or the C-suite should be directly and deeply engaged in setting objectives, strategy, timeline, leadership, and reporting cadence for the program. At the same time, senior leadership should be re-imagining business processes and service delivery to seek dramatic improvement in industrial operations and to disrupt marketplaces. Meanwhile, the highest levels of the corporation should also be deciding how deeply to engage customers and suppliers in the IX program. The Business Objectives for the IX program should set the vision about how the company should pursue new use cases ― APM 4.0, factory of the future, connected worker ― to achieve the step-change goals set.
Strategic Initiatives
Once a company has set the Business Objectives for the IX program and tied them to the overall corporate strategy, the actual IX program must be staffed, aligned, and structured. LNS Research has found that there is also a high correlation between IX program success and larger functional scope, broader focus, and more breadth to an IX program team. The company's goal should be to morph the IX program from "top-down" to also become "bottom-up" with early and active engagement by operations personnel across the corporation. The focus at this point is on developing a list of specific initiatives to realign people, processes, and technology to achieve the IX program objectives. Companies on the IX journey should exercise caution and balance the need for technology experimentation without making the program primarily about piloting technology. Technology implementation doesn't signal success; instead true success lays in process changes empowered by collaborative technologies.
Operational Architecture
As the program evolves and solutions start to crystallize, it is imperative that the IX program drive the definition of the to-be Operational Architecture. An Operational Architecture specifies how information technology (IT), operational technology (OT), and new IX systems (such as an IIoT platform or intelligent wearables) will work together over time. Those with successful IX programs are looking at upgrading, extending and rearchitecting both IT/business systems (like ERP) and OT systems like automation or MOM, all while deploying new technologies. We found that successful IX programs were 75% more likely to have "already defined" the Operational Architecture than less successful programs. Therefore LNS Research recommends that industrials apply formalized rigor and process across the entire enterprise architecture as a fundamental step in the IX journey.
Solution Selection
One of the most common problems we see in IX programs is that companies often start with Solution Selection. That is not an advantageous path: successful IX programs are 61% less likely to use "evaluating and testing" technology as one of the fundamental organizing principles. Our earlier definition of Digital Transformation was spot-on:
Again, with solution selection, it is important to put the activities within the context of the broader initiatives. Solution Selection is never successful in a vacuum, and when a company conducts it in such a fashion, change management becomes an insurmountable challenge and adoption wains. For success, build an effective solution selection process that is quantitative to eliminate bias and a team that incorporates all relevant portions of the organization, including IT, OT, and cross-functional business leaders.
Ultimately, Solution Selection is not simply about finding the right technology. Successful IX programs were 119% more likely to use a "specialized consultant or industry analyst" to define the program, and 142% more likely to use that resource to support executing the strategy. Given the potential impact of third-party consulting on an IX program, the selection process for services support should be just as rigorous.
Implement • Manage Change
Recall that one definitional characteristic of IX is the need to drive step change across a geographically dispersed and typically heterogeneous operations network. To have the intended impact, IX initiatives and solutions must be deployed widely across the operations network. Complicating the widespread deployment of IX initiatives and solutions is the fact that for most large organizations, plants vary widely and have diverse maturity in terms of IT and OT deployments and sophistication. Funding, teaming, and manufacturing engagement models are critical to the success of IX programs. In addition, comprehensive and diligent change management is required to handle the organizational and personnel issues and opportunities associated with disruptive change.
By using the structure and best practices inherent in the LNS Research Industrial Transformation Framework, industrial companies significantly increase the probability of success with the IX program. And, with some companies already distancing themselves from the marketing via disruptive change, success is critical for all.
Categories: Industrial Transformation / Digital Transformation, Industry 4.0 / Smart Manufacturing