It's been said many times that "age is but a number", but when it comes to the industrial workforce, age indeed matters. Although an aging workforce affects all sectors, manufacturing is being particularly hard hit. The median age of a manufacturing worker rose from 40.5 to 44.1 from 2000 to 2018, while the median age for the U.S. labor force overall was 39.3 in 2018. (Source: Manufacturing Institute, 2018). This is having a profound impact on industrial organizations.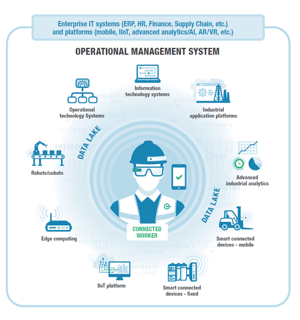 The aging workforce coupled with a tight labor market has resulted in critical skills and talent gaps impacting the ability of manufacturers to recruit, train and retain a workforce with suitable competencies. The Manufacturing Institute estimates that because of the skills gap 2.4 million job openings in manufacturing will likely go unfilled through 2028, representing half of all open positions.
One of the key responses by industry to address this challenge is leveraging Connected Worker digital technologies such as mobile apps and Augmented Reality (AR) solutions to improve competency management in frontline operations, helping alleviate the skills gap.
Trends Driving the Manufacturing Skills Gap
Several interrelated industrial workforce trends have created a perfect storm that demands a response from every industrial organization. The first is the aging workforce trend and resulting skills gap discussed above. This "Great Shift Change" is causing valuable skills, experience, and institutional knowledge to walk out the door for good, creating a talent vacuum.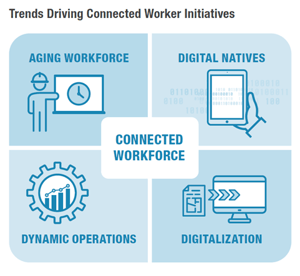 Second, the widespread implementation of Industrial Transformation (IX) programs is introducing a wide array of new digital technologies to enable the factory of the future, such as IIoT platforms, automation systems, and robotics, among many others. This trend changes the competencies needed to effectively deploy technology and provide the operational agility required to respond to dynamic production environments.
And third, younger employees entering the workforce and advancing through the ranks are digital natives with an entirely new set of perceptions and expectations regarding technology. To be competitive, the industrial organizations must have a strategic approach that recognizes both the risks and opportunities presented by these workforce trends.
The Digitally Connected Worker
The initial waves of IX investment focused on using asset-related data from smart connected assets to improve core operational areas like asset reliability, overall equipment effectiveness (OEE), energy management, and product quality. Today, IX initiatives are expanding to a more holistic view of connected operations that recognizes the critical importance of digitally connecting people with the overall operational system ― the Connected Worker. Our most recent IX survey data shows that a third of industrial organizations have already implemented Connected Worker technologies, and many more are piloting them.
A basic level of Connected Worker capability is enabled by mobile apps, i.e., equipping workers in the plant or out in the field with mobile devices to interact with applications to access information, or input data, for example looking up work instructions or safety information, or entering inspection data. Beyond these basics, the application of advanced digital technologies has extended the range of Connected Worker use cases and the value received from their implementation. Technologies such as sensor-equipped wearables, smart glasses, Augmented Reality (AR), proximity beacons, geolocation, and multi-hazard sensors provide systematic real-time monitoring of worker and workplace conditions, and immediate feedback to productivity, safety, and quality. And the application of advanced analytics including AI to human-workplace interaction data enables discovery of new insights to guide operational improvement efforts.
Using Connected Worker Technology to Improve Competency Management
Given the skills gap, a fundamental challenge in manufacturing is getting people up to speed so they can perform to expectations, and then continually updating and upskilling them in the face of constant change. This requires an effective competency management process which we define as cross-workforce management of individuals' ability to complete tasks effectively and scaling specialized knowledge to meet organizational goals. Competency management is increasingly important yet more challenging as manufacturers need to recruit, onboard and train an influx of younger "digital native" employees, and broadly implement digital technologies in support of IX initiatives.
Connected Worker technologies such as work collaboration platforms, AR/VR, and intelligent wearables are playing a pivotal role in the competency management process from recruitment, onboarding, training, and ongoing competency management. Beyond traditional learning management systems, these technologies offer many opportunities to optimize competency management.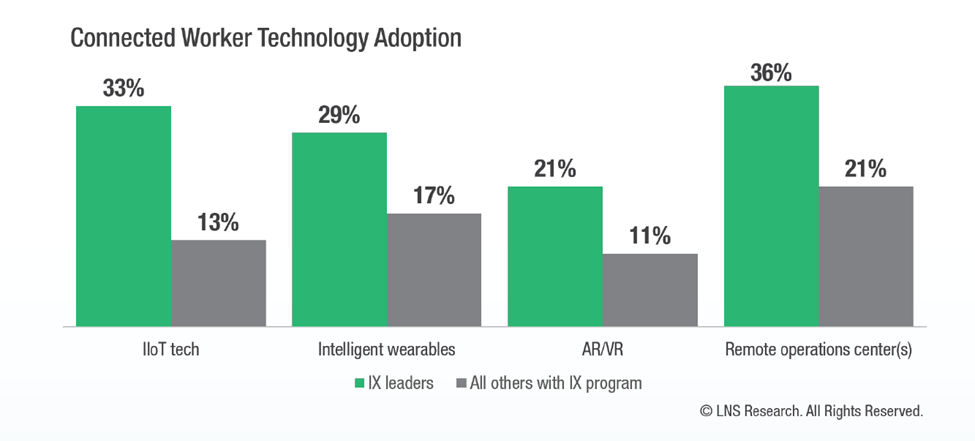 Our research assessed IX use cases based on expected impact on operational performance and resources needed to implement. Along with Connected Asset and Operations use cases, Connected Worker use cases feature promi­nently as having favorable effort-reward ratios. Not surprisingly, the Connected Worker use cases with the highest potential help address the critical workforce skills gap and competency management challenges faced in all industrial sectors, e.g.:
Use of mobile/augmented reality to scale rare/expert skills
Implementing an application strategy to im­prove worker engagement/retention
Use of mobile/augmented reality for digital work instructions/SOPs.
Use of mobile/augmented reality for in-con­text training (micro-training)
Our research also shows that organizations that implement Connected Worker technologies such as intelligent wearables and AR are more likely to achieve success with their IX initiatives. The signs point to an attractive opportunity for industrial organizations to be proactive in incorporating Connected Worker solutions into their IX programs, with significant potential value to be gained. We invite you to learn more about the Connected Worker opportunity in our recently published eBook "Connecting People and Systems to Transform Frontline Operations".
---
All entries in this Industrial Transformation blog represent the opinions of the authors based on their industry experience and their view of the information collected using the methods described in our Research Integrity. All product and company names are trademarks™ or registered® trademarks of their respective holders. Use of them does not imply any affiliation with or endorsement by them.