In a recent blog post, our fearless leader, President and Principal Analyst Matthew Littlefield, noted that, "Although no one can argue with the technological innovation and productivity gains that lighthouse plants demonstrate, our data shows that including lighthouse plants as part of your Industrial Transformation (IX) program does not correlate to success." This post builds on that earlier post and drills into when lighthouse strategies can be effective and what is an alternative strategy more correlated to success.
Understanding The Lighthouse Strategy
Initially, most larger manufacturers adopt a lighthouse strategy to get their program going and to deliver some tangible business benefit early. The lighthouse strategy is characterized by: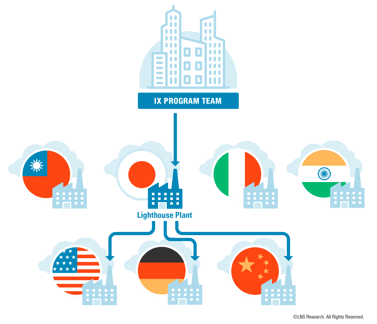 Deployment of new technologies into the most advanced plants;

Engaging with the most technologically willing management;

Leveraging those first lighthouse plants' resources to implement solutions in less advanced plants.
Googling "Lighthouse Strategies for Transformation" will quickly illustrate how pronounced this model is and the wide array of consultants actively promoting it.
Our 2021 IX Readiness Global Survey and Research does indicate that a lighthouse strategy can be effective in the early stages of an industrial enterprise's IX Program. By targeting the most advanced plants, or even greenfield plants, core data issues of connectivity and contextualization are often largely addressed, simplifying the deployment of more advanced digital technologies like Artificial Intelligence and Machine Learning. Plant management buy-in is assured. A lighthouse strategy provides a multiplier effect to IX Program resources by utilizing lighthouse plant resources for subsequent deployments. All in all, the lighthouse strategy is effective for getting initial deployments and quick wins, which is absolutely critical to the early stages of transformation.
Why The Lighthouse Strategy Does Not Correlate With IX Leaders And Success
Yet, IX Leaders are less likely to be implementing a lighthouse strategy than Followers. There are two reasons the lighthouse strategy is not correlated with IX Leadership.
First, the lighthouse strategy is not sustainable over time. Eventually, lighthouse plant personnel have to get back to their day jobs and cannot continue to actively support the IX Program nor global rollouts of solutions. More importantly, the solutions that have been developed for the best plants may not resonate with less mature plants. Even the most advanced manufacturers typically have plants with limited automation and divergent OT technologies. Focusing on what the best plants need to get even better seldom leads to solutions that help the least automated plants move forward. Core, "Industry 3.0" technologies may be the most transformative technologies deployable for those plants. As one plant manager said: "it is pretty hard to apply Artificial Intelligence to paper-based manufacturing." The lighthouse strategy is great to kick start the IX program but leads to diminishing returns and fewer deployment resources over time.
Second, because of these sustainability challenges, Industrial Transformation (IX) Leaders have had to rearchitect their strategies away from lighthouse implementations. LNS Research defines IX Leaders as the 20% of companies that have self-identified their IX Program as a "real success both in terms of business benefit and speed of the program's impact" or, "have made significant progress and the corporation is seeing meaningful value." As outlined in another Research Spotlight on Maximizing Payback with Best Practices, IX Leaders are realizing significantly more business benefits in the form of reduced Cost of Goods Sold (COGS) and increased revenues.
To have achieved those benefits, that 20% of companies are in more advanced stages of IX. Most have transitioned away from the lighthouse strategy to alternatives that offer continuing and increasing returns. Put simply, IX Leaders have moved on from a lighthouse strategy.
Center of Excellence as The Key Model For Success
LNS Research would suggest that every manufacturer should instead look at a Center of Excellence (CoE) structure – after achieving some quick wins – for their program as a means to upgrade from a lighthouse structure. A CoE is a virtual consolidation of the key IT, OT, Operations, and IX resources into one team to support the deployment of digital solutions across the manufacturing network. The CoE should have responsibility for listening to requirements, problems, and potential solutions. The CoE should be thought of as doers, teachers, and disseminators embracing the Yokoten philosophy of Lean. The CoE team is responsible for governing and supporting the rollout of data, technologies, and most importantly, operational processes. The CoE's responsibility goes beyond technical systems to production systems including manual business or manufacturing processes.
The CoE model differentiates from the lighthouse model in a number of ways (as outlined below) but maybe the most important is implementation support in the tangible form of budget and resources. The lighthouse strategy depends on the lighthouse plant's personnel to continue to roll out to other plants over time. Instead, as one successful Chief Digital Officer said: "come with budget and resources to get a plant's attention." Ninety-eight percent of IX Leaders are supporting implementation and are 56% more likely than Followers to be doing so. In fact, IX Leaders are more than TWICE as likely as Followers to be responsible for the "full value chain-wide rollout of digital technologies." The programs of IX Leaders are increasingly coming with a significant share of the rollout budget as well.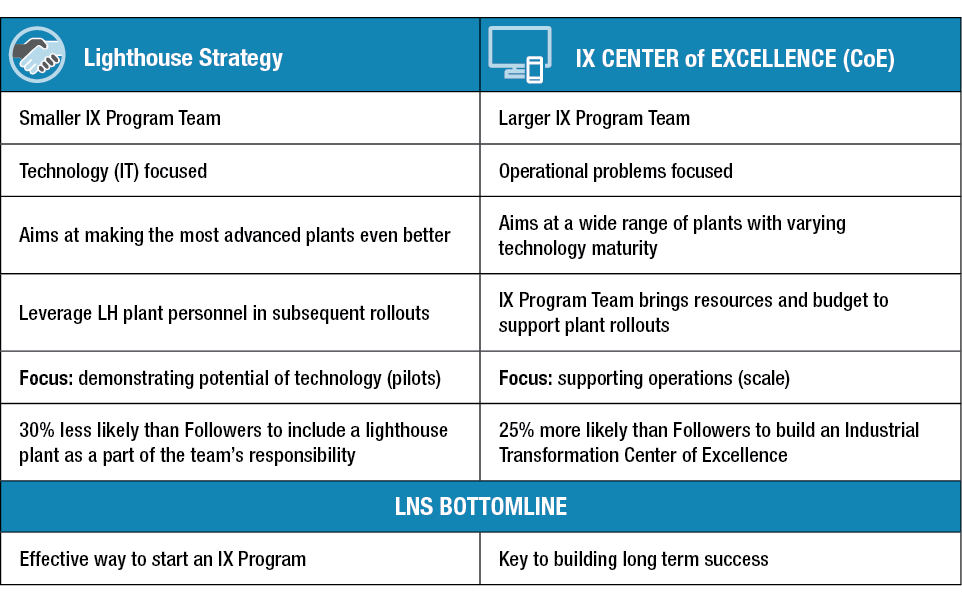 Centers of Excellence are highly correlated to IX Leaders both because of the advantages a CoE delivers to a large-scale implementation but also because it is appropriate for the more advanced stages of transformation that IX Leaders have attained.
Final Thoughts
There are a number of ways the lighthouse and CoE strategies differentiate. It is critical for IX Programs to assess their status and their environment to determine what is the right strategy for the particular stage of the IX Journey they are in.
In addition, the choice between these strategies is only one Process dimension of the Seven Best Practices that LNS Research has identified in IX. LNS Research has identified seven "clusters" of Best Practices in Industrial Transformation. We use the phrase "clusters" to reflect the fact that each best practice has a people, process, and technology dimension to it. CoE is one key process best practice. We identified a number of other process best practices in our IX Readiness 2021 "Get Real" research spotlight. These strategies must be integrated with other key processes to achieve the step-change sought in transformation.
Increasingly, IX is not about discovery. The Best Practices are known. Industrial Transformation is now about simply applying those best practices in your specific environment and culture.
---
All entries in this Industrial Transformation blog represent the opinions of the authors based on their industry experience and their view of the information collected using the methods described in our Research Integrity. All product and company names are trademarks™ or registered® trademarks of their respective holders. Use of them does not imply any affiliation with or endorsement by them.