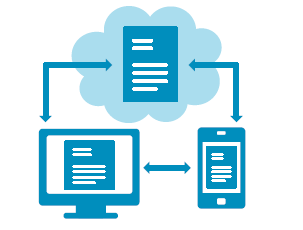 GE and Microsoft Team Up in the Name of IIoT
Earlier this week General Electric and Microsoft Corporation developed a partnership to unite each of the companies' Cloud technologies. The two organizations hope to increase Industrial Internet of Things (IIoT) strength with the companionship of GE's Predix Platform and Microsoft Azure.
The partnership is aimed to help companies using Predix with some "additional muscle." "Since Microsoft has such a strong presence on the plant floor this partnership should bode well for most users," says LNS Principal Analyst Dan Miklovic, "GE Predix technology on an Azure platform is a natural step." GE hopes that by partnering with Microsoft its customers will find value in the specified features, such as:
Artificial Intelligence (AI)
Data visualization
Natural language technology
GE Digital, Global Head of Technology Strategic Alliances, Abhi Kunté made a statement on the partnership, "Companies don't want disparate disjointed systems; want technology that brings things together. This partnership will provide seamless integration that will drive a lot of efficiencies." To read more on the partnership click here.
Is Pokémon Go Proof that Digital Transformation Will Catch Manufacturers Off Guard?
If you own a smart phone, then you probably know that the new Android/IOS app, Pokémon Go is taking the world by an Augmented Reality (AR) storm. The game, which reportedly has more users than Twitter, uses the application to provide Pokémon images and the device's camera to provide the AR effect. Its special effects, provided by the tools that already exist (with the exception of the application of course) beg the question: If new technology can be introduced to the market and go mainstream within a matter of days, what's slowing industry from Digital Transformation?
Dan Miklovic notes that AR itself is not new. Google Glass has been around for three years yet had limited uptake and made only a marginal dent in the AR space. Niantic, the game's developer, found the magic bullet using the smartphone and its inherent features like the camera and GPS capabilities to create an engaging game that appeals to a wide range of users. If the Pokémon Go players maintain its popularity over time, it offers a proof point that with the right app and the right combination of technology, change can happen almost overnight. According to Miklovic, the challenge in manufacturing is to make the uses of AR as interesting and engaging as Niantic has in the game. The company that does will create the app that manufacturers will clamor for so they too can attract engaged workers. Read more about Pokémon Go AR-connection in manufacturing here.
Mitratech Acquires CMO Software's EHS and GRC Platform
Mitratech, a leading provider of Enterprise Legal Management (ELM) solutions, announced this past week it has acquired CMO Software, a provider of Environment, Health and Safety (EHS) & Governance, Risk, and Compliance (GRC) solutions. Mitratech's acquisition of CMO Software is the company's fourth in the past year; Mitratech acquired Bridgeway Software in July 2015, CaseTrack in August 2015, and Viewabill in March 2016. According to Mitratech, in a global environment of increasing regulation and higher stakes for non-compliance, the acquisition of CMO Software allows Mitratech to expand its abilities to enable corporations in their efforts to manage risk. The financial terms of the deal are not being disclosed.
According to LNS Research Analyst Pete Bussey, "Mitratech's acquisition of CMO Software shows that the pace of M&A activity in the EHS management software space continues strong. This move should provide CMO Software with additional go-to-market resources necessary to compete among the new top tier in the space. Given Mitratech's presence in the enterprise legal management solutions arena, the deal should result in good go-to-market synergies and cross-sell opportunities."
Thales Talking More than Just Aircraft Operations with IoT Value Prop
During the Farnborough International Airshow 2016, journalists from RunwayGirlNetwork had a chance to talk with Thales executives about innovation coming soon from the Aerospace & Defense company.
It's been two years since Thales acquired LiveTV, and the company is working on a solution called LiveConnect that will move the company into operational data management and inflight connectivity with the Internet of Things (IoT). Thales specifies that the LiveConnect platform collects data from multiple avionics systems and transmits it via satellite, while an in-house dashboard displays the data in an actionable format.
While the A&D firm is still fleshing out its go-to-market plan and messaging and the platform is still under development, it can already envision some of the ways airlines can use inflight connectivity with IoT to drive operational benefits, create new revenue streams, streamline payment processing and validation, and reduce payment fraud. To read more on this click here.