Improving Environment, Health, and Safety (EHS) performance should be simple, right? Set some goals, define business processes to meet them, and implement enabling systems. As we know, it's a bit more complicated than that. The missing link is often the people dimension. In this post, we'll look at the how the top barriers to EHS performance improvement relate to people and organizational issues, and approaches you can take to overcome them by changing organizational culture.
Click here to speak with Peter Bussey
The Basic Problem: Silos
Aligning people in various parts of an enterprise on the EHS journey can be tricky. Data from the LNS Research EHS Management Survey show that the top challenges to EHS performance improvement are: poor cross-functional collaboration, and disparate systems and data. Nearly half of the respondents name each of these as a top barrier.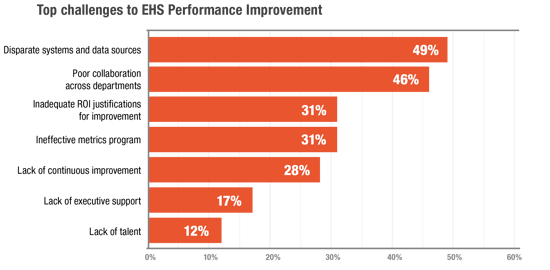 Together, these factors make it difficult for people to work in unison on EHS or any other operational improvement initiative for that matter. This is a bit of a "chicken and egg" situation in that disparate systems tend to hinder collaboration, and poor cross-functional collaboration may contribute to a fragmented systems environment. Regardless, the basic issue holding back EHS performance improvement is the prevalence of silos; whether they be of organization, information, or communication.
Collaboration as a Prerequisite to Operational Excellence
The nature of the problem is better understood by considering the LNS Research Operational Excellence model based on our research and work with dozens of industrial clients. In our view, an organization's Operational Excellence platform rests on five functional management pillars: operations, asset performance, quality, energy, and EHS. The effectiveness with which an organization executes these business functions in a coordinated manner largely determines operational performance and success of improvement initiatives.
The barriers to EHS performance discussed above can't be neatly segregated. They span enabling technologies, organizational issues, and business processes; calling for a holistic approach. There is no "silver bullet" solution, technology, or otherwise that will work in isolation. Indeed, widely deployed management system standards such as ISO 14001 and OHSAS 18001 require an approach that integrates people, process, and technology capabilities. Here are some examples of how these standards encompass these capability dimensions:
People: leadership, executive participation, employee engagement, management review

Process: compliance obligations, risk management, audits, lifecycle analysis

Technology: process standardization, operational control, metrics, reporting, monitoring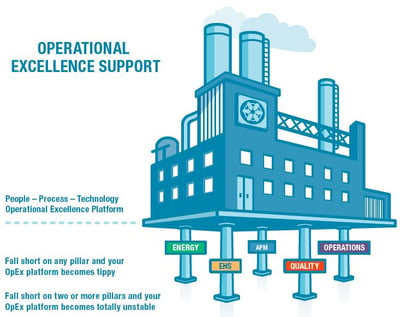 When it comes to EHS management, the role of people and how they act individually and interact across business functions are critical. The decisions and actions of people will determine how effectively EHS management systems are realized in everyday operations. This is where organizational culture comes into play.
The Impact of Organizational Culture on EHS Performance
The concept of organizational culture is often brought into the discussion of EHS performance and why many companies have a tough time improving it. "Culture" is a nebulous term. If you asked ten people what it is, I'm sure you'd get at least 12 definitions. One good definition is how an organization does things, and how the people within it act; even when no one is looking. In this view, culture is defined by patterns of behavior which are shaped by many factors, such as organizational structures, incentives, and importantly, what an organization's leaders say and do.
Organizational culture, and the behavior it manifests, has a major impact on EHS and business performance today and long-term. Will the production worker bypass the interlock on the machine guard to avoid a shut-down? Will the maintenance supervisor sign-off on the safe work permit even though the portable ventilation unit isn't available? Will the plant manager tacitly encourage his staff to falsify inspection records to satisfy the OSHA compliance officer? Will the CEO say in public that safety is a core value, then demand his staff meet production targets, or else? Decisions made in these moments of truth define culture.
Improve Your Management System to Improve Culture
As noted above, the most commonly implemented EHS management system standards have a lot to say about people and organizational topics, and therefore (at least indirectly) about culture. Just look at some of the elements of ISO 14001, and you'll see the great importance of people- and organizational-focused activities in the overall management system:
Policy supported by senior management

Identification of environmental aspects and impacts of the organization

Development of objectives and, and their management programs

Defined resources, roles, responsibilities and authorities

Development of competence, training, and awareness procedures

Communication process of to all stakeholders and interested parties

Development of operational control procedures

Development of procedures for management review by senior management
How these elements are handled will have a great influence on shaping an organization's EHS culture, and ultimately performance. The 2015 revision to ISO 14001 further re-enforces this notion with new or enhanced requirements for leadership, business strategy, communications, operational planning and control using a life cycle approach (cross-functional), performance evaluations, and management review.
A management system defines the overall framework of policies, processes, and procedures that will be used to execute some aspect of the business. Management systems are enabled in everyday operations by applying the right combination of people, process, and technology capabilities. Organizational culture expressed as consistent behaviors will either undermine the management system or make it stronger. By shoring up the people aspects of your management system, cultural change, and better EHS results, are likely to follow.