The ISO 55000 standards for asset management provide a descriptive process for organizations to institute best practices process to manage critical infrastructure. At this point, most know the history and evolution and how it became a standard. As an official ISO Standard since early 2014, we are now seeing momentum, across many industries in applying this standard.
Click here to speak with Jason Kasper
From an Operational Excellence perspective, any best practices that formalize people and process are key to achieving top quartile performance. These best practices help strengthen the "pillar" of Asset Performance Management (APM). Then once these standards are understood and begin to be implemented, a key next step is technology and understanding the APM landscape. We will get into these topics and the momentum of ISO 55000 in this blog.
Momentum for ISO 55000 Above All Other Standards
This year we launched a new question in our APM survey to understand all the standards one can look to implement when working towards APM best practices. As you can see from the chart below, ISO 55000 is the number one implemented standard by a large margin, 44%. We also provided the ability to answer with the ISO 55000 precursor, PAS55, as these earlier adopters paved the way for acceptance as an international standard. Therefore, 60% of respondents have implemented some form of broad best practices for APM.
What Asset Performance Management Standards do you currently have implemented?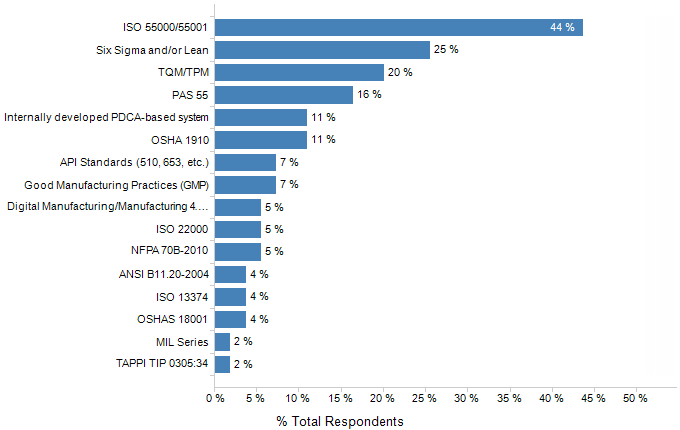 Looking forward, ISO 55000 will be the primary focus for organizations looking to implement APM best practices, to the tune of 51%. All other standards responded lower when looking ahead one year, most likely due to the focus on ISO 55000 at these organizations. It is no small task to move to a standards-based approach and focus from the entire organization will be key to success.
What Asset Performance Management standards do you plan to implement in one year?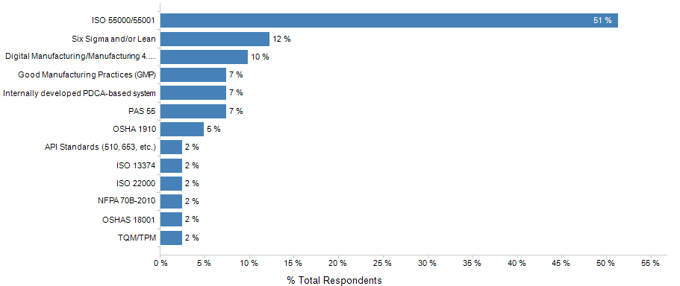 Following Industry Standards is Critical to an Operational Excellence Approach to APM
Since Operational Excellence is multi-dimensional, it is critical that the underlying support for it be balanced. If any pillar fails in its support for Operational Excellence, the entire business is threatened. If two or more pillars fall short, a catastrophic result will ensue, and the business will fail. When asset performance is the underperforming pillar, it puts the enterprise at a great risk. Any time a piece of production equipment fails it can not only impact productivity, but safety and quality as well. Since OEE is the product of availability, productivity, and quality, it should be clear that any time equipment is not fulfilling its primary function due to maintenance issues that it has a drastic negative impact on OEE. This is why so many companies have focused on ISO 50000 as a way to drive Operational Excellence.
Understand the Asset Performance Management Landscape
The ISO 55000 sets the stage for a standardized approach to asset management, but it is ISO 55001 that defines the requirements for a system for asset management. These are the supporting process requirements around effective asset management, but not the technology systems per se. Therefore, in conjunction with implementing the process, it becomes very important to understand the existing technology footprint that exists internally to support it, what gaps in technology exist, and where to look to fill in these gaps moving forward. This is where understanding the APM landscape definition and related functionality will be key.
The Asset Performance Management Landscape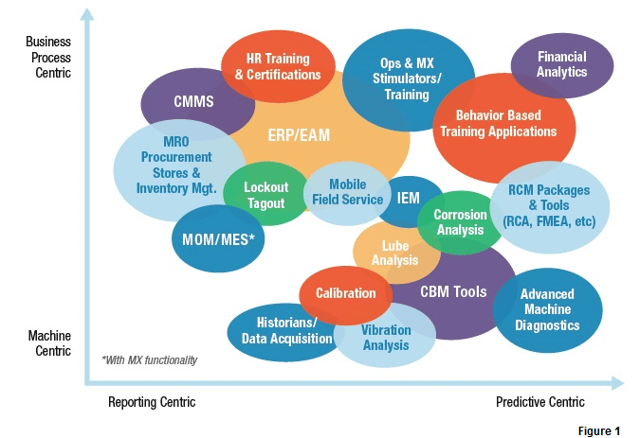 LNS Research defines the APM market as a wide breadth and depth of business process and machine-centric capabilities that go across reporting and predictive functionality. The vendors who support this landscape can span the space with enterprise level solutions providing multiple facets of functionality, to single offerings with deep capabilities and the expertise to support it. End-users typically determine the right mix based on business requirements and the approach to asset management as they adhere to ISO 55000.
Time to Act
Based on our initial research results, there is a clear move towards the ISO 55000 standards as THE standard for building an APM best practice approach to Operational Excellence. Implementing these standards will help organization solidify the APM pillar and support the related pillars such as Quality, Environment, Health, and Safety (EHS), Energy Management, and Operations. The time to act is now, benefits are already being achieved by peers in your industry, already providing better services in asset-intensive industries striving to become top quartile performers.
Categories: Operational Excellence, ISO Standards, Asset Performance Management (APM)