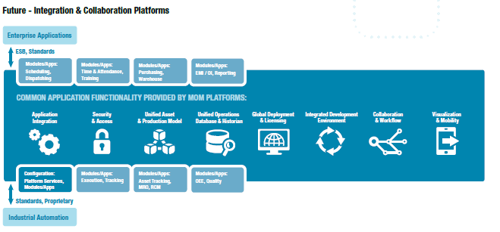 The #MondayMusings blog series provides executive level insights and analysis for the Industrial Internet of Things (IIoT) and Digital Transformation from the previous week's briefings, events, and publications @LNSResearch.
Click here to speak with Matthew
Life is On Innovation Summit: Schneider Electric Event
Schneider Electric has been the title sponsor of the Paris Marathon since 2012 and co-located its Life is On Innovation Summit at this year's race. The Innovation Summit was over 1,000 strong in attendees, with 16 analysts, 134 media, and over 800 customers. The summit was kicked-off by Jean-Pascal Tricoire, Schneider's CEO and Chairman, delivering an inspiring yet technically sophisticated message to the audience.
CEO Message – Evolution Not Revolution, Just Be Open
Schneider Electric identified 3 mega-trends that are shaping the world as we know it: Urbanization, Digitization, and Industrialization. Given some of the very tweetable stats shared, few could argue with the importance or impact of these three:
The world will build as many cities in the next 40 years as in the previous sum of human activity.

We will have to build the equivalent of Paris every single year

The figures are staggering – over the next 30 years – we will urbanize 70 million people every year. This is like building 7 new cities as big as Paris each year.
When Jean-Pascal dug into the details of Digitization and Industrialization he spoke with a frankness and self-awareness rarely displayed by the CEOs of industrial automation conglomerates. I took three key takeaways from his speech:
IIoT as an evolution, not a revolution – The age of big bang software projects are dead, pilots and incremental gains are the future. Start small, just start.
Open is the Future - The Telecom and IT industries are bigger than Automation and bringing their standards – Schneider Electric (and Invensys before it was acquired – among many of the other acquisitions) were both early adopters of open standards and protocols. They are keenly aware that proprietary protocols and protectionism are not the way of the future. Value has to be delivered through innovation.
IIoT starts with the best "Things" – Jean- Pascal clearly believes Schneider Electric has the best "things" or products in its automation portfolio and will differentiate in the market place with end-end integration (energy, automation, software) and value added services (BTW, I believe software is a compelling part of the Digital Transformation story and the story is more compelling when software is a well-managed core-competency of the business, not part a partially owned separate entity)
Executive Panel – The IIoT is Real
I also had the opportunity to host an executive panel focused on the adoption and realities of IIoT with thought leaders internal and external to Schneider Electric, including:
Clemens Blum, Executive Vice President, Industry Business, Schneider Electric

Fabrice Jadot, SVP Innovation & Technology, Industry Business, Schneider Electric

Ravi Gopinath, Executive Vice President, Software Business, Schneider Electric

Cyril Perducat, Executive Vice President, Digital Services & IoT, Schneider Electric

Richard Soley, Executive Director, Industrial Internet Consortium

Fred Ellermeier, Vice President and Chief Operating Officer, Smart Integrated Infrastructure (SII) Business, Black & Veatch
We covered a lot of ground in the 45 minutes we had but the real theme of the panel was that we have moved past the hype in IIoT, it is real. A lot of work still needs to be done to define concrete business cases, but we can all start small and don't forget to think about the role of services.
Customer Impact
The Life is On Innovation Summit was an inaugural event and should be counted a success for both Schneider Electric and its customers. A lot of ground was covered and Schneider Electric is well ahead of some of its automation industry competitors in its understanding of what the IIoT is, how it will impact its business, and what it has to do to evolve.
If you are a current or prospective Schneider Electric customer, work with the company to further push the boundaries of what it means to have an open architecture, expand the ecosystem of IIoT technology platform providers, and develop further IIoT use cases like APM designed for specific industries or asset classes.
Medgate Joins the Ranks of the EHS Software Vendors Receiving Strategic Investments
Environmental, Health, and Safety (EHS) software vendor Medgate recently announced that it received a strategic investment to help fund growth. The Toronto-based company didn't disclose the size of the investment, but it is thought to be significant given the magnitude of recent similar deals, and that three investment firms were in on it (Norwest Venture Partners, Georgian Partners, and BMO Financial). Medgate joins other EHS software vendors such as cr360, Intelex, Enviance and others that have been acquired or received major investments recently.
Last week our EHS Analyst Peter Bussey was briefed by Medgate on the investment as well as overall company developments. Key takeaways from the meeting are that the investment will help expand the business by accelerating product development efforts already underway (specifically business intelligence including predictive analytics, and environmental management), step up go-to market efforts, and provide funding for potential acquisitions.
The EHS software vendor landscape is crowded with dozens of players jockeying for position. Medgate along with a handful of others are part of a new breed of well-established small to midsize EHS software firms that have been the recipient of significant funding, and have the opportunity to distance themselves from the pack as the market leader, or at least a top dog. Doing so will depend on much more than having good software. These companies will need to use their considerable resources to aggressively yet intelligently re-invent themselves. This will involve well-differentiated competitive positioning supported by precise go-to-market strategies, not to mention better execution across product development, sales, marketing, service and support. Board participation by savvy investors will help, but it remains to be seen which firms will be able to handle both the growth strategy and execution aspects.
Access the Metrics That Really Matter webinar On-Demand where Andrew Hughes presents the results from the fourth iteration of the Metrics that Matter research study conducted between LNS Research and MESA International, and places particular focus on how the deployment of IIoT, Cloud, and Analytics are transforming manufacturing today.

Tags: Industrial Internet of Things (IIoT), Industrial Transformation / Digital Transformation, #MondayMusings, Environment, Health and Safety (EHS)