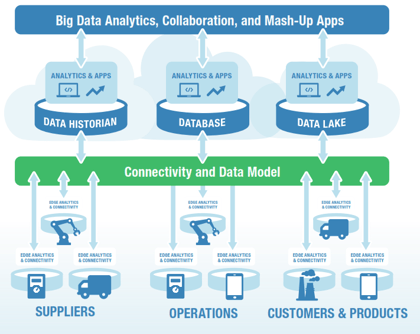 The #MondayMusings Industrial Transformation blog series provides insight and analysis for executives from the previous week's briefings, events, and publications @LNSResearch
Click here to view the image in full-size
Click here to speak with Matthew Littlefield
I've been covering OSIsoft as an analyst for the past ten plus years, and this is my first UC – a long time coming indeed. On March 20 – 23 OSIsoft hosted over 1,900 users in San Francisco to a wealth of insight, executive presentations, demonstrations, networking events, and developer workshops. Among the presentations, there were several executive presentations of note that kicked off on day 1.
Pat Kennedy, needing no introduction, kicked off the event with a compelling analysis of the market. Kennedy is clearly a leader that understands the value of being a neutral arbiter of industrial data. His company has stayed true to these roots for over thirty years. He is also an executive that is not scared to move with the times, if not a little reluctantly. This year's event was the first UC that embraced the IIoTen masse. As such, Kennedy gave a nod to the idea that the role of data in industrial transformation is critical and quickly changing. It is also clear that he is a skeptic when it comes to the degree to which industry and its use of data will transform; not necessarily a bad thing given the state of hype in the marketplace today.
Finally, Kennedy made one statement that truly stuck with me: (paraphrasing) For OSIsoft to be successful in the space long-term – or any company for that matter – they have to be the ones to make it easiest to capture value from industrial data.
Truth.
Martin Otterson, SVP of Customer Success, followed by hosting an hour-plus session complete with presentations from customers and partners (Rockwell and Emerson). From the presentations, it was clear that partners and customers believe in OSIsoft and are building OSIsoft into critical components of their respective solution offerings and operations.
The first day keynotes were concluded by Ray Hall, VP Engineering, who shared his vision for the company's technology roadmap. Hall also hosted three customers using OSIsoft at three different levels in the stack.
A large utility using Connectors to replicate and move a 2 million tag / 175,000 asset framework PI System from operations to the corporate environment.

Qualcomm who has developed a 13,000 notifications system for monitoring over 40 data centers.

Deschutes Brewing, which mashed up manual in process measurements with PI data in Microsoft Cortana Machine Learning to create predictive and prescriptive analytics for transitioning batch processes for improved quality and capacity.
To read the full report, including our take on how OSIsoft will drive transformation in the IIoT as well as where their customers may take a new approach, click here.
AME Conference & APM 4.0
The Asset Management Ecosystem (AME) conference is a new conference for business leaders that need to find tools and techniques to manage their production assets in a more strategic fashion.
Held the last week of March 2017, in Henderson Nevada, the event differentiated itself from many other Asset Performance Management (APM) related events. Other events typically hone in on a specific solution or reliability tools for plant-level practitioners. In contrast, AME focuses strictly on the business executive.
As the research partner for the event, Dan Miklovic of LNS Research shared the Keynote Session with Shefali Patel, Director of Strategy at GE Digital. LNS presented the perspective on the impact the Industrial Internet of Things (IIoT) and Digital Transformation would have on asset management from a technology and process perspective. Ms. Patel provided insight from GE on the lessons learned and the need for change from a people and process perspective that Digital Transformation requires. Since GE's CEO, Jeff Immelt, has committed GE to the shift from an old fashioned industrial company to a Digital Industrial business, the company has become one of the most vocal proponents of technology adoption to improve business performance.
The conference was organized around six key tracks or themes:
[SAM] – Strategic Asset Management (includes Plan, Acquire, Renew/Dispose)

[TAM] – Tactical Asset Management (includes Operate, Maintain)

[AD] – Asset Data (includes Select, Plan, Acquire, Renew/Dispose)

[AMT] – Asset Management Tools (includes Select, Plan, Acquire, Operate, Maintain, Renew/Dispose)

[PC] – People/Culture/Communication/Training (includes Select, Plan, Acquire, Operate, Maintain, Renew/Dispose)

[BC] – Business Case (includes Select, Plan, Acquire, Renew/Dispose)
This conference featured numerous sessions from executives that presented a perspective not usually found at APM conferences; one on what type of business case an executive needs to become excited about and supportive of Asset Performance Management.
Read the full report here written by Dan Miklovic.

Tags: Industrial Transformation / Digital Transformation, Industrial Internet of Things (IIoT), Asset Performance Management (APM)