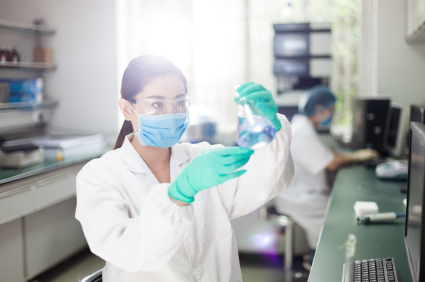 Communication and collaboration are important for success across any manufacturing organization, but in industries that are subject to external regulations, the potential financial and operational losses alone are extra incentive to ensuring that everyone's on the same page with accurate information delivered rapidly and efficiently
This description is certainly applicable to life sciences. The companies included under this distinction are currently subject to a number of FDA regulations requiring capabilities like extensive documentation, full track and trace capability, and supplier quality visibility, with more set to take effect in the near future. Additionally, our research and conversations reveal that collaboration and communication are often particularly difficult challenges for many life science companies. Why is this? What's the root cause?
Today, while some life sciences companies are using dedicated document management software applications, many are still using email as a means of internal and external communication. In this post, we'll explore why incentives to move away from email and other point solutions are reaching a tipping point in this industry, and why leaders are taking advantage of dedicated document management applications.
LNS Research Quality Management Survey
To illustrate the specificity and relative severity of life science challenges, it's helpful to take a look at the LNS Research Quality Management survey, comprising more than 800 respondents to date.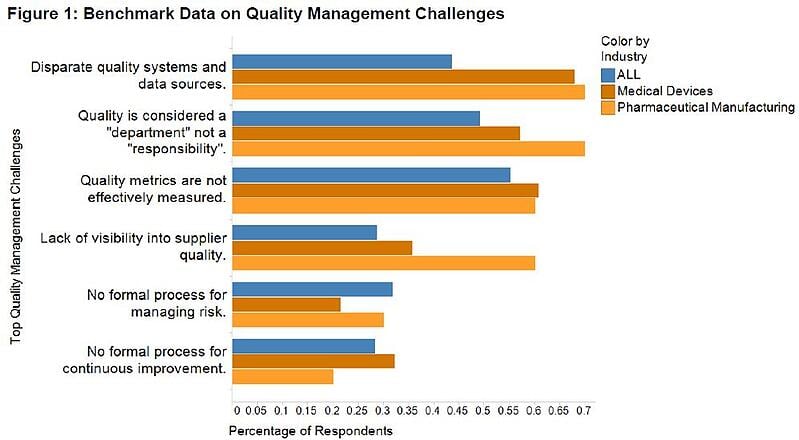 While the existence of disparate data sources and systems is something of an ever-present challenge across industries, it rings particularly true in life sciences, where medical device and pharmaceutical companies both show significantly higher responses in the affirmative for this challenge. What is just as interesting, however, is how life science companies—particularly pharmaceutical manufacturers—report challenges in having quality management viewed as a department rather than a collective responsibility, and also have serious challenges in supplier quality visibility, to the point where more than 60% of pharmaceutical companies chose this as a response, compared to just under 30% in the aggregate of all respondents.
While these challenges all manifest within the areas of people, processes, technology, and metrics, at their core, many can typically be traced back to technology decisions made long ago to fix issues of the day, and which lacked a long-term vision. Part of this is understandable; it's not always possible to see how future technology will affect an enterprise's operations down the road, even if there's awareness of its existence--which is not always the case. Even if emerging technologies and their effects are well understood, a company's overall financial situation may dictate a solution that's suboptimal (and perhaps more temporary than the ideal) as it eyes its bottom line.
Taking the counterargument to the above, life sciences companies as a whole often exhibit higher levels of quality management software adoption maturity than other industries; however, life sciences is an industry notable in its number and frequency of mergers and acquisitions over the past decade plus, leaving multiple and redundant systems for IT organizations to reconcile, exacerbating the creation and persistence of silos.
As the data suggests, when it comes to life sciences companies' notable communication and collaboration challenges, this shortfall--whether from shortsighted software investment strategies or the challenge of unifying a complicated legacy--becomes magnified.
The Pitfalls of Outdated Systems and Work-Arounds
Unfortunately, the intersection of industry regulations, competition, and technology advancements have made these legacy operational architectures rapidly aging dinosaurs and are holding life sciences companies back in myriad ways, and at many times causing as much harm as good.
Having multiple systems in place can cause confusion and frustration, often resulting in process inefficiencies and non-compliant workarounds.
Requirements for digital systems are on the rise, and only headed further in that direction. The FDA Safety & Innovation Act of 2012 required enhancements to safely track and trace capabilities, and the Electronic Technical Document (eCTD) requirement dictates a standard format for regulatory submissions. Email, Paper, and File Transfer Protocols (FTPs) all lack modern capabilities like version control or role-based access, and are not built with the needs of life sciences compliance and collaboration necessities in mind of as a foundation.
On-premise document management solutions enhance sharing, creation, and storing of content with security, but lack life sciences specific functionality and the ability to extend capabilities out to suppliers and partners.
What strengths in quickness, cost effectiveness, and ease of execution that document management and collaboration tools like email, DVDs, paper, and FTPs have, they lack in a collective set of comprehensive tools to face the many overlapping needs of life sciences enterprises today.
Today's leading life sciences companies are addressing these challenges by implementing next-generation document management software, which is typically architected with quality and compliance as the central focal point. Often deployed as an enterprise-wide solution, today's document management software enables organizations to communicate and collaborate with secure, compliant, and efficient methods that take into account a wide variety of life sciences concerns, such as:
Reporting and Visibility
Compliance
Workflow
Access
Control
Web-Based Delivery
Ease of Use
Built-In Industry Best Practices
Elevate Your Internal and External Collaboration with a Single Version of the Truth
Next-generation document management software has become increasingly recognized as the foundation for added quality management and R&D capabilities. In many instances, leading solution providers form partnerships with Enterprise Quality Management Software (EQMS) and Product Lifecycle Management (PLM) with next-generation document management solutions, and use them concurrently with their own functionalities. This is critical for solidifying closed-loop processes, and forming a single version of "the truth" for all employees to incorporate into decision making. For key considerations and best practices on selecting the right document management and collaborative strategy with your partner network, be sure to read our free report on collaboration in life sciences below.