The #MondayMusings Industrial Transformation blog series provides insight and analysis for executives from the previous week's briefings, events, and publications @LNSResearch.
Click here to speak with Matt Littlefield
This past week Oracle held the company's annual Modern Supply Chain Experience conference in San Jose, CA, representing its largest iteration to date with over 3,000 attendees. For this year's event, Cloud is still core to the message, but it's not stressed to the same degree as previous years. My suspicion and it reflects in our research is that the move to the Cloud, as with mobile, is now just assumed to be part of the architecture, rather than a challenge to overcome.
When Oracle leaders did talk about Cloud, and CEO Mark Hurd did quite a bit in his comments, the focus was not on new supply chain functionality Cloud can enable. Instead, Oracle leaders stress the current approach to managing enterprise information technology (IT) is untenable, and that Cloud allows for much needed IT cost reduction and simplification; a message that will resonate with any CFO and many CIOs.
Digital Thread and Digital Twin
Beyond the Cloud, this year's event focus was two-fold: Digital Thread and Digital Twin.
Oracle's development of Cloud supply chain applications including procurement, product lifecycle management (PLM), manufacturing, logistics, supply chain planning, asset management, and quality highlights its focus on Digital Thread. When it comes to Oracle's Digital Thread strategy, here are the key takeaways:
Oracle remains committed to supporting legacy applications like Agile PLM and e-business suite (EBS) but enhancements will be micro, with significant improvements driven by the new Cloud apps
For manufacturing and asset management applications, the company's 2018 focus is on building process manufacturing, project manufacturing, and service capabilities, targeting February 2019 for release
For the quality applications, the company continues to focus on building quality into the value chain, with deep integration between quality and all other supply chain applications. The company also continues to weave risk management into the core of quality management process, in alignment with ISO 9001:2015
Oracle's continued development of IT apps on top of Oracle IoT Platform, highlights its Digital Twin focus. When it comes to Oracle's Digital Twin strategy, here are the key takeaways:
Oracle's IoT application development continues to focus on manufacturing and asset management
Oracle believes artificial intelligence (AI) and machine learning (ML) capabilities should be features built into applications and not a separate application or platform
Oracle stresses that they want to make IoT easy, it shouldn't have to be a multimillion-dollar mega-project
LNS Research's Take
LNS has attended Oracle's Modern Supply Chain Experience consecutively for four years. We work with many Oracle customers on their Digital Transformation initiatives. As we listened to what Oracle had to say, we found much of it credible and pushing the industry in the right direction. We also believe there are some risks that Oracle should consider.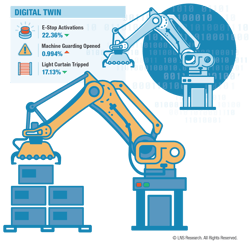 When talking about concepts like Digital Thread and Digital Twin, it is essential to put the customer's needs in focus and not Oracle products. The Digital Thread should be more than an integrated set of Oracle Cloud applications. It should be a customer architecture, which includes integrated apps and ensures a consistent data model across the organization that eliminates manual process and data handling. Similarly, the Digital Twin should be more than an Oracle IoT application. It should also include aspects of Edge devices and analytics, a comprehensive asset-centric data model; all integrated with product, process modeling and simulation.
When customers engage with Oracle, it is important to remember that Oracle has a relatively unique positioning in the market, which is a good fit for many companies but not all. Understanding this earlier than later is key to a long-term relationship.
Compared to other major enterprise application providers, Oracle has a differentiated position having built an entirely new portfolio of integrated Cloud applications. Others still rely heavily on re-platforming and pushing forward legacy applications.
Rather than targeting individual line of business leaders like quality, engineering, manufacturing, maintenance, or supply chain, Oracle focuses on the value of deploying a suite of integrated applications, making it critical for these line of business leaders to engage early. As often is the case in Digital Transformation initiatives. If not, the leaders can quickly be left behind.
Oracle is one of the many companies delivering new applications for Digital Twin and Digital Thread. The companies competing in this space are not traditional competitors, they are in fact crossing the IT-operational technology (OT) divide. With companies like Oracle, SAP, Siemens PTC, Dassault Systemes, Siemens, Rockwell Automation, Honeywell, and ABB among many others, all being mashed up into one confused

industrial internet of things

(IIoT)/Digital Thread/Digital Twin space. This development will have several consequences:
End users must have a robust internal definition of concepts like Digital Thread and Digital Twin, otherwise engaging efficiently with aligned technology vendors will be very difficult.
Platform openness will be critical, and Oracle seems to understand and promote this. Over time we will all begin to live in a multi-platform world. It is not too hard to envision a future where companies could have an environment that includes both Oracle or SAP IoT platform and apps, as well as, GE or Rockwell Automation IIoT platform and apps. In these cases, end users will demand platform interoperability – bringing together the business transaction data with the real world operational data in a bi-directional fashion.
Finally, Oracle is a product-centric company, eliminating customization and engaging with a new breed of system integrators that are experts in Oracle products and deploying the products to meet customer needs. For many longtime customers and some prospects, this will be a beneficial approach. However, it is notably different than the approach some major competitors are taking. Other vendors are taking a more consultative and outcome driven tact, moving to become a trusted advisor on the Digital Transformation journey. These vendors offer a combination of out-of-the-box applications with a strong focus on development of new applications to drive innovation. It is still unclear how Oracle will engage with customers that prefer such a model.
Overall, this year's event represented a continued and sustained investment from Oracle in delivering a broad and integrated suite of supply chain Cloud applications for industry.
Categories: Operational Excellence, Risk Management, IT/OT, #MondayMusings