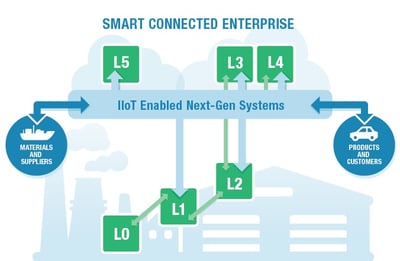 The #MondayMusings blog series provides executive level insights and analysis for the Industrial Internet of Things (IIoT) and Digital Transformation from the previous week's briefings, events, and publications @LNSResearch.
Click here to speak with Matthew

Cloud and IIoT set to Transform Enterprise Apps Business Not Just Manufacturing
LNS Research's Digital Transformation Framework outlines how a manufacturing or asset intensive industry adapts to the IIoT, Cloud, and Big Data environment that is becoming prevalent. We talk a lot about how companies need to think about Operational Architectures, and how all this new technology will support their pursuit of Operational Excellence. This begs the question: How will Digital Transformation affect the vendors of software, platforms, and infrastructure in the marketplace? Among the supplier community one of the larger players today is SAP and its partner ecosystem.
At SAP's Manufacturing Industries Forum held in Chicago last week, LNS Research Analysts Dan Miklovic and Pete Bussey, along with SAP customers, were given a taste of how SAP and its key partners serving the manufacturing industries see their role and their products evolving in the Cloud and IIoT era. Speakers from consultancies and end users, like McKinsey, Dell, Fujitsu, Toyota MHNA, BUNN, A.O. Smith and others, delivered perspectives on the drivers (what, why and how) of leveraging SAP's HANA Cloud Platform, IIoT, and Predictive Analytics to fundamentally change their way of doing business. Meetings with key SAP executives during the event left our analysts convinced that SAP understands that Cloud and IIoT are going to change how end users use SAP's applications and the HANA platform to run their businesses. SAP clearly sees users adopting a less hierarchical approach to their Operational Architecture, and that they need to provide a level of robustness and reliability going forward that is only going to get more demanding. SAP's biggest challenge as we see it is to show business leaders how to start the Digital Transformation journey, provide them the tools and technology to begin that journey in a low risk and low cost fashion, and to convince themselves that Digital Transformation is not only possible, but doable.
Siemens SIMATIC IT eBR Briefing: Enabling the Digital Enterprise in Life Sciences
I have been covering Siemens' step-by-step approach to enabling the Digital Enterprise for almost ten years now. Over the past several years Siemens has made many major moves towards this vision, most recently re-organizing the business to separate out many of the process industries' hardware, software, and automation products from the discrete industries' hardware software, and automation products.
Today PLM and Manufacturing Operations Management (MOM) are both managed as part of the relatively new Digital Factory Division; which are now under the leadership of the PLM Software business unit, with SIMATIC IT UA Foundation (Unified Architecture) being the new MOM backbone. UA is built from the bottom up as an extension of PLM and enabling a web-services and modular approach to deploying MOM functionality that has largely been built through acquisition.
With this new organizational structure, the Digital Factory Division is largely focused on the discrete manufacturing industries; while the new Process Industries and Drives Division, focuses on the processes industries as the name suggests. Since this new structure was announced last year, the Vertical Pharma competency center has not yet been able to effectively get its message out with all the industry focus coming out of these two large divisions.
The Siemens Life Sciences Competency Center
The competency center drives customer engagement, and an industry focused view that brings together products from both these divisions with pharmaceutical specific capabilities managed by the group itself. To help educate the market on what the group has been up to, business and technical representatives of this organization Bart Moors – Global Development Life Sciences and Andrew Whytock – Life Sciences Business Support, Digitalization & MES Global Development, traveled to our offices in Cambridge MA to provide us a briefing.
From the briefing it was clear the team has been hard at work over the past several years and there were two areas in particular that LNS was impressed with:
Siemens showed a good understanding of the key trends in the industry and is bringing innovative technology solutions together to address these trends, including:

New Process Analytical Technology (SIMATIC SIPAT) that enables automated release of batches that dramatically reduces the need for finished product testing and reduces both time to delivery and inventory levels.

Global support team and collaboration technology to address the increasing global and distributed business models in the industry.

Improved integration between recipe management, automation, and the supply chain to enable next-generation personalized medicine.

Siemens has continued on the path of building out the Pharma MES suite and it now has a robust offering of Material Management, Master Batch Record, Electronic Batch Record, Weigh and Dispense, and Packaging; based on the former XFP product from Elan Software and now renamed SIMATIC IT eBR.
Although Siemens has amassed an impressive list of large pharma customers and technology innovations, there is still much work to be done in the industry, including:
Most Pharma MES deployments today are plant or process specific, often being driven bottom up from the automation with EBR being a result of execution. This approach makes MES more expensive and less repeatable. For a true MOM platform approach to be taken, changes must occur both for vendors and end-users. End users themselves should develop corporate Centers of Excellence (CoEs) and actively commit to Operational Excellence, which many have done for people and process but often technology persists as a gap. Similarly technology companies like Siemens will have to build Pharma specific capabilities into broader-based and flexible MOM platforms. Siemens has already started on the path to put eBR on the Unified Architecture Foundation with a new MBR Module as the first step on a phase based approach. , Most other Pharma specific MES providers haven't even indicated they are moving down this path.

The value chain is unique in the Pharmaceutical industry. The R&D and clinical trial processes are on the critical path for business success and highly specialized; requiring specialized tools rather than generic engineering offerings. The role of quality is also especially important for the industry. In many other industries productivity takes a front seat, while for many life sciences companies' compliance and patient safety is prioritized. Although the Siemens portfolio meets some of the needs of R&D and clinical organizations with its PAT and LIMs offerings; unlike many of the discrete manufacturing industries Siemens serves, Siemens does not have pharma specific scientific discovery tools in its portfolio. Nor does it have a compelling industry specific quality management offering, despite some Pharmaceutical customers using Compliance Pro from the IBS acquisition. Although what Siemens does have in its portfolio is broader and more tightly integrated than most every other vendor, these are areas critical for having a complete industry solution. Siemens has indicated that it is intending to build out a full industry portfolio that will address these gaps and LNS looks forward to future updates in the form of homegrown solutions, partnerships, and possible additional acquisitions.
To be fair, these are not Siemens specific challenges, but challenges of the industry at large.
Siemens seems poised and committed to being a leader in the space and helping the industry move forward through some very fast moving and transformative times ahead.
Quality leaders, access the On-Demand webcast now! This webcast provides senior leaders with best practices for building a business case around quality and the foundational framework needed to gain executive commitment.

Tags: Industrial Transformation / Digital Transformation, Industrial Internet of Things (IIoT), Big Data, #MondayMusings, Manufacturing Operations Management (MOM)