The #MondayMusings Industrial Transformation blog series provides insight and analysis for executives from the previous week's briefings, events, and publications @LNSResearch.
Click here to speak with Matt Littlefield
LNS Research believes that 2018 will be the year that the dogmatic approach to Lean and Six Sigma breaks down. A new breed of large industrial company will emerge and prove that an innovative approach is needed to fully capture the potential benefits of digital technology in manufacturing.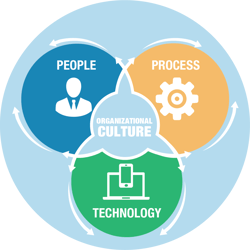 An Innovative Approach to Operational Excellence and Business Transformation
Several months ago, I participated in an executive forum in The Hague hosted by Honeywell. At the event I had the opportunity to spend time with transformation leaders from across the industry and learn in detail how one company is embracing digital technologies to transform the business. This innovative approach differentiates in 2 key areas:
The Principal of Cumulative Advantage
First popularized by Malcolm Gladwell in Outliers, the Principle of Cumulative Advantage states that, "once a social agent gains a small advantage over other agents, that edge will compound over time into an increasingly significant advantage."
This new approach to operational excellence theorizes that the benefits of continuous improvement (CI) initiatives across the industrial space has normalized. For reasons stated above, and that every company in the industry enjoys an improvement of 1%-2% per year, no single company wields a sustainable CI competitive advantage over others.
The company leaders also theorize that the primary determining factor driving these 1%-2% yearly gains is time to decision making. They have developed a model showing that if they cut time to decide in half, the yearly gains can double.
Moreover, by the principle of cumulative advantage, the first company in a market to achieve and sustain these elevated CI results will be able to break away from the competition by building upon early small gains, and pushing competitors out of the market through their ability to better operate and maintain challenged and distressed assets.
Establishing Systemic Trust
If the principle of cumulative advantage defines the business case for achieving competitive advantage through best-in-class operational excellence program results, establishing systemic trust defines how industrial companies can potentially create this position.
This industrial giant believes the entire industry has a trust deficit in the use of decision support systems. It advocates that we look towards the consumer world, and specifically Silicon Valley, to see how to eliminate this deficit. A TED talk by Joe Gebbia, co-founder of Airbnb, on the topic of designing for trust gives an example of how the industry could do better. What is explained in this talk is mostly the opposite of how every major industrial software and analytics provider approaches system and user interface design. The current state of the art for today's manufacturing systems assumes user trust and minimizes collaboration/reputation management among users.
The industrial giant (and LNS Research) envisions a future where suppliers switch the paradigm, assumes users don't trust the data, the accuracy of models, or decision support recommendations; and designs user experience to build trust in the system.
If suppliers can achieve this approach to the user experience, there will be several benefits. First, it will increase system adoption. Second, as adoption and trust increases, the opportunity to leverage more advanced digital technologies like artificial intelligence and machine learning (AI/ML) will present itself. Finally, as adoption and the use of AI/ML becomes ubiquitous, the number of people and time it takes to make decisions will reduce dramatically. This change will address labor market shortages and create the desired competitive advantage through operational excellence.
Concluding Thoughts
This is a unique time in history. We have unprecedented levels of knowledge loss from industry as baby boomers prepare to retire and there is a dramatic skills gap among the next generation. At the same time, for the first time in history the digital tools in our personal lives are more powerful than those in our professional lives.
Since the advent of Industry 4.0, Smart Manufacturing, and Digital Transformation too much focus is on technology. Instead, the priority should be to address the problems described above and transform business through innovative approaches to managing people and process. 2018 is poised to be the year for all these changes to take place and, operational excellence again becomes sexy in the world of manufacturing.
Through the work that leaders at innovative industrial companies are doing, the pendulum is swinging back – putting digital technologies in its proper place - as an enabler and not a destination
Categories: Industrial Internet of Things (IIoT), Industrial Transformation / Digital Transformation, Industry 4.0 / Smart Manufacturing, Artificial Intelligence / Machine Learning (AI/ML), IT/OT, #MondayMusings