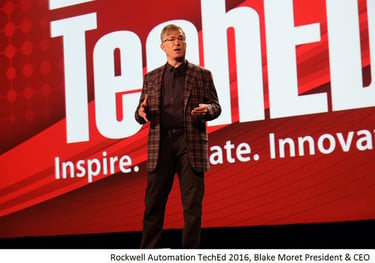 On June 13-17th in Orlando, Florida over 2,100 attendees joined Rockwell Automation for #ROKTechED 2016. I have been attending the event since 2008 and it continues to grow each year. Outside of Automation Fair, #ROKTechED now represents the largest user event hosted by the company. To the uninitiated, this year's event may have seemed like more of the same and a continuation of the Connected Enterprise theme. To those paying attention to the nuance of language and posturing used, I saw a company starting to prepare for transformation.
Click here to speak to Matthew
President and CEO Elect
The day one Keynote was where Blake Moret, President and CEO Elect, presented his vision for the company alongside SVP and CTO Sujeet Chand and Frank Kulaszewicz SVP Architecture and Software.
Sujeet kicked off the day one keynote with the presentation that was perhaps most signaling of changes to come. Although, of course, the focus of his presentation was The Connected Enterprise; there were also numerous references to the role of Product Lifecycle Management (PLM) in enabling The Connected Enterprise and more importantly enabling self-aware and system-aware assets. This was the first time I have seen a Rockwell Automation executive discuss the impact of PLM. Further, the concepts behind self-aware and system-aware assets could be the foundation of rethinking control system architecture.
I personally hope that Rockwell Automation further explores both of these areas. For years I have been amazed at the lack of integration with automation design and product design software in the industry at large. I have often commented on the fact that when PLM companies talk about mechatronics or systems engineering, it is invariable in reference to mechanical, electrical, and software engineering. However, software engineering in this context always refers to embedded software and firmware, never automation software. The integration of these design tools is a major gap in the industry and could be a very interesting angle for Rockwell Automation to add increased value to its machine builder clients.
In Blake's presentation he continued on many of the themes highlighted by Sujeet and further discussed his vision for The Connected Enterprise. It was clear from Blake's talk that he is proud of the company's position as being the largest independent automation provider. It was also clear he sees Rockwell Automation software and analytics solutions, along with its strong ecosystem of IT and OT partners, as a critical differentiator for the company moving forward.
Although it is still unclear what changes Blake may have planned, there were some signals:
Several times a new name was used for the software business, "Industrial Information Management." Although there were no formal announcements, the subtle name change may (and hopefully will) mean an expanded and consolidated software and analytics business for the company.

Self-aware and system-aware assets is likely (and again hopefully) signaling an increase in the Industrial Internet of Things (IIoT) enablement of automation devices delivered by Rockwell Automation. As discussed in many other posts, LNS Research sees IIoT Platform technologies as the enabler for turning automation hardware into the Smart Connected Devices that ultimately enable Smart Connected Assets. These changes represent the ultimate transformation of traditional control system architecture from one of distributed controllers to truly distributed control.
Connected Devices and DCS
On day two Fran Wlodarczyk, VP Control and Visualization Business, shared several examples of traditional control products that are being updated to look more like smart (or at least) connected devices. These announcements included Gigabyte Ethernet on controllers, I/O, and networking equipment. He also shared information on the new Stratix switch that has an embedded firewall for deep packet inspection as well as an updated PanelView 5500 with deeper integration to Logix controllers for quicker time to value.
Although each of these announcements represent continued product enhancements, this is largely how they were presented. Although many customers are interested in these advancements, many would also like to hear how these advancements support the larger vision painted for self-aware and system-aware assets.
On day two John Genovesi, VP Information Software and Process Business, spoke broadly about the software and process business but gave some very interesting and specific commentary on DCS. It was one of the first times I have seen a Rockwell Automation executive present the PlantPAx system purely as a DCS without making some type of qualifying statement for it being based on PLC technology. Clearly Rockwell Automation now feels confident that using an open-architecture and off-the shelf hardware provided by Rockwell Automation and partners can fully compete with its traditional DCS competitors.
At the end of the presentation I was reminded of a Google Keynote I attended several months ago. In that presentation the executive stated that Google never concerns itself with what competitors like Microsoft, Apple, and Amazon are delivering. Instead, Google is laser focused on meeting the current and future needs of customers; however broad or seemingly unrelated to Google's current offerings.
Rockwell Automation could take a page out of Google's book when it comes to the process industries. Rather than focusing on how Rockwell Automation can build a competitive DCS with OTS technology and an open architecture; Rockwell Automation would benefit from focusing on how OTS technology and an open architecture can redefine what a DCS is and meeting the future needs of process industries customers.
Project Stanton
Project Stanton was first announced at #ROKTechED 2015 as a skunkworks project focused on building a mobile platform for the industrial environment. Fast forward just one year and Project Stanton is now a full application platform and Kyle Reissner, Mobile Leader, got a main stage Keynote presentation.
Project Stanton is all about creating a frictionless environment in manufacturing and there are many points of friction to be addressed:
Wi-Fi connectivity in industrial environments

Maintainability of applications with limited IT resources

Usability of applications in a hybrid cloud/mobile environment

Quickly delivering cost savings and productivity increases
Project Stanton, partnering closely with Microsoft, hopes to address these challenges in the following ways:
Provide a platform architecture that enables connectivity with or without Wi-Fi through a mesh-environment of peer-to-peer communication rather than Cloud to edge.

Provide platform capabilities that enable modular, mobile first, applications to run natively on iPhone and Android devices with a common data model.

Focus on delivering apps that transform the nature of work in industrial environments.
Project Stanton is a piece of novel and compelling technology that LNS Research recommends manufacturers experiment with, a sign up link can be found here.
However, for long term success, LNS Research believes Project Stanton needs to continue on, and accelerate along, the path it has been, namely:
Prove that the mesh peer-to-peer communication and data model scales to full production

Move from a project to a platform supported at the highest level within Rockwell Automation.

Extend from an application platform to an application development platform.

Develop a business model that enables internal development and movement of products onto the platform within Rockwell Automation as well as an external model that supports both developers and users.
Project Stanton has made impressive progress over the past year, more than most would have expected. That fact only raises the stakes and LNS hopes to see even more at future Rockwell Automation events.
LNS Research Take
Rockwell Automation has traditionally been an engineering and product centric company. As was stated in our blog post several months ago analyzing the announcement of Blake Moret's CEO appointment, Rockwell Automation is a company in transition in an industry in transition.
In the past this transition has been incremental and focused on layering software and services on top of automation to enable The Connected Enterprise.
Although there weren't any major announcements or changes in strategy announced at this year's #ROKTechED; many of the company executives, including those at the highest level, seem to be sowing the seeds for something much bigger.
Access this brand NEW EQMS Solution Selection Guide for quality professionals to take a closer look at 18 key EQMS vendors with side-by-side comparisons!

Categories: Smart Connected Assets, Industrial Internet of Things (IIoT), Product Lifecycle Management (PLM)