LNS Research had the pleasure to attend Rockwell Automation's 28th Annual Automation Fair and companion Process Solutions User Group in Chicago, IL November 18 through 21st, 2019. Rockwell Automation noted there were over 16,000 attendees at the event making it the largest Rockwell Automation Fair ever. They also hosted "Automation Perspectives" for the media and analysts on the 19th of November.
Last year's Fair was a blockbuster emphasizing Rockwell's $Billion investment in PTC, the launch of the FactoryTalk InnovationSuite powered by PTC the "first" joint offering between the two companies, and the roll out of a new Rockwell Automation brand and logo. The 2019 event represented a continuation of the 2018 event with clear progress and further refinement being detailed across a number of fronts.
Expanding Human Possibility Realized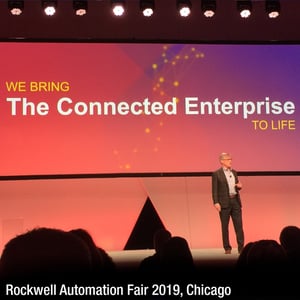 Last year, Rockwell Automation unveiled its new brand promise: "Expanding Human Possibility" centered around the value in combining the imaginations of people with the intelligence of machines. We noted last year: "There is a real authenticity here as it clearly aligns to the priorities of Rockwell Automation's CEO and Chairman Blake Moret." This became even more evident in the Automation Perspective presentations where Rockwell Automation focused on the human impacts of their solutions:
The customer in the presentation spotlight was Edesia Nutrition whose mission is to help treat and prevent malnutrition in the world's most vulnerable populations. Edesia produces high-quality ready-to-use foods (RUFs) for humanitarian organizations and non-profits. The spotlight illustrated how Rockwell Automation products enabled this non-profits' advanced manufacturing and supply chain capabilities.
Automation Perspectives also included the "finals" of the "You Make It Challenge", an invention competition for 8-17-year-old students. The 3 finalists were all supported by mentors from Rockwell Automation and developed presentations highlighting their ideas. Congratulations to the winner, Louisa Wood, and her invention for a Sump Pump Overflow/Failure Detection Program device.
This focus on "human possibility" was clearly reinforcing to the brand and demonstrated Rockwell Automations commitment to making the brand real across their organization and communications.
In addition, it is worth noting that the brand aligns to a core issue many manufacturers face today – a labor shortage as Baby Boomers and GenX employees retire and Millennials shun manufacturing. Rockwell Automation noted, for example, that Artificial Intelligence is not replacing workers but filling a major gap faced by a large number of manufacturers.
The brand focus was only one way in which the 2019 event built on announcements made at the 2018 event. Another key area of continuation was around the PTC partnership.
PTC Partnership Grows
After the 2018 blockbuster announcement we said: "With the announcement of the PTC Partnership in June and the launch of the FactoryTalk InnovationSuite at the Fair, Rockwell Automation has demonstrated a clear and disciplined focus on IIoT Platforms and Industrial Transformation more generally. We look forward to seeing how things evolve at future Automation Fairs generally and how the PTC Rockwell Automation partnership evolves specifically." Progress has been significant as we noted after PTC LiveWorx and Rockwell Automation TechEd with the roll-out of 4 solutions:
Digital Workforce Productivity
Intelligent Asset Optimization
Enterprise Operational Intelligence
Scalable Production Management
In addition, multiple company representatives noted the depth of the integration work between the two companies in ensuring a robust integration between Rockwell Automation and MES products, PTC ThingWorx IIoT offering and Microsoft Cloud capabilities. For example, Rockwell Automation has created smart tags specifically to enable better communication with IIoT systems and for the self-identification of controllers by ThingWorx.
Areas of Expansion: Accenture and Simulation
Accenture
Blake Moret, Rockwell Automation Chairman and CEO used the main stage of Automation Perspectives to announce a partnership with Accenture, a leading global professional services company. The companies seek "to team up to develop a digital offering to help industrial clients move beyond existing manufacturing solutions to transform their entire connected enterprise." In many ways the goal is for Rockwell Automation to provide its depth of Operational Technology (OT) expertise with Accenture's Informational Technology (IT) knowledge to support the full spectrum of Industrial Transformation (IX).
The partnership makes sense. LNS Industrial Transformation research has shown that Industrial Transformation is, in fact, just that: a mix of OT and IT technologies, cultures and processes. IX Leaders are those companies that are building on a solid systems foundation in both IT and OT to leverage new digital technologies to compress organizational silos and rearchitect business processes. In fact, we have found that IX Leaders are 76% more likely to have organized IT/OT into a single team.
The real significance of this announcement though, may be measure of the change within Rockwell Automation. There any number of companies with Accenture partnerships. But it is significant that Rockwell Automation has recognized that the "Connected Enterprise" requires a knowledge of systems and processes outside the scope of their core competencies today and that Industrial Transformation includes significant IT and business process reengineering.
Simulation and the Digital Twin
Last year we noted that the PTC partnership was focused as there was not "significant discussion around the integration of PTC PLM with Rockwell Automation's automation products." 2019 seems to have shed more light on this topic as Rockwell Automation has forcefully entered the Simulation market with an acquisition and partnership announcements.
In January, Rockwell Automation announced the acquisition of Emulate3D an engineering software developer whose products digitally simulate and emulate industrial automation systems. Rockwell Automation is adding Emulate3D's technology to its digital design portfolio to deliver solutions to automotive, logistics, material handling, and other industrial applications. On the show floor, Rockwell was already highlighting true Digital Twin, immersive technology of a food and beverage manufacturing facility.
At the Fair, Rockwell Automation also announced a partnership with Ansys a global leader in engineering simulation offering 3D Design Exploration, Computational Fluid Dynamics, Structural Analysis and a number of other capabilities. The intent of the partnership is for the companies to help customers design simulation-based digital twins of products, processes and/or manufacturing.
Together, these moves may demonstrate Rockwell Automation's focus on delivering comprehensive solutions for Industrial Transformation. While both of these simulation companies were already PTC partners enhancing the PTC Product Lifecycle Management (PLM) offering, it appears as if Rockwell Automation is intent on competing with some of the big PLM/automation companies with a solution set of "best-in-class suppliers" (including PTC) defined and managed by Rockwell Automation. LNS will be watching carefully to see how these acquisitions, partnerships and solution sets fair against very well-established competition.
Process Solutions User Group (PSUG)
PSUG, the Process Solutions User Groups was the two-day event that preceded the Automation Fair and was well attended with 1000+ end users and system integrators, the doers in the process industry space. PSUG was chock full of product introductions and roadmaps, highlighted by three presentations from Edesia Nutrition, Milwaukee Brewing and Sensia, the Rockwell Automation/Schlumberger joint venture announced last year for serving the upstream oil and gas market.
Final Thought
It is often said that Brand and Culture are different sides of the same coin. In fact, Strategy, Brand and Culture should simply be different views of the same core: strategy should be built on and reinforce the brand which must align to the corporate culture. The fact that 2019 Automation Fair was not specifically noteworthy for a series of "new announcements" should not be seen as a negative, but rather as solid progress against a plan laid out in 2018. Rockwell Automation is executing against its strategy and progress is clear.
Categories: Solution Vendor / Software Vendor, Industrial Internet of Things (IIoT), Industrial Transformation / Digital Transformation