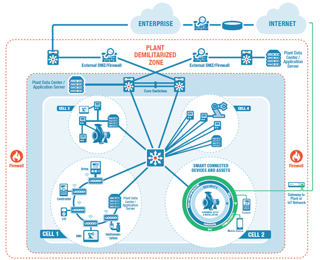 The #MondayMusings Industrial Transformation blog series provides insight and analysis for executives from the previous week's briefings, events, and publications @LNSResearch.
Click here to speak with Matthew Littlefield
For the past several years Rockwell Automation has been a company pulling off a subtle balancing act; continuing to deliver value to customers in a practical and proven way (The Connected Enterprise). At the same time, it has been painting a new and compelling vision for the future (IIoT and Digital Transformation). Years from now, TechED 2017 may end up being viewed as the tipping point towards an increased focus on delivering solutions aligned to this future vision.
Everyone knows about the recent appointment of Blake Moret as the new CEO, but there have been many other smaller changes happening just below the surface with the potential to tip Rockwell Automation in this new direction. Most notably, this includes embracing agile software development best practices and the empowerment of small teams to drive innovations and products in such key areas as mobile apps and analytics.
The success and capability of the two pizza box rule were on full display during the keynote session where the company pulled off the most ambitious live demo I've seen in the industrial automation and software space. The demo was an example of how Rockwell Automation already has the capability to bring customers beyond the Connected Enterprise and enable Digital Transformation with many next-generation offerings, including:
Collaboration capabilities of TeamONE

Connectivity, visualization, and problem-solving capabilities of FactoryTalk Analytics for Devices

Mash-up and cost saving capabilities of ThinManager

Integration capabilities of these next-gen offerings with existing Rockwell Automation Hardware and Software
Of course, the success of the demo must be juxtaposed against what earned the biggest applause of the week, updates to Studio 5000, including:
Improved text editor

Code snippets

Track changes

Value monitoring, and more
Which, in turn, represents the heart of the dilemma facing Rockwell Automation. It is classically a company that is a victim of its own success; happy customers, happy shareholders (stock bouncing around an all-time high), and Studio 5000 is still the most broadly used software application in the Rockwell Automation portfolio – so why change now?
New CEO is in a Position of Strength
If the last TechED was the coming out party for Blake Moret as the President and CEO-elect, 2017 solidified his position as a leader that is going to push the company forward by focusing on people and outcomes. From my discussions with Blake and his keynote, several things have become clear. He is a leader that is focused on:
Enabling the success of people - Rockwell Automation employees, partners, customers, and the broader community are his priority. Evidence is far reaching and includes an increased focus on supporting FIRST Robotics, increased maternity/paternity benefits with an additional 4 weeks of paid family leave time, and a partnership with ManpowerGroup to upskill 1,000 veterans per year for digital manufacturing jobs.

Delivering not just technology but business outcomes for customers, including several new customer case studies highlighted in the keynote. Andersen Windows deployed Rockwell Automation software to deliver faster time to market and Metso engaged with Rockwell for remote monitoring and analytics to drive better mining equipment design.

By all accounts, Blake Moret has had a solid start since his appointment was first announced over a year ago. Financial performance has continued its strong upward trajectory, and there have been no big missteps, but also, no substantial changes made or bets placed. The changes that have occurred have been largely cultural, with a leadership team that is increasingly empowered to take risks and pushes the status quo.
Given the dynamism of the market, solid footing from which Rockwell will be moving from, and earned credibility internally and externally; it seems like the timing is right for Rockwell Automation to be gearing up for whatever it sees as the next step for the Connected Enterprise.
LNS Research Take
LNS views the long-standing Connected Enterprise vision of Rockwell Automation as foundational to success for any company operating in the discrete, batch, process, or infrastructure industries. Furthermore, it is still incredibly relevant today, as the majority of industrial organizations are still on the journey towards connecting industrial automation, industrial software, and enterprise applications. In fact, LNS Research survey results show that MES adoption rate still hasn't broken 25%. Anecdotally, we've also seen that as the interest in the IIoT and Digital Transformation has increased; it has driven a corresponding interest in traditional Automation, HMI/SCADA, MES, and ERP projects.
As LNS has stated many times, the IIoT is not something that industrial companies have been doing for the past 30 years, not even the last ten years. It represents a new architectural approach to managing Smart Connected Operations and assets; that takes a platform approach to delivering connectivity, Cloud, Big Data analytics, and mash-up applications across OT and IT. The Connected Enterprise represents the foundation industrial companies need to deliver on the vision of the IIoT.
Rockwell Automation TechED 2017 was a strong event, showcasing a good range of next-gen IIoT products available today from the company. In most cases, these new products are still early in the development cycle, with the opportunity for future versions to have increased openness and functionality. Moving forward, LNS hopes that these next-generation capabilities showcased at Rockwell TechED 2017 represent just the start of a more focused approach to delivering packaged IIoT Platform capabilities and Digital Transformation outcomes for customers.

Tags: Industrial Internet of Things (IIoT), Industrial Transformation / Digital Transformation, #MondayMusings