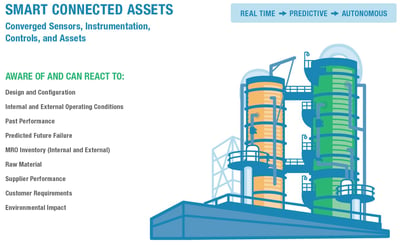 Several weeks ago I had the pleasure of attending Schneider Electric's yearly Automation user conference, CONNECT 2016, in New Orleans, Louisiana. The event was well attended with over 800 attendees and a range of industry and technology media houses.
Over the course of the three days, I was able to attend several keynote sessions, 1-1 briefings with executives, and analyst sessions. Throughout these sessions there were a number of new technology announcements and the commensurate discussion of industry trends and how the company is planning to address them. Although each of these sessions was interesting, individually none provided any earth-shattering revelations. However, when taken in total, they added up to a company on the verge of making major and potentially disrupting moves in the market.
What Is Driving Change?
From my discussions, it was clear that there are three main thought leaders driving the corporate strategy: Peter Martin, Don Clark, and Chris Lyden. It was also clear that these three thought leaders have the trust and support of both other executives within Schneider Electric, as well as its strategic customers.
Among these thought leaders and at Schneider Electric in general there is an acceptance and understanding that the Industrial Internet of Things (IIoT) is the coming. The team believes it is real and will drive transformational impact to the business. The only real debate is how and when these new technologies will impact the business. For timing the team is leaning towards sooner than later. Although the team is not ready to make formal announcements, they do seem ready to start talking about talking about it.
A New Architecture
In these initial conversations, the team is not scared to question the underlying assumptions and drivers behind current DCS architecture, namely the computing and communication limitations of the 1980s and 90s. With these limitations lifted, there are many at Schneider Electric that believe next generation DCS will be much less about control system architecture and much more about the asset hierarchy of a plant. In this view of the architecture, assets become the defining feature of the architecture, and as assets become smart and connected, control becomes distributed to each asset and a system of systems emerges.
Although these conversations are all happening behind closed doors, there are public announcements that show Schneider Electric may move in this direction sooner than later. At the event a new "smart connected" variable speed drive was announced. The drive has embedded intelligence for controlling pumps and also connects directly to the Cloud to improve the operating model of the pump and enable the pump itself to become a Smart Connected Asset.
For many years I have poked fun at the different definitions automation vendors have for an "asset" when compared to their customers. Ask an automaton vendor what an asset is and they will tell you that PLC programs, variable speed drives, controllers, I/O, industrial computers and the like are assets. Ask a plant manager what is an asset and he/she will tell you the presses, pumps, fillers, chillers, and the like are assets.
Which sounds more like an asset to you? Schneider Electric is smartly starting to give the same answer as its customers.
Although GE was the first automation vendor to truly disrupt its own business with the launch of Predix and GE Digital, the company is more focused on discrete and batch industries and is not a player of consequence in the DCS market. It remains to be seen which of the leading DCS vendors will be the first to disrupt current DCS architecture and business models; based on CONNECT 2016, it doesn't seem like Schneider Electric is scared of taking the lead.
Quality Leaders should join this webcast on Thursday, June 16, 2016 @ 1:00 that will provide senior leaders with best practices for building a business case around quality and the foundational framework needed to gain executive commitment.